Trader Joe's Fans Are Psyched For Its New Cajun Style Alfredo Sauce
When it comes to finding new and enticing food items, Trader Joe's is one of the better places to shop. After all, a jar of Cajun-style Alfredo Sauce is hard to come by.
In a recent post, Instagrammer @traderjoeslist showed off the new pasta sauce available at Trader Joe's with the caption: "NEW CAJUN STYLE ALFREDO SAUCE ... This new pasta sauce is creamy and has a spicy Cajun kick. It reminds me of one of my favorite pasta dishes that has Alfredo sauce with blackened chicken all in a sauce! If you're looking for a spicy remix of Alfredo sauce then give this a try!" (via Instagram).
In less than a day, the post gained over 23,000 likes, and 800 comments, which is a lot even for @traderjoeslist. It seems this combination of creaminess and Cajun-style flavors is just what Trader Joe's pasta lovers have been waiting for, and they had a lot to say about the launch.
What commenters have to say about Trader Joe's new Cajun-style alfredo sauce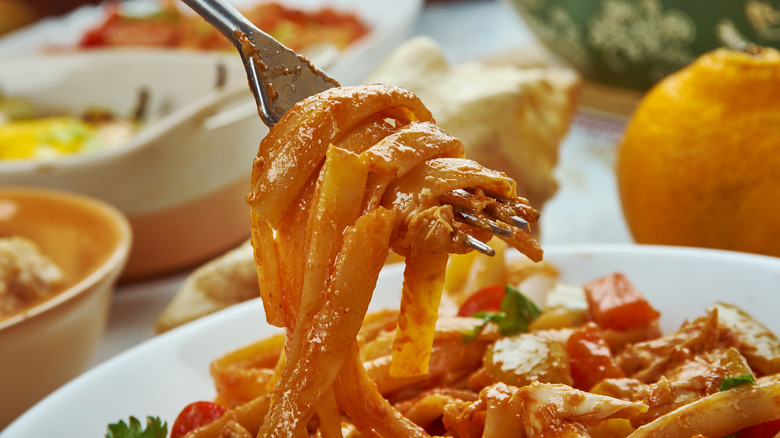 Shutterstock
This new spicy alfredo sauce might seem like a strange flavor combination to some, but the thought of a kick of Cajun flavor in a creamy pasta sauce has clearly sparked strong reactions from Trader Joe's fans, at least if the comments section of @traderjoeslist's post is anything to go by (via Instagram). Several comments seem to have been missing this all their lives, with comments like: "OMG I NEED THIS in my life yesterday!" and "I need this right now, like today for dinner." One even went so far as to say: "wow wowowowwowow I think this is it. I think I found my love." One commenter noted how great this would taste on shrimp and grits, while another couldn't wait to marinate chicken in the sauce.
Of course, nothing is universally loved, and on the negative side were comments and reviews like: "HARD PASS." However, most of the critiques touched upon the sauce's ingredients rather than the flavor profile, specifically the high sodium and oil content, and the inclusion of Maltodextrin. According to Healthline, Maltodextrin is a common yet highly processed food additive made from rice, corn, potato starch, and wheat. While this additive is FDA-approved, it can still spike your blood sugar levels, which means some may want to avoid it.
Still, others couldn't wait to get their hands on the spicy sauce, which gets its punch from paprika, chili pepper, black pepper, and some fennel seed. If that sounds too good to pass up, you can pick up a jar at your local Trader Joe's for just $3.49.