The Scotch Brand Nick Offerman Swears By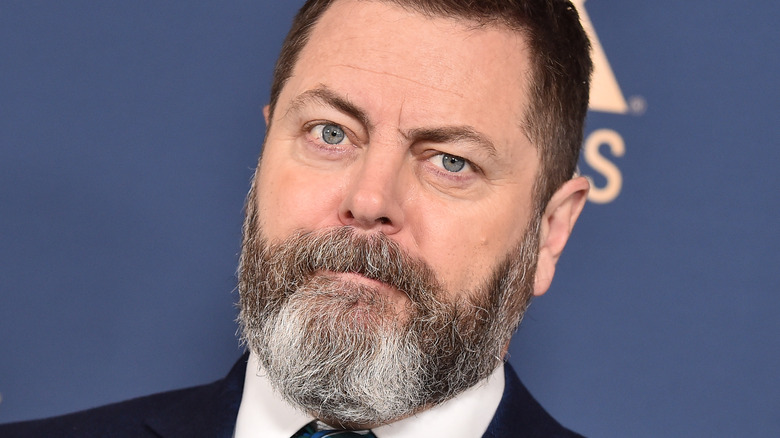 Shutterstock
Nick Offerman is probably best known for his iconic role as Ron Swanson on the hit NBC series "Parks and Recreation." Swanson was a scotch-loving, meat-eating manly man with some pretty strong feelings about libertarian policies and skim milk. Hailed as one of the best TV characters of the century by The Ringer, they further describe Swanson as "a modern Renaissance man," noting his many skills like being a master craftsman, outdoorsman, musician, and self-help guru.
While many characteristics differ between Swanson and the real-life Offerman, one trait they do have in common is their love of fine foods and beverages. The actor tells The Ringer he took great pleasure in filming the scenes in which he was able to eat bacon-wrapped shrimp and cuts of steak along with drinking stiff scotch. Lucky for him, the show even had a master chef on set to prepare meals for the various scenes. 
As someone who clearly enjoys the finer things on camera and in real life, Offerman has some thoughts on his favorite picks, including this brand of scotch.
Nick Offerman and Ron Swanson love the same brand of scotch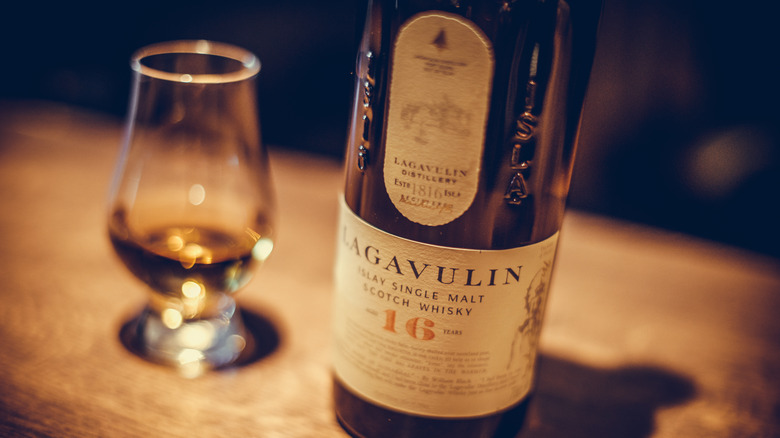 Shutterstock
As Gear Patrol notes, one other thing Ron Swanson and Nick Offerman have in common is that they both love the same brand of scotch: Lagavulin, a smoky Islay malt (per Malts.com). Offerman tells Gear Patrol that he first started trying his top pick about 20 years ago, describing it like "drinking a campfire." Since 2014, he's partnered up with the brand on various campaigns including a popular video series, "My Tales of Whisky" (see it on YouTube). In 2019, the love affair between the actor and the distillery was kicked up a notch as Lagavulin released an 11-Year-Old Nick Offerman Edition bottle, notes Flaviar.com.
Though the actor acknowledges that there are many fine whisky varieties available, he says he loves Lagavulin for its distinct flavor, hailing it as "indescribably rich and bewitching." And as for a possible second limited edition bottle with the brand, he notes that the date has yet to be set, but seems optimistic there will be one. We can only hope.