Over 50% Of Americans Said They Would Choose A Good Burrito Over A Date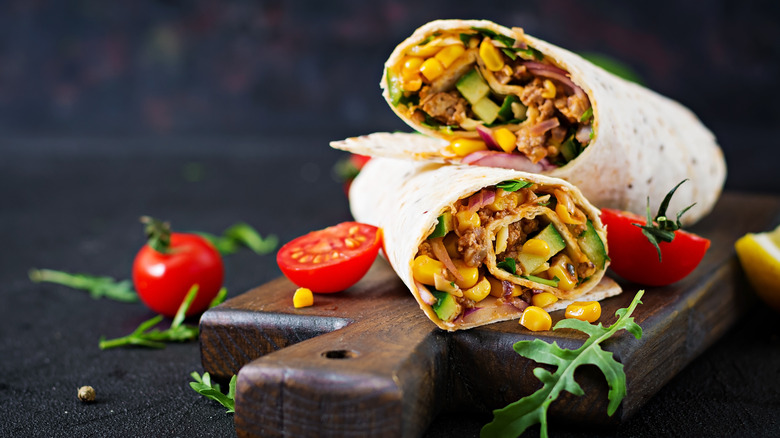 Shutterstock
If soft lighting and romantic music just don't do it for you, you may not be alone. According to a recent survey from Top Agency, 53% of Americans would rather have an awesome burrito over a romantic date. While this burrito insight might have some people feeling a big wave of relief for next Valentine's Day, this tasty tidbit is only one food fact from the agency's survey of 1,791 people. Top Data also found that up to 90% of Gen-Xers enjoy a burrito once a week and 56% of Americans claimed that "a burrito has saved them from a brutal hangover." Watch out, hamburgers and hot dogs — because the burrito is taking over.
Since burritos are having a moment, it begs the question about favorite places to enjoy one. According to this survey, 43% of respondents prefer Taco Bell over competitors like Chipotle, Moe's Southwest Grill, and Qdoba. That information seems somewhat surprising considering that Eat This, Not That reports that Taco Bell's most popular menu item is Nacho Fries. Although Chipotle comes in second on the Top Agency survey, more people associate that quick-service restaurant with burritos. Maybe Taco Bell is just more convenient when that burrito craving hits. 
How did the burrito take over restaurant menus?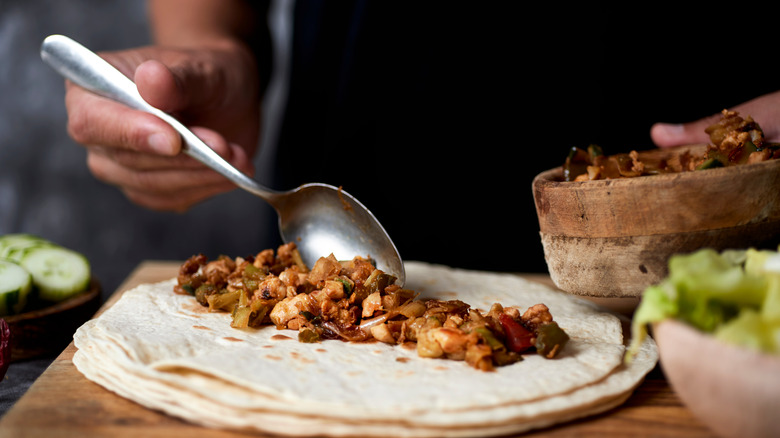 Shutterstock
Whether beef, chicken, or vegetable, the burrito seems to be everywhere. From quick-service restaurants to family meals, a burrito could be on the table morning, noon, and night. Although it does not have a day of the week like the taco, the popular food has a long storied history. According to Vox, although the exact origin of this food is unclear, the name does reflect the term for a small donkey in Spanish, and some theorize that the name came about because burritos were such a portable meal.
While Vox states that tacos came to America first from Mexico, the creation of the frozen burrito increased its popularity. As the readily available food took over school menus, more people had a craving for that simple dish. Over time, the burrito evolved from simple ingredients wrapped in a tortilla to over-stuffed varieties that need a knife and fork. Then, Chipotle brought the staple across the nation in 1993 and everyone seemed to crave a taste. While guac might be extra on some menu choices, the reality is that the customization that a burrito offers keeps it relevant. Luckily for many fans, the always-changing burrito will never get stale. As Top Agency's survey results clearly show, some Americans would pick their beloved burrito over just about anything.