Auntie Anne's Is Giving Away Free Pretzels In Honor Of National Pretzel Day. Here's How To Get One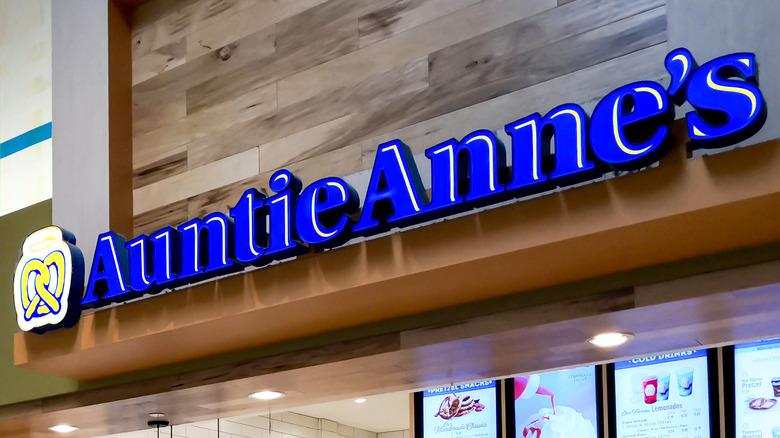 Shutterstock
If you love pretzels and you want to celebrate this beloved snack food right, you cannot beat chowing down on any number of these treats on National Pretzel Day. The holiday, which occurs every year on April 26th, came into being in 2003 thanks to the efforts of Pennsylvania's Gov. Ed Rendell (via National Day Calendar). Pennsylvania's efforts to make the day a national holiday simply makes sense. After all, Philadelphians eat almost 12 times more pretzels than the average American. Pennsylvania also produces the largest amount of pretzels in the U.S., and the state even helped popularize the pretzel across the country. 
Nothing makes the day better than getting a free snack and Auntie Anne's knows how to make National Pretzel Day perfect. According to PR Newswire, anyone who stops in to an Auntie Anne's today can grab a free original or cinnamon sugar pretzel through the store's Pretzel Perks app. You can even grab the free pretzel through an in-store order or online. The fun does not stop there, though. Auntie Anne's Instagram has ongoing contests running from now until April 30th. Make sure to comment on their posts during this time frame to earn a chance to win free pretzels for a year. Five winners will be selected each day, so make sure to keep those comments coming to score some free pretzels!
A great day to celebrate the pretzel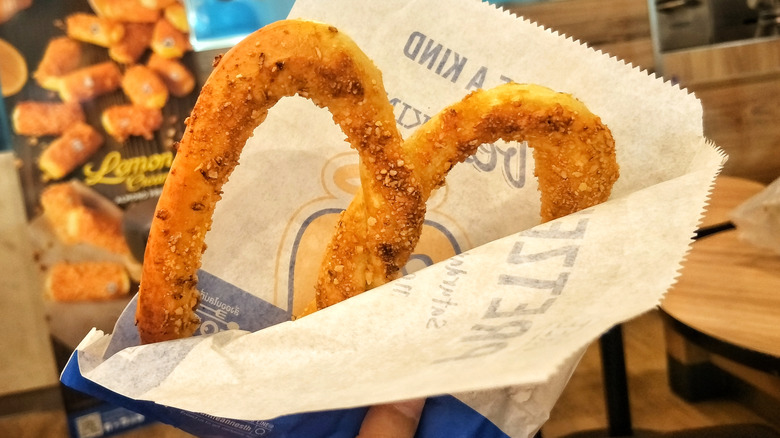 Shutterstock
Make sure to grab your Auntie Anne's pretzel today, April 26th, as the offer only lasts for the duration of National Pretzel Day. If you still cannot get your fill of the soft, warm snack, you can make the rounds throughout your local restaurant scene to take advantage of everything this special day has to offer. According to USA Today, you can also grab a $1 Wendy's Pretzel Bacon Pub Cheeseburger today, in addition to a free pretzel from Pretzelmaker and enter a chance to win a Crave Kit from Snyder's of Hanover. And, if your Auntie Anne's pretzel simply cannot tide you over, you can also pick up free pretzels from Wetzel's Pretzels and Philly Pretzel Factory today (via Thrillist).
If you count yourself as a pretzel maniac, this day has your name all over it. Make sure to grab your Auntie Anne's pretzel today before stores close or supplies run out! National Pretzel Day just would not feel right without a pretzel (or three), and with so many options available, you would kick yourself if you did not take advantage of this delicious deal.Head out on an adventure today and grab one of these treats for a great pick-me-up that can keep you moving throughout the day.