Nigella Lawson's Brownies Have A Surprisingly Meaty Ingredient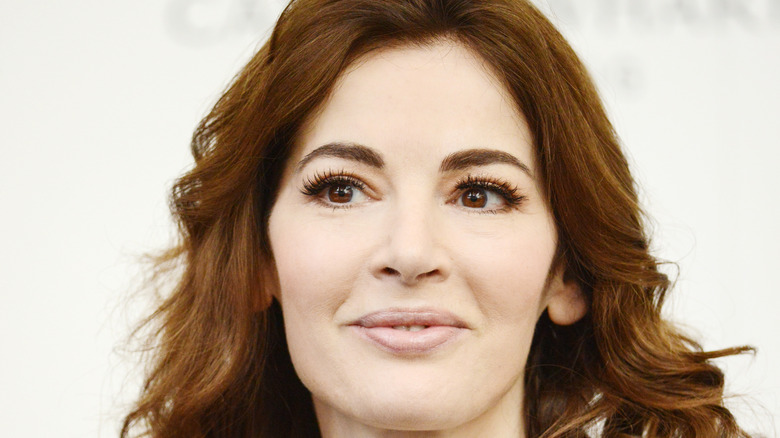 Shutterstock
Nigella Lawson knows a thing or two about desserts. The home cook and British writer shared with Food52, that she is a true advocate for all-things sweet — aka desserts. When quizzed about what she eats after eating one too many slices of cake, Lawson's response may seem unconventional, but it has all the positive eating vibes we like to hear. The cookbook author revealed, "I don't compartmentalize food like that. I don't like the implication that eating is dirty and something you should feel bad about ... I'm a great believer in eating intuitively and with what your body needs and feels like at the time." 
We love this philosophy and it definitely feeds into a surprisingly meaty ingredient Lawson adds to her already indulgent and chocolaty brownies recipe. Yep, the host of "Nigella's Kitchen" adds a savory element to this classic dessert that really brings it to the next level of deliciousness and will leave you wondering why you didn't think of adding this ingredient to your fudgy confection all along.
Nigella loves adding a bit of bacon to her brownies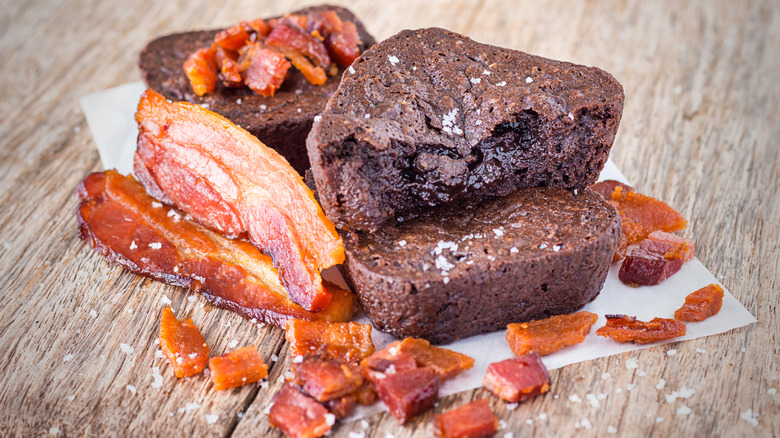 Shutterstock
Nigella Lawson recently shared via Twitter, "Don't get alarmed, but my Bacon Brownies are #RecipeOfTheDay. And this is no gimmicky suggestion: the nuggets of salty bacon are so so good with the sweet, rich chocolate." We don't need much convincing here. Bacon is all that salty, crunchy, smoky, fatty, decadence that our taste buds crave fortnightly. It's the penultimate of meats. In fact, Comic Vine polled its fans to determine which breakfast meat would be crowned the favorite: bacon or sausage. Unsurprisingly, bacon beat out sausage, with 63% of those who participated favoring its crispy goodness.
And while bacon in your brownies may seem a little avant-garde, per NPR, the bacon chocolate craze took off back in 2004 when the culinary world took note of Heston Blumenthal of Britain's Michelin-starred Fat Duck restaurant's bacon-and-egg ice cream creation. Two years later, bacon desserts were all over the United States. So, if you are a fan of pairing the savory and the sweet, bacon in brownies probably sounds like perfection. In fact, you might want to start frying up that cured pork ASAP, and don't worry, Lawson even has a tip regarding what brand of bacon to use in your brownie batter.
Nigella Lawson uses an American bacon brand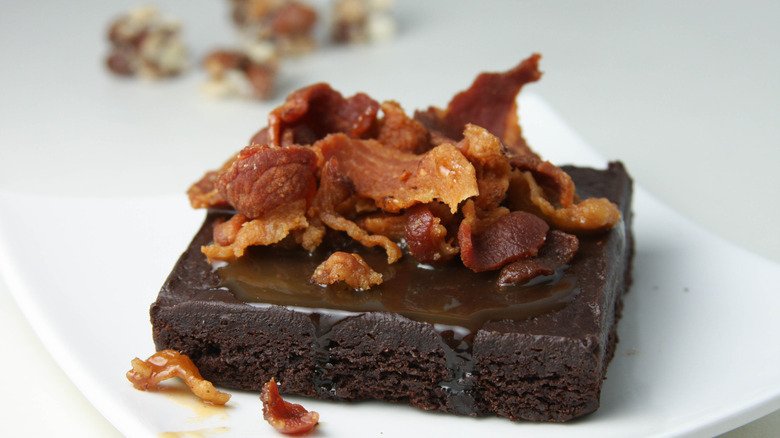 Shutterstock
Lawson shared on her website that she prefers Oscar Mayer American-style bacon, but if you can't find this mainstream brand, Lawson says, "Just make sure to get streaky bacon that is cut very thin, without the rind, and snip it up into small shards." The goddess of the Food Network also says that when you make her brownies, you're not aiming for large "chewy pieces" but rather small bits that infuse your brownies with a hint of salt. Noted, and if you're drooling, we're with you. These brownies sound amazing.
But we always say, the proof is the empty plate on the counter. Of course, the Twitterverse is quick to deliver the verdict, and it's fair to say people are loving Lawson's bacon brownies. One fan wrote, "They were utterly delicious. I mean it's bacon and chocolate! What can go wrong?" Even if you're not a fan of bacon, or can't use it in your baking for other reasons, Lawson tweeted out a suggestion for you, too: "Baconless brownies with sea salt flakes sprinkled on top before going in the oven (and some in the batter) would be gorgeous."