Red Lobster Wants You To Wear Its Cheddar Bay Biscuit To Prom
When you think of the perfect prom corsage, images of beautiful flowers and pastel colors spring to mind. If you love the idea of a corsage but have always wanted something a bit tastier than flowers, entrepreneurial restaurants have you covered. The restaurant chain Cheddar's Scratch Kitchen made headlines back in 2019 when its Honey Butter Croissant made it onto the wrists of prom-goers who wanted to show off their love for the buttery baked goods. Red Lobster has taken the edible corsage concept to the next level, and if you count yourself as a lover of Cheddar Bay Biscuits, the chain's take on the accessory might make your prom night one to remember.
According to a statement sent to Mashed, Red Lobster plans to show high school students how to make their prom night unforgettable with instructions for constructing a boutonniere and corsage out of its Cheddar Bay Biscuits. In a recent Twitter post, the chain documented the perfect way to assemble the corsage. To make the corsage, start by ordering Cheddar Bay Biscuits from Red Lobster. After hot gluing decorative elements like flowers to a piece of cardboard, hot glue the biscuit on top of everything else and get ready to show off your corsage to all your friends!
A delicious way to attend prom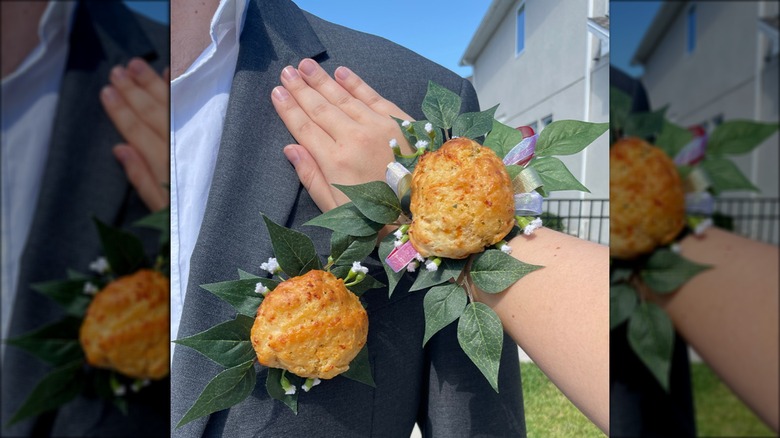 Red Lobster
Red Lobster has a history of replacing flowers with Cheddar Bay Biscuits. According to Delish, the restaurant once released instructions for how to create a bouquet of signature biscuits that boiled down to sticking dowels in the baked goods, attaching the dowels into a styrofoam cone, and then wrapping the whole object with decorative paper. If you know your date has a thing for Red Lobster's biscuits, this bouquet might just end up completing the whole look! If you really want to make everyone take notice, try out this boutonniere and corsage during your prom to boldly stand out and declare your love for Red Lobster.
To make a deep impression and start some conversations, give Red Lobster's instructions a shot this prom season. If ordering in isn't your thing, you can always try out a batch of copycat Cheddar Bay Biscuits to add to your prom accessories.