Copycat Chick-Fil-A Cool Wrap Recipe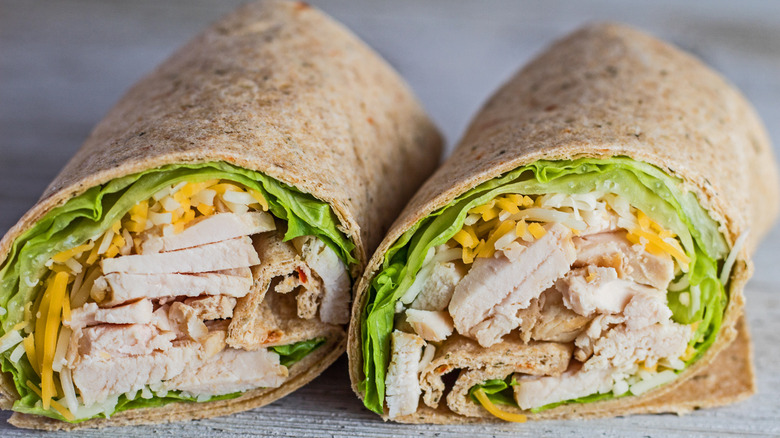 Angela Latimer/Mashed
Chick-Fil-A is hard to beat for a fast and easy lunch, but if you find yourself regularly swinging through the drive-thru for a Cool Wrap, you really should consider making your own at home. This copycat Cool Wrap recipe put together by Angela Latimer from Bake it with Love really couldn't be easier to make (especially if you use pre-cooked chicken), and ultimately, making your own wrap will save you time and money. Even if you decided to grill your own chicken, the whole recipe still only takes about 10 minutes to make, which, unless you live next door to a Chick-Fil-A, is going to be faster than driving to the restaurant and going through the line.
You can even personalize it with veggies and dressings, so you may discover that you like it better than the original. Enjoy with fruit or a quick salad if you're not sure the wrap alone will fill you up (or if you have some extra time, you can always whip up this recipe for copycat Chick-Fil-A waffle fries, too).
Gather your ingredients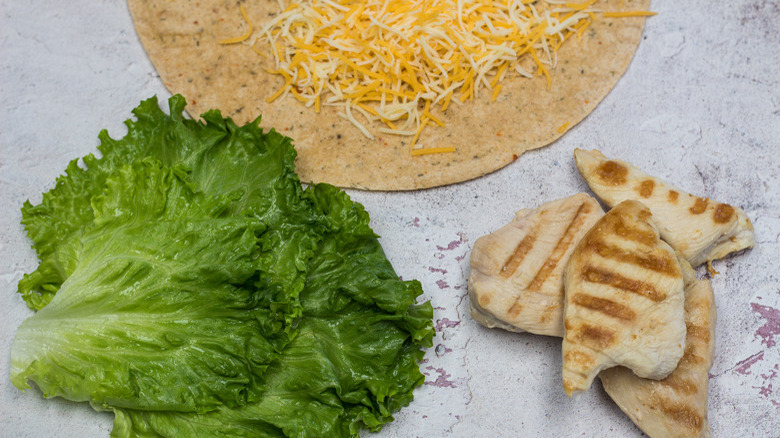 Angela Latimer/Mashed
The ingredients for your cool wrap copycat are very straightforward — use a basic sandwich wrap (you can choose the type, although Latimer points out Chick-Fil-A's version is a flour wrap with ground flax seed), along with two to three ounces (about a breast's worth) of chicken breast, a quarter cup of grated cheddar and Monterey jack cheese, and a few pieces of green leaf lettuce. That's literally all you need. Although, of course, adding your favorite sauce or dressing will amp up the flavor and keep the wrap from tasting dry.
You have the option to grill your own chicken breast or to use a pre-cooked version from leftovers or your grocery store's deli. If you already have cooked chicken on hand, skip a step to continue the wrap-making process. 
Cook your chicken (if desired)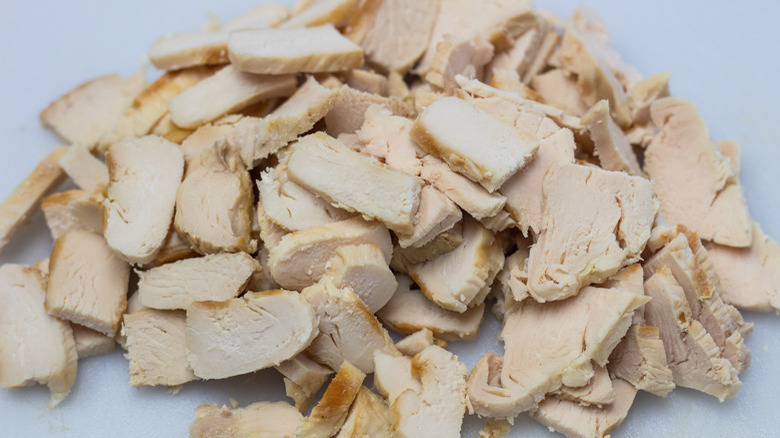 Angela Latimer/Mashed
If you're grilling chicken fresh for your sandwich, simply heat a skillet to medium-high heat, and slice the chicken in half length-wise to make it thin enough to cook quickly (like chicken cutlets). Simply sprinkle a little salt on top of your chicken (and if you're so inclined, add whatever spices you personally like — for instance, chili powder would give it a spicy kick), then cook for about two to three minutes per side. The inside should lose any pink color, and the internal temperature should reach a temperature of 165  degrees Fahrenheit to be considered safe and cooked-through. When it's done cooking, set it aside to cool.
Layer your ingredients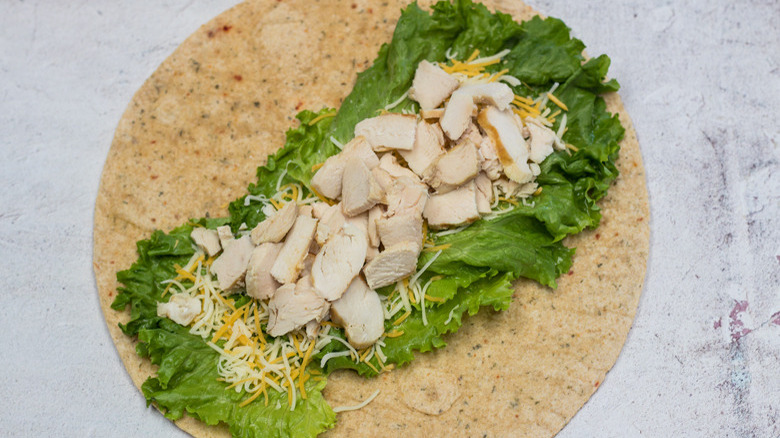 Angela Latimer/Mashed
With your ingredients all ready to go, it's time to build your wrap. It's a good idea to warm your tortilla in the microwave for about 10 to 15 seconds, just to make it a little more pliable when it comes time to wrap it up.
With your tortilla on the counter or on your plate, spread the lettuce leaves down the middle of the wrap, then top with the cheese and sliced chicken. The fillings should be in the center of your wrap (away from either side), and you should leave a little space at either end to make folding it up easier. If desired, go ahead and add your dressing.
Latimer swears by Chick-Fil-A's avocado-lime ranch, although regular ranch dressing, mayo, or even a dash of vinegar are all good options. You can even make your own avocado-lime ranch if you have some time. All you have to do, according to Latimer, is pulse avocado and lime in a food processor, add ranch dressing, and stir. Then, make small adjustments (like adding more ranch) as needed to achieve the desired flavor. 
Wrap things up and serve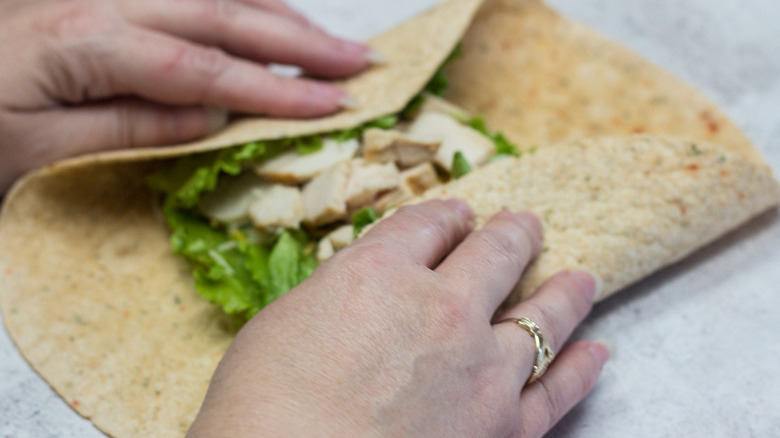 Angela Latimer/Mashed
The final step is to simply fold up your wrap! Start by folding over the ends of the wrap on either side — this will prevent the fillings from falling out. Then, keeping the ends folded, start on one side and roll up your wrap. Place the wrap with the seam-side facing down, and slice your wrap in half, diagonally across the center. Just like that, it's ready to eat and enjoy.
Copycat Chick-Fil-A Cool Wrap Recipe
Chick-Fil-A is hard to beat for a fast lunch, but if you find yourself regularly swinging through the drive-thru for a Cool Wrap, you should your own at home.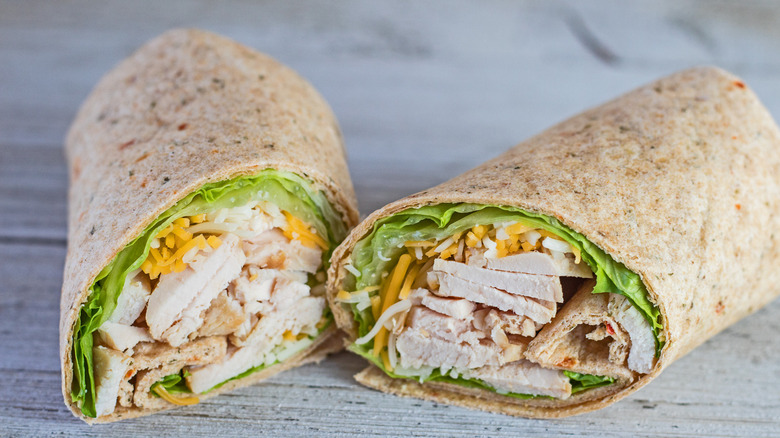 Ingredients
2 ounces grilled chicken breast
1 flour wrap or tortilla
2 to 3 pieces of green leaf lettuce
¼ cup blend of grated cheddar and Monterey jack cheese
Optional Ingredients
Directions
To cook your chicken breast, start by cutting thick portions of the chicken in half lengthwise. They should be thin, like chicken cutlets, to cook quickly.
Heat a grill or grill skillet to medium-high.
Season the chicken lightly with a pinch of salt and place it on the heated grill or skillet. Cook for 2 to 3 minutes per side until no longer pink and the chicken has an internal temperature of 165 degrees Fahrenheit.
Remove from heat when done, and allow the chicken to cool.
Thinly slice the cooled chicken breast (or use store-bought chicken breast slices).
Warm the wrap or tortilla for 10 to 15 seconds in the microwave on high power to make the wrap more pliable for wrapping.
Place the warmed tortilla on a plate or flat work surface and spread any desired dressing or mayonnaise on the wrap (or serve on the side).
Add layers in a strip down the middle of the wrap, starting with the lettuce leaves, then the grated cheese blend, topped with the sliced chicken breast. Keep the filling centered in the wrap and away from the ends so that you have room to fold up the wrap.
Fold the wrap by folding in the ends first, then tucking over the filling and rolling the wrap. Place the wrap seam side down and cut in half on the diagonal.
Serve and enjoy!
Nutrition
| | |
| --- | --- |
| Calories per Serving | 281 |
| Total Fat | 13.9 g |
| Saturated Fat | 7.1 g |
| Trans Fat | 0.4 g |
| Cholesterol | 81.9 mg |
| | |
| --- | --- |
| Total Carbohydrates | 11.4 g |
| Dietary Fiber | 1.6 g |
| Total Sugars | 0.4 g |
| Sodium | 265.9 mg |
| Protein | 27.1 g |