Old-Fashioned Orange Slice Cake Recipe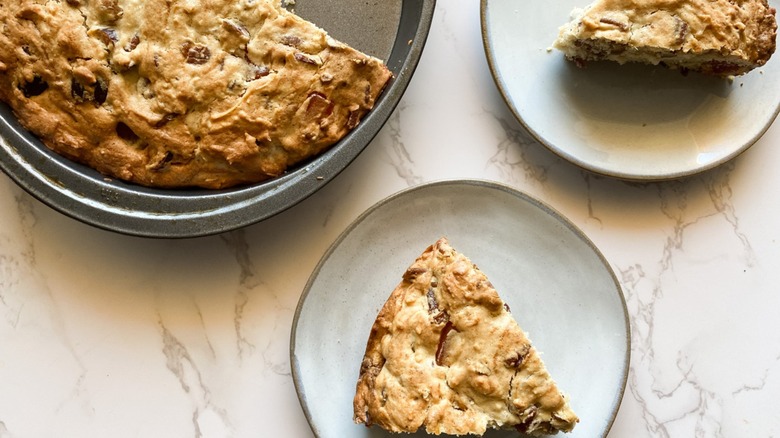 Kristen Carli/Mashed
What's old is new again, haven't you heard? With that in mind, you will definitely want to bake up this old-fashioned orange slice cake, which recipe creator and registered dietician Kristen Carli tells Mashed her grandma loves. But what exactly is orange slice cake? "It's an old-fashioned fruit cake with orange slice candies," Carli explained, adding, "It's very similar to fruitcake in that it has texture and little bites of sweetness, but overall, it is not a super-sweet cake." 
In fact, she likens the dessert to a scone in terms of texture — indeed, the batter will be super thick and chunky. Speaking of the batter, this treat is very simple to make. You literally combine every ingredient in one bowl and then bake the cake. So, if you are in the mood to try something new, er, old, and you don't want to take on anything too complicated, this is the recipe for you.
Gather your ingredients
Kristen Carli/Mashed
You can make an old-fashioned orange slice cake your family will love with the following ingredients: two sticks of unsalted butter, which you will melt, granulated sugar, flour, baking soda, salt, buttermilk, five eggs, vanilla extract, pitted dates, which you will chop, chopped orange slice candies, chopped pecans, sweetened coconut flakes, and optional — but highly recommended — ice cream for serving.
We couldn't help but wonder with so many sweet ingredients — the candy, the sugar, the sweetened coconut flakes — if this cake was, well, too sweet, but Carli assures us it's not. She reiterated, "This cake reminds me a lot of scones and their not overly sweet taste."
We also wanted to know why Carli used buttermilk in her recipe, and as she explained, "Buttermilk is an acidic ingredient that helps to leaven the cake."
Prep your cake batter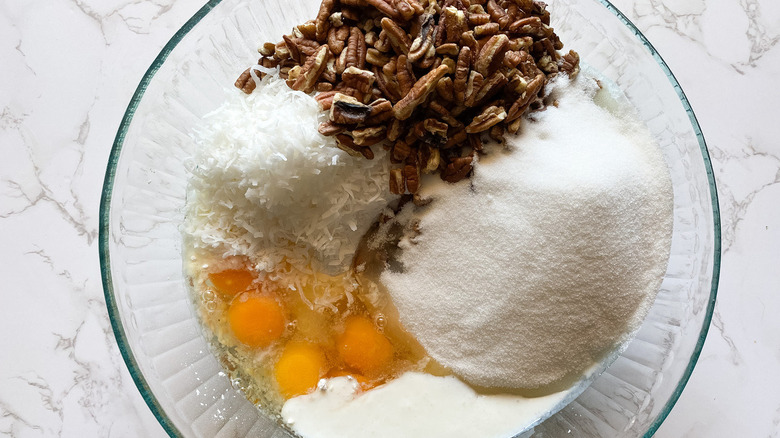 Kristen Carli/Mashed
To start making your easy-as-pie cake, you will preheat the oven to 325 degrees Fahrenheit. Next, prepare two nine-inch cake pans by coating them with nonstick cooking spray.
Okay, you are seriously almost done making this decadent dessert. All you need to do is take a very large bowl and measure then add in every single ingredient, from the flour to the orange slice candy, to the dates, pecans, buttermilk, baking soda, and salt. Yes, all at once, with Carli assuring home bakers there is no need to mix your dry and wet ingredients separately before combining. "This recipe is so easy," she told Mashed. "Just dump everything together and mix. It can't get easier than that!"
Of course, your dough will be very heavy and sticky, Carli notes. But as long as you stir everything together really well, a dough should form. And then, it's ready to go right into the oven.
Bake your cake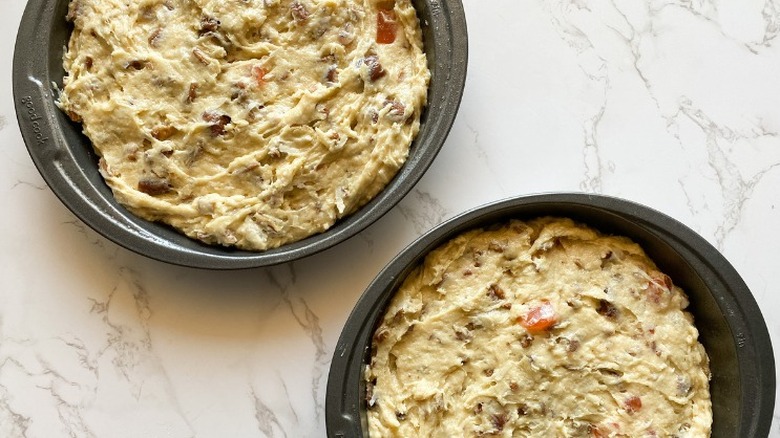 Kristen Carli/Mashed
With your batter well-combined, your cake is all set to hit the oven. So, simply pour the thick dough into two cake pans, spreading it out so it bakes nice and evenly. You will bake the dense cake for a full hour or until a toothpick comes out completely clean. Carli advises home bakers, "To avoid burning, be sure to watch the cake at the end of the cooking time and pull it out of the oven if the cake is getting too much color."
Once your orange slice cake is ready to serve, Carli suggests pairing it with a generous scoop of your favorite ice cream. And invite your grandma over to enjoy the dessert with you if you can. Otherwise, savor a slice and think about her and how she would love this tasty treat that harkens back to simpler times. Enjoy!
Old-Fashioned Orange Slice Cake Recipe
What's old is new again, haven't you heard? With that in mind, you will definitely want to bake up this old-fashioned orange slice cake.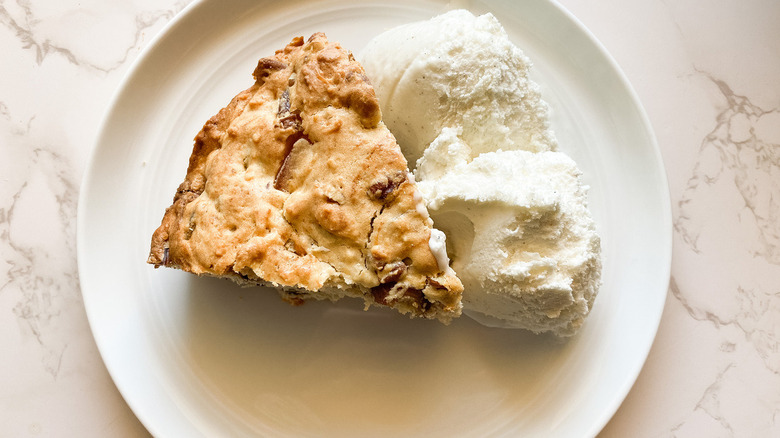 Ingredients
2 sticks unsalted butter, melted
2 cups granulated sugar
4 cups flour
1 teaspoon baking soda
1 teaspoon salt
¾ cup buttermilk
5 eggs
1 tablespoon vanilla extract
6 ounces pitted dates, chopped
10 ounces orange slice candies, chopped
2 cups chopped pecans
3 ounces sweetened coconut flakes
Optional Ingredients
Directions
Preheat oven to 325 degrees. Spray two 9-inch cake pans with nonstick cooking spray.
In a very large bowl, add all ingredients. Stir to combine. Dough will be very heavy and sticky. No need to mix dry and wet ingredients separately. Stir all ingredients together until dough forms.
Pour into 2 cake pans. Spread evenly. Bake for 1 hour or until toothpick comes out clean.
Serve and enjoy!
Nutrition
| | |
| --- | --- |
| Calories per Serving | 776 |
| Total Fat | 42.3 g |
| Saturated Fat | 19.8 g |
| Trans Fat | 0.6 g |
| Cholesterol | 107.8 mg |
| | |
| --- | --- |
| Total Carbohydrates | 96.1 g |
| Dietary Fiber | 6.4 g |
| Total Sugars | 57.9 g |
| Sodium | 361.9 mg |
| Protein | 10.6 g |