Grillmaster Reveals The Most Common Mistakes You're Making Grilling Kebabs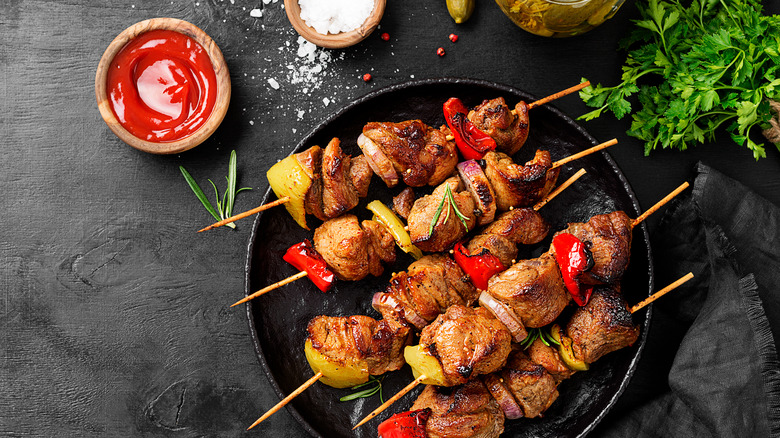 Shutterstock
When the time comes to break out the grill, you can't go wrong with kebabs. These crowd-pleasing treats offer up something special to everyone and have stuck around thanks to their incredible versatility. According to Desi Blitz, kebabs trace their origins back to Turkey when soldiers grilled chunks of meat skewered on their swords over open fires. The name of the dish dates back to at least 1377 and the recipe has evolved to suit our tastes over the years. Fast forward to the present and we still can't get enough of these summertime staples.
While we love eating kebabs, grilling them up sometimes feels less thrilling. Fortunately, we can take the advice of Tim Donnelly, corporate chef at Publix, to heart and end up cooking the ultimate kebabs for any hot weather cookout. For starters, the way you cut your skewer additions can make or break your kebab. "Cutting the items too large causes the cook to have to leave the kebabs on the grill too long, resulting in [a] charred exterior and undercooked interior," Donnelly explained. Once you have standardized pieces of food on your skewers, you can start thinking about grilling.
Avoid these other kebab rookie mistakes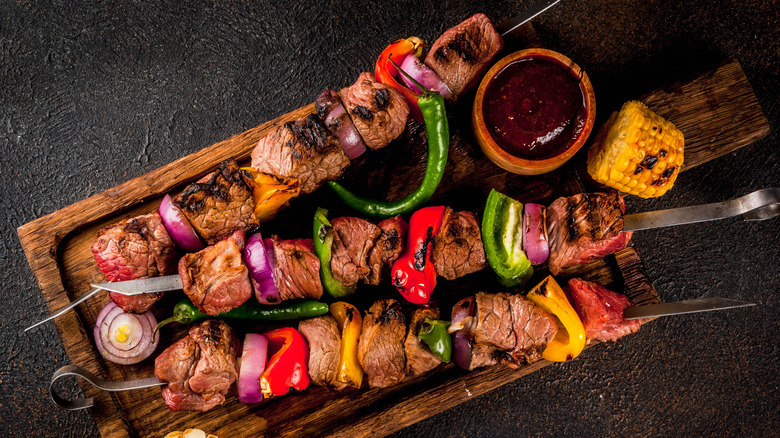 Shutterstock
After you avoid skewering irregularly sized pieces of food, you need to think about how to arrange your kebabs on the grill. Don't get overzealous and crowd the grates. "It is important that all ingredients are cut uniformly and spaced so that the heat can penetrate all sides of the skewered items," Donnelly said. "Typically, most consumers overcrowd the skewers, which leads to crispy exteriors and undercooked interiors." 
And, whatever you do, don't even think about placing your kebabs on the grill before properly treating the grates. "Not having a clean, oiled, and properly pre-heated grill will cause the kebabs to stick and tear when trying to turn," Donnelly added.
As long as you avoid these common pitfalls, you're guaranteed to end up with a great meal that can turn heads. With a bit of practice, your kebabs should turn out amazing and grill completely evenly thanks to perfectly-sized portions and the proper preparation techniques. When you take your time and remain methodical, you can't go wrong with this time-tested staple that we can't get enough of.