The Trick To Avoiding Soggy Chilaquiles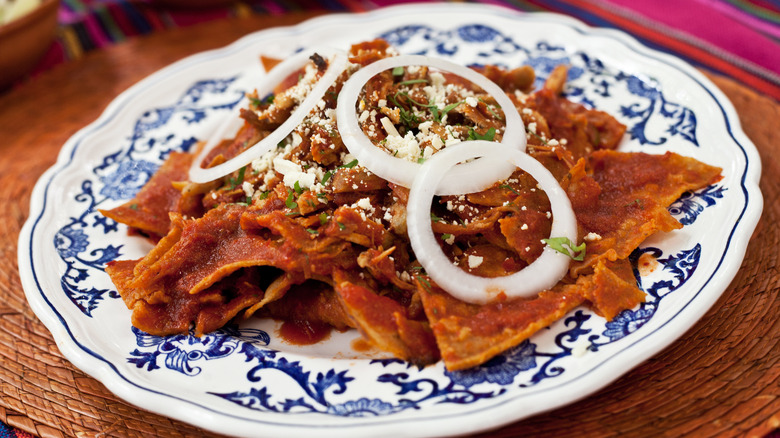 Shutterstock
If you're someone who can't get enough of Mexican food, you need to hear about chilaquiles. This is an extraordinary Mexican staple that has the dreamiest ingredients you can think of: salsa, tortilla, and eggs (or you know, meat, cheese, and vegetables). With spices, of course. According to Chowhound, this is an extremely versatile food item that deserves a lot of attention. The best part is that you can definitely create it at home without feeling like you're trying to accomplish a herculean task. 
Another advantage is that chilaquiles don't need you to purchase expensive ingredients from the supermarket. You can get a lot done with some of the most basic items in your home such as cheese, onions, and tortilla chips. Additionally, you can easily customize it as per your preferences and make it super spicy if you wish to. Also, there's never a bad time to feast on this dish. Whenever you have the munchies, you can rest easy knowing that you can depend on this delicious snack while celebrating Cinco de Mayo. 
Pay attention to your chips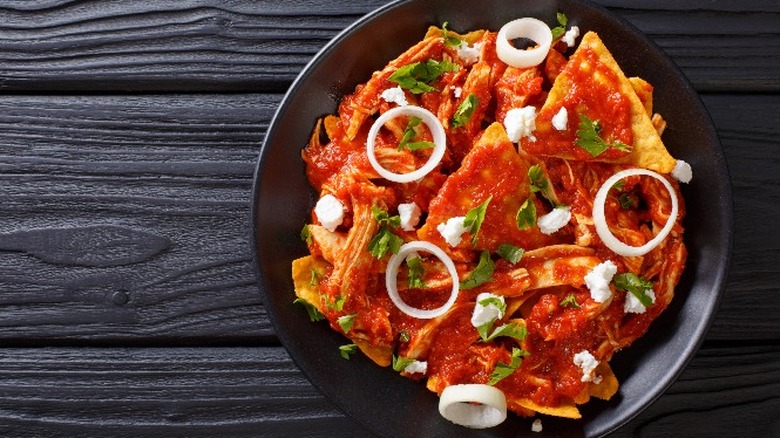 Shutterstock
If you're convinced and want to get around to preparing a plate of chilaquiles as soon as possible, here is what you need to know. As illustrated by Taste of Home, all it takes to prepare this dish is to simmer tortilla chips using plenty of salsa. You can then go ahead and add lots of other ingredients like vegetables, beef, chicken, eggs, cheese, and more.
Also, this may be hard to buy but it's true: if you want to avoid a soggy dish, you need to get your hands on cheap chips at your supermarket. They'll soak everything right up when you're simmering the dish. If you buy more expensive chips, you'll find yourself trying to avoid a soggy mess. This theory was confirmed by a Mexican who offered some nuggets on wisdom on Reddit. They wrote, "The tortilla chips must retain some crunchiness even with all that piping hot salsa on them. Some Mexicans actually prefer them soggy but they are minority, don't listen to them." They also suggested that beans as a side-dish can make a huge difference to this meal.