This Frying Pan Set At Costco Is A Total Steal
We may receive a commission on purchases made from links.
Looking to replace some kitchen essentials? According to @CostcoDeals on Instagram, the T-Fal 3-piece Titanium Fry Pan Set is on sale for $19.99 at Costco. As shared, this price is $5 off the previous price of $24.99. While some commenters wished for that price savings on their earlier purchases, many responded with positive feedback on this frying pan bundle. Comments included statements like, "Haven't used any other pan since buying those" and "Can't wait to buy another set!", which seem to reflect that many people are happy with this Costco purchase. But, one purchaser did wish that the set came with lids.
Looking at the photo, this T-Fal frying pan set includes three sizes of frying pans: 8-inch, 9.5-inch, and 11-inch. From a simple fried egg to sautéed vegetables, it seems that this set could handle a variety of recipes. Based on the picture, it appears that this Costco set is similar to a set sold on Amazon for slightly under $40. For any Costco members, the price differential makes the warehouse deal a great buy.
T-Fal is known for its "Thermo-Spot" technology, which visually shows when the pan is "perfectly pre-heated." Also, the "titanium nonstick" is designed for "easy release and clean up" (via T-Fal). With the Costco deal of just $19.99, it might be time to replace the frying pans with this T-Fal set.
How to pick the right frying pan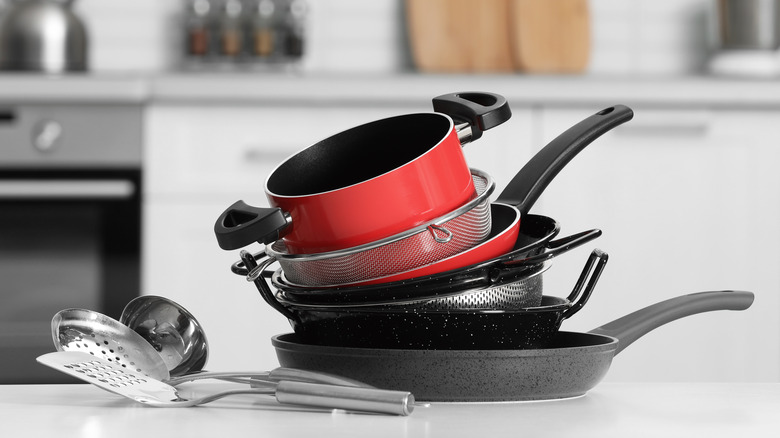 Shutterstock
For some people, kitchen stores might be their happy place but for cooking newbies the overwhelming amount of options, terms, and choices can make them just want to order takeout. While cost will impact many shoppers' decisions, a little bit of knowledge can help narrow the buying field. Just because a pan is a great deal doesn't mean that it is the best choice for a kitchen or the recipe being cooked.
Consumer Reports shared its "Best Frying Pans for the Way You Cook." This deep dive into the "workhorse of the kitchen" explains why many people have multiple types of frying pans in the cabinet. While categories are generally, non-stick, stainless steel, cast iron, and copper, what food and the dish impacts the better pan choice. From the non-stick pan that is used for eggs to the stainless steel pan that creates the perfect sear, using the right pan helps to execute a dish better.
With that concept in mind, the home cook can narrow the other choices by size, handle feel, or even color. Having the right tools in the kitchen might not make a home cook an expert chef, but those kitchen essentials can put cooks on the path to recipe success.