What Alex Guarnaschelli Wishes You Understood About Her Engagement Ring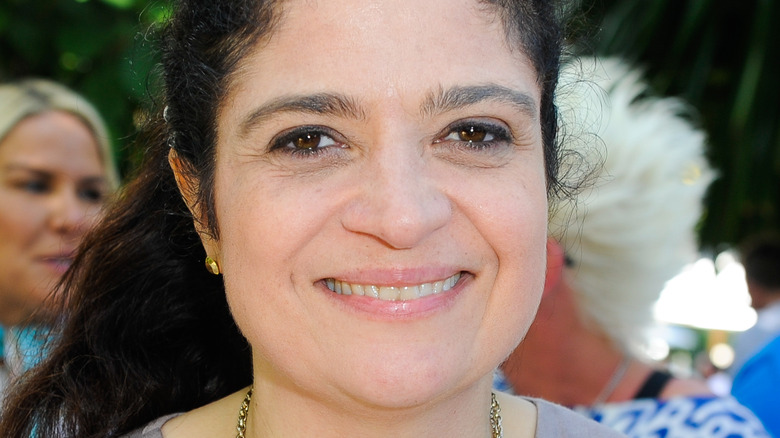 Sergi Alexander/Getty Images
Okay, so, remember back in June 2020 when Alex Guarnaschelli and "Chopped" champion Michael Castellon got engaged (via Today)? She hasn't tied the knot yet, probably because she and Castellon are waiting until they can. As the Food Network star told People, they'll have something between a "blowout" and a " tri-state rager." Her diamond-accented emerald engagement ring, which is a family heirloom, is stunning. But, as she recently tweeted to a fan who spotted her without it and demanded to know why, "I don't wear my engagement ring every day."
Before you get worked up, absolutely nothing about Guarnaschelli's or Castellon's respective Instagram pages suggests that the two are having problems. On International Woman's Day 2021, Castellon posted a tribute to Guarnaschelli calling his fiancé "the strongest person I know." Guarnaschelli isn't exactly known for publishing PDAs on her Instagram profile, but in a post from back in December 2020, she called Castellon "hilarious!!" Besides, the chef and host of "Supermarket Stakeout" wants you to know that there's a reason she doesn't always wear her ring.
Why Alex Guarnaschelli doesn't wear her engagement ring every day
"I don't think when or how someone wears a wedding or commitment ring is anyone's business," Guarnaschelli tweeted. "It's not a measure of love for everyone." The chef's statement has proved more provocative than she might have predicted, provoking countless reaction tweets — both horrified and supportive. As one Guarnaschelli supporter tweeted, "I'm with you ... Pretty sure my marriage is solid whether I'm wearing it or it's put away safely." As another reiterated, "Happily married for 32 years. I only wear mine occasionally" (via Twitter).
As The New York Times once thought to point out, male celebrities from Donald Trump to Prince William to Jay Z have all been spotted out and about without wedding rings on. Regardless of what is (or was) going on in their marriages, it is clearly their prerogative to decide to go ringless. Why can't the same thing go for Alex Guarnaschelli?