Here's What Filming Chopped Is Like For Maneet Chauhan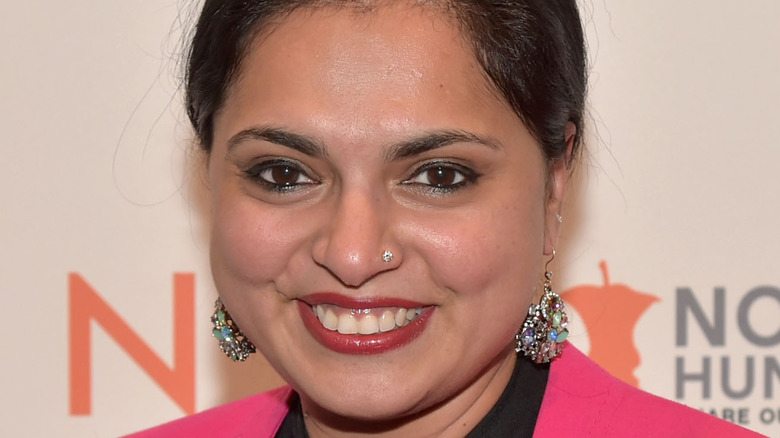 Theo Wargo/Getty Images
Celebrity chef Maneet Chauhan is a woman with big dreams. According to the Food Network, Chauhan has done it all: she's been a part of "The Next Iron Chef" as a participant, written a cookbook titled "Flavors of My World," worked at prominent restaurants such as Vermilion, and founded her own company called Indie Culinaire. As per Parade, Chauhan has also opened many eateries around the country such as Chauhan Ale & Masala House, Chaatable, Tànsuŏ, and the Mockingbird. 
Chauhan has a busy life and yet, she finds a way to balance it all. As a "Chopped" judge, she's expected to rise up to the occasion and adjust her schedule to accommodate the show's hectic shooting demands. Chauhan told Parade that being a part of "Chopped" has helped her develop as a professional chef, as well as given her the opportunity to experience new things that she wasn't aware of. "Food is like life, it needs to evolve with time, it needs to evolve with your experience," she explained. "'Chopped' has helped me tremendously by introducing me to ingredients I've never seen and never worked with."
Filming 'Chopped' is super hectic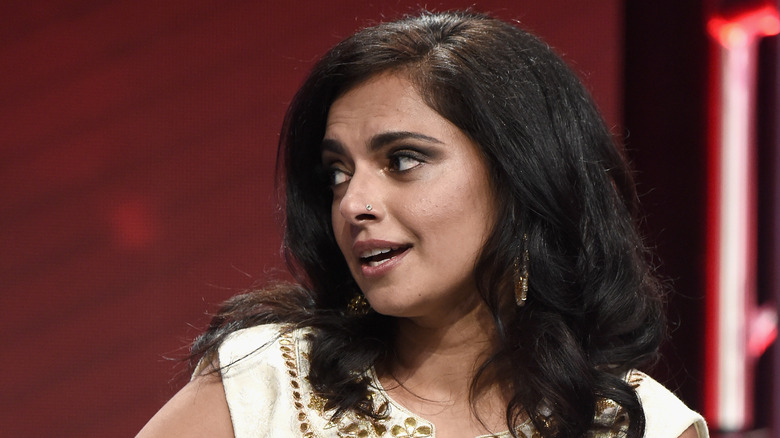 Amanda Edwards/Getty Images
Make no mistake: whenever Chauhan is working as a "Chopped" judge, she needs to brace herself for a busy day. She explained to Parade that she always gets to New York from her home base, Nashville, a day before they're set to start filming. Then on shoot day, she gets up at 3:30 a.m. to get ready. Chauhan then does a few quick stretches when she can before showering, then gets into a cab in the early hours of the morning to reach the set. 
Once Chauhan arrives, the show's hair and makeup crew work with her before she starts filming with the rest of the team at 8 a.m. "It's down to a science," Chauhan explained. "The chefs come, they do a first round, then they give us the plates, we taste, we give feedback, then we do a deliberation. We figure out who gets chopped. Then second course, same, we get the plates, chopped, then lunch."
Chauhan is impressively mindful and always spends her lunch hour with the rest of the team in a bid to bond with them. She added that on days when there are no technical hiccups, the team usually finishes working by 4:30 p.m. If Chauhan has to shoot again the following day, she heads back to her hotel room and gets some much-needed rest. If not, she flies back home to Nashville. What a schedule! Phew.