This Accessory Means Maneet Chauhan Is Having A Bad Day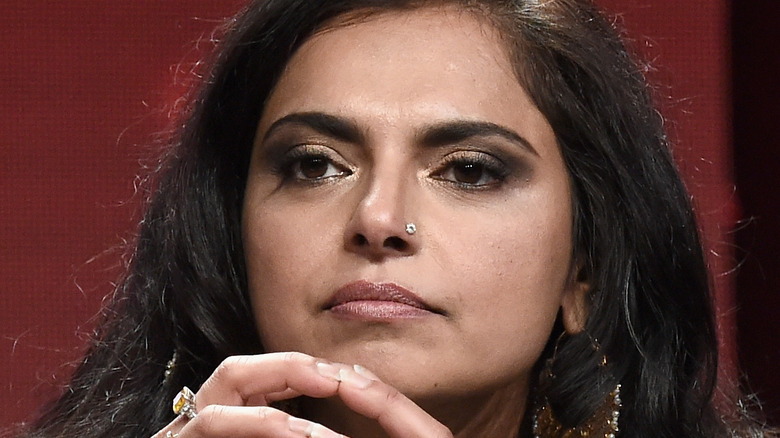 Amanda Edwards/Getty Images
Celebrity chef and television personality Maneet Chauhan is an impressive woman. A graduate of the Culinary Institute of America, the chef has made a mark in the cutthroat culinary industry with her talent. As per a description on the Culinary Institute of America's website, Chauhan is highly passionate about food and is known for being creative. She's mentioned in the past that venturing into the culinary world was a leap of faith for her. "I chose an unconventional career path where the norm was to become a doctor or an engineer," she explained. Thankfully, Chauhan's family encouraged her to chase her dreams and pursue a career as a chef.
Today, Chauhan is well-known for her culinary expertise; she currently serves as a judge on the popular TV show "Chopped." And yes, she's extremely popular with hundreds of thousands of followers on Instagram. Additionally, Chauhan is known for her love for fashion. In fact, as reported by Sounds like Nashville, Chauhan even released a special line of accessories in 2019 and called it "Maneet Curted." Some of her products included earrings, colorful bangles, cocktail rings, and more.
Chauhan's love for big earrings is well-known
Chauhan loves her jewelry and doesn't hesitate to accessorize to her heart's content. She's often seen sporting a nose pin and also is fond of big, statement earrings. In an interview with Parade, the chef revealed something rather interesting: she said that she completes her look based on how she's feeling on a particular day. "Larger earrings mean I'm having a bad day and trying my best to lift myself out of the fog I have woken up in," she revealed. "So everybody's like, 'Oh, large earrings, let's get out of her way.'"
Whoa. That does feel relatable, doesn't it? Who doesn't love dressing according to their mood on a particular day and boosting their mood with outfits or accessories? Maybe a famous chef like Chauhan isn't all that different from the rest of us, after all. 
Chauhan has publicly spoken about her love for accessories, too. She once told Bon Appétit that she adores jewelry. "In the future, I may want to get into the jewelry business," she explained. "Because I love jewelry and maybe that is something I want to do later on, like curating, who knows?" And well, Chauhan did exactly that. What a woman!