Costco Shoppers Are Loving These Strawberry-Filled Croissants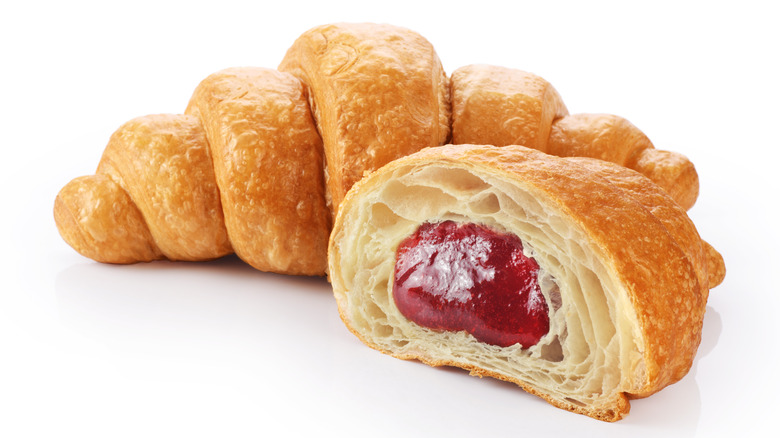 Shutterstock
If you are a pastry or dessert lover, Costco has everything you need under one roof. There's raspberry crumble cookies, coffee cake muffins, and Kirkland Signature mini chocolate chip cookies galore (via She Knows). And, the big box giant has once again raised the bar with their latest offering that should easily win over anyone who loves fruit-filled treats. 
On Reddit, poster u/Flyboy2020 got their hands on some strawberry-filled croissants in Costco's bakery section at an Atlanta area store and posted a picture of this sweet deal. Based on the comments, it seems fans can't get enough of the value — the box features six of these delectable pastries for $7.99. Fellow Redditors chimed in with comments, such as, "Chalk up another item on my shopping list!! That looks amazing!!" Another person who has tried them already suggested, "These are amazing. Try throwing 'em in the microwave for about a few seconds." While Reddit users have all but gushed over the new item, critics have also dished out their seal of approval.
The perfect Costco croissant for strawberry fans
Costco fans can't get enough of this treat — which has made big appearances on social media over the last couple years. Back in 2020, the pastries earned rave reviews on Delish with fans taking special notice of the croissants, complimenting how substantial they are in size. The article also alludes to Costco putting these out on shelves in 2019. So, if you missed out on these strawberry-filled treats during the original runs, now's the time to make a Costco trip and grab a few containers while you can since they seem to only stick around for a little while at a time. 
With the perfect combination of sweet strawberries wrapped up in a flakey, buttery pastry, you definitely don't want to sleep on this deal. Not only are they perfect for a light breakfast, but make a good snack with afternoon coffee, too. Make sure to check out your local Costco and see if these items have hit your area. With any luck, they should make more appearances across the country and hopefully we all can enjoy these signature pastries sooner than later.