Copycat Starbucks Caramel Frappuccino Recipe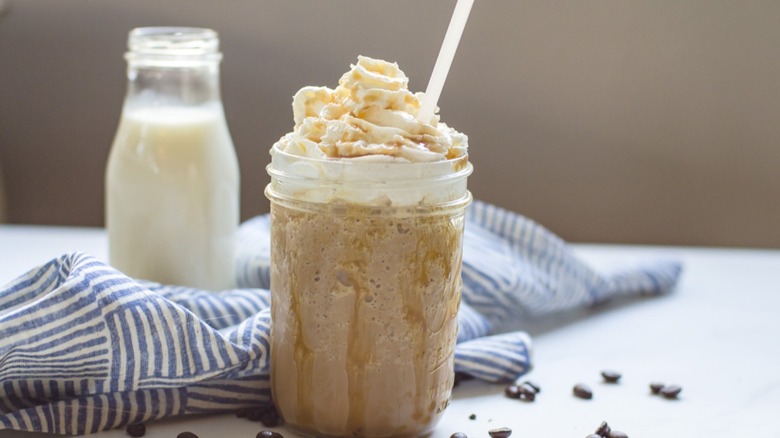 Mackenzie Ryan/Mashed
Starbucks, the brand that owns the trademarked name "Frappuccino," certainly knows a thing or two about making an awesome blended coffee drink. But just because they own the name Frappuccino, that doesn't they have a corner on the market when it comes to making this frozen beverage. As a matter of fact, you can easily make your own copycat Starbucks Caramel Frappuccino at home in just five minutes, while saving some money in the bank.
And really, according to recipe developer Mackenzie Ryan of Food Above Gold, one of the key ingredients to get the blend right is a quarter teaspoon of xanthan gum. "This is what keeps the Frappuccino emulsified and blended," Ryan says. "If you skip it at home, the Frappuccino will separate over the course of a few minutes, so if you're a slow sipper, make sure to add it in to keep that thick and creamy consistency." A good-sized bag of the thickening agent will set you back about six bucks, but it will last you awhile, so it's worth a purchase to make copycat Starbucks Caramel Frappuccinos that are close to the real deal.
Gather your ingredients to prepare this copycat Starbucks Caramel Frappuccino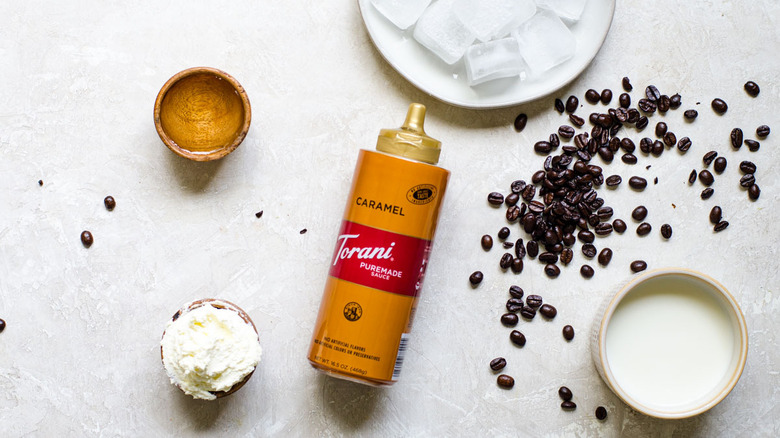 Mackenzie Ryan/Mashed
In addition to that "secret" ingredient, xanthan gum (which you can technically skip if you don't have on hand), all you need to whip up the perfect, homemade caramel frappe is cold black coffee, the milk or milk alternative of your choice, caramel syrup, caramel sauce, ice cubes, and whipped cream to use as an optional topping. Of course, having cold coffee on hand does require a little bit of preparation, since brewed coffee is generally hot.
"As long as the coffee you're using is brewed for the purpose of making the Frappuccino, it can be made ahead and stored in the fridge," says Ryan. She points out that you can do this a couple of ways — keep it in the fridge in an airtight container for up to three days, or freeze your coffee into ice cubes that you then store in an airtight container in your freezer for up to a month. One thing she wouldn't suggest? Using your leftover morning coffee to make a Frappuccino later in the day. "[If it's] been sitting on the burner for awhile, it will taste burnt," she says. Although she concedes that coffee made from a French press or a similar device that isn't kept over a heat source would probably be fine to use in a pinch.
Add the ingredients to your blender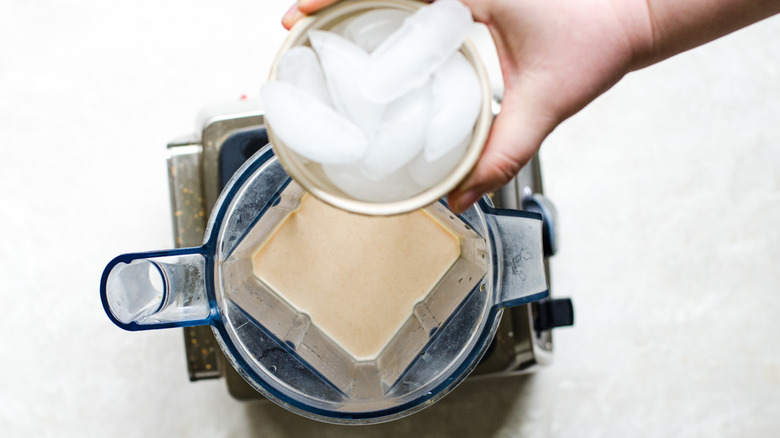 Mackenzie Ryan/Mashed
The process of making your copycat Starbucks Caramel Frappuccino is incredibly simple and only requires a blender. Simply add the coffee, milk, caramel syrup, caramel sauce, and xanthan gum (if you choose to use it) to the blender. Top the ingredients with ice — it's important to add the ice last to get the smoothest blend — and blend away. 
Remember, if you're really trying to get the same taste and feel as a Starbucks Frappuccino, you'll want to stick with 2% milk. That being said, Ryan says any milk works great, while those with a higher fat percentage will end up delivering a creamier blended beverage.
Pour the copycat Starbucks Caramel Frappuccino, and serve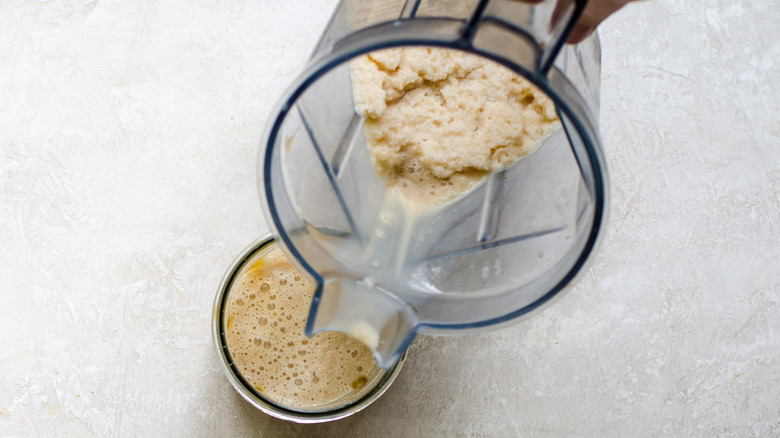 Mackenzie Ryan/Mashed
Part of what makes the Starbucks Caramel Frappuccino so tantalizing is its presentation. To get the same, Instagram-worthy drink at home, you'll want to take a few seconds to prep and serve your frappe. 
In a clear glass or plastic cup, drizzle caramel sauce across the bottom and sides of the cup. It's important to use caramel sauce designed for coffee drinks for this step (it's usually found in the coffee and tea section of the grocery store), rather than caramel sauce meant for ice creams or other sweets. "Those usually need to be heated up a bit to become pourable, which defeats the purpose of the Frappuccino, which is cold," says Ryan. And definitely don't make do and use caramel syrup in this manner. Ryan points out while the two can be used interchangeably in the recipe itself, caramel sauce works as a garnish due to its thicker consistency, while caramel syrup cannot. 
After adding your caramel sauce to the glass, pour your Frappuccino over the top, then add a dollop of whipped cream (if you're so inclined) with an extra drizzle of caramel sauce on top. Just like that, it's ready to drink!
Copycat Starbucks Caramel Frappuccino Recipe
You can easily make your own copycat Starbucks Caramel Frappuccino at home in just five minutes.
Servings
1
Grande Frappuccino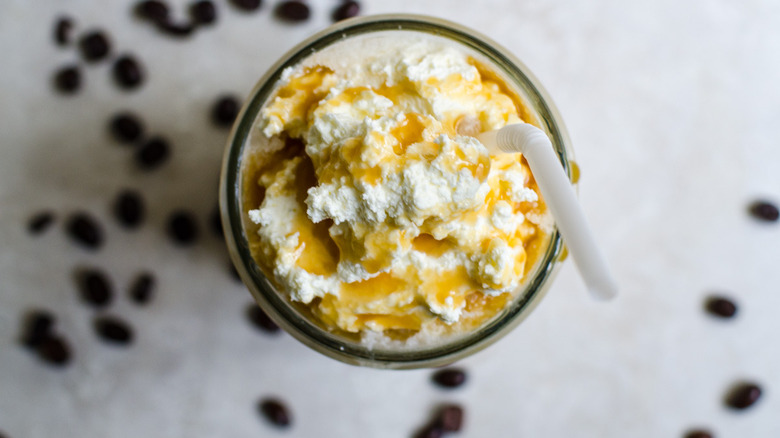 Ingredients
⅓ cup cold, strong black coffee
½ cup milk
2 tablespoons caramel syrup
1 tablespoon caramel sauce, plus more for drizzling
1 heaping cup standard ice cubes (around 10 cubes)
Optional Ingredients
¼ teaspoon xanthan gum
whipped cream, for serving
Directions
Put the strong black coffee, milk, caramel syrup, caramel sauce, (and optional xanthan gum, if using) in the bottom of a blender. Top with the ice, and blend until combined.
Drizzle the caramel sauce along the inside of the cup, and pour in the copycat Starbucks Frappucino. Top with whipped cream and a generous drizzle of extra caramel sauce.
Serve, and enjoy!
Nutrition
| | |
| --- | --- |
| Calories per Serving | 230 |
| Total Fat | 4.0 g |
| Saturated Fat | 2.3 g |
| Trans Fat | 0.0 g |
| Cholesterol | 12.4 mg |
| | |
| --- | --- |
| Total Carbohydrates | 46.2 g |
| Dietary Fiber | 0.2 g |
| Total Sugars | 30.3 g |
| Sodium | 139.9 mg |
| Protein | 4.3 g |