Spicy Hunan Chicken Recipe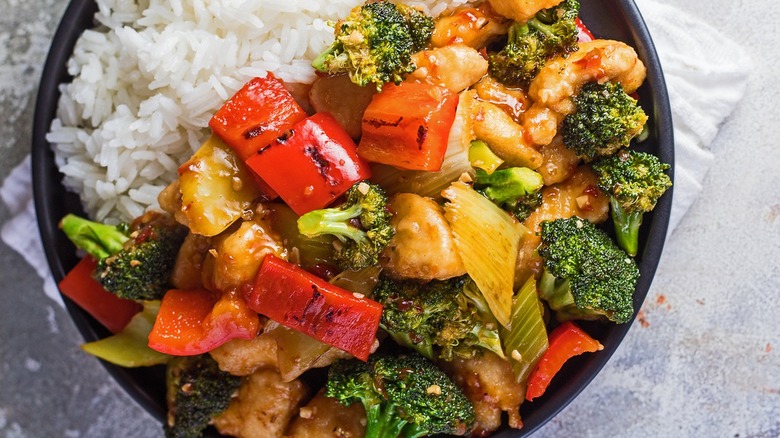 Angela Latimer/Mashed
When it comes to ordering takeout, Chinese food is a staple. Nothing beats the delicious smells of Hunan chicken stir-fry wafting through your living room, Netflix queued up, and your chopsticks at the ready to dig into your favorite dish. Recipe developer Angela Latimer of Bake It With Love says that she's been a big fan of Chinese-American food since childhood and loves to replicate her favorite dishes. 
There are a few key components that come into play to get the sauce-to-texture ratio just right, and luckily it only requires a few simple steps. While you may have taken the easy route in the past by tossing your chicken and veggies in some soy sauce and calling it a day, with a few extra steps, your finished product will go from bland to grand.
So put down your phone and exit out of your favorite food ordering app. This quick and easy recipe will have you convinced that you actually just ordered from your favorite restaurant. 
Chop your vegetables for this easy Hunan chicken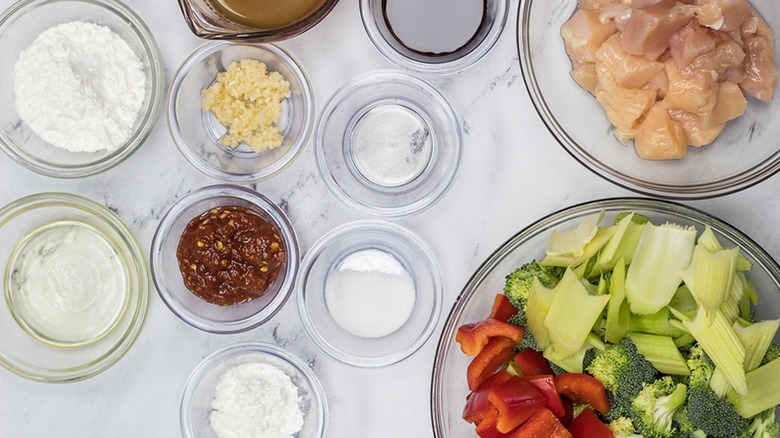 Angela Latimer/Mashed
Start by prepping the usual suspects: vegetable oil for cooking, salt and pepper for seasoning, 1 pound of boneless, skinless chicken cut into bite-sized chunks, 2 cups of broccoli florets, 2 to 3 roughly chopped ribs of celery, and 1 red bell pepper cut into 1-inch squares.
If the vegetables are prepped in advance, the recipe will come together more quickly.
Measure your sauce ingredients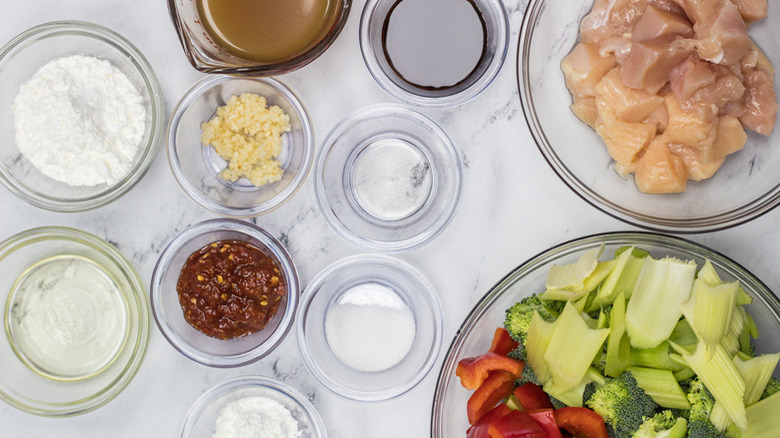 Angela Latimer/Mashed
Now it's time to build your sauce layers. While you'll be using 2 tablespoons of soy sauce, there are a few more ingredients to give your sauce that takeout flavor you've been missing. You'll need ½ tablespoon of minced garlic, ½ cup of chicken broth, 2 tablespoons of oyster sauce, 2 teaspoons of rice vinegar, 1 teaspoon of sugar, and 2 tablespoons of chili paste to give it that kick. 
Latimer recommends using a brand of chili paste like sambal oelek, which she says can be found in the Asian section at most grocery stores.
Cornstarch is the secret for that takeout texture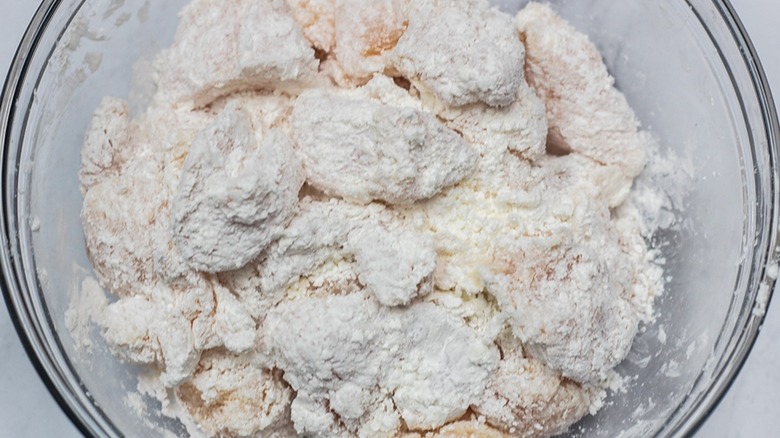 Angela Latimer/Mashed
Last but not least, you'll want to make sure you have ¼ cup and 2 teaspoons of cornstarch in divided portions. Coat your cubed chicken in the ¼ cup of cornstarch and, once the oil is heated in your frying pan, add the chicken pieces in a single layer with some salt and pepper. Cook your chicken for 3 to 4 minutes on each side. The cornstarch will help give the chicken a nice and crispy texture.
Cook those veggies, and stir to combine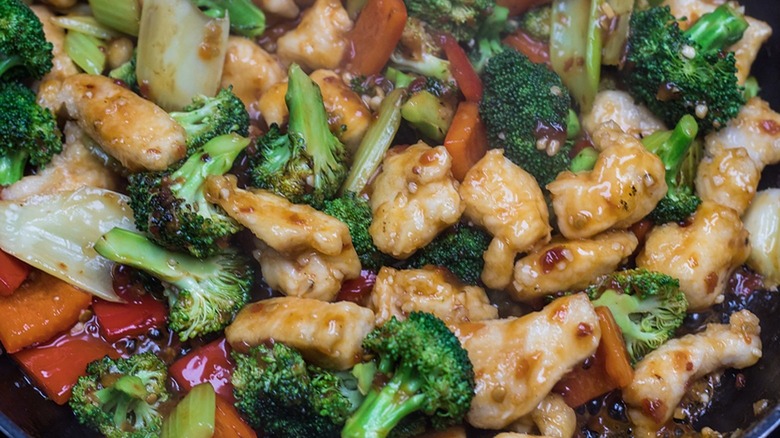 Angela Latimer/Mashed
You'll want to set aside your chicken on a paper towel-lined plate or tray while you cook your vegetables. This batch cooking will allow the chicken to stay juicy and tender without overcooking. Add your vegetables to your frying pan and cook for 4 to 5 minutes, then toss in your garlic. Whisk together your sauce ingredients, including the 2 teaspoons of cornstarch you set aside, and when fully combined, add it along to the vegetables along with your cooked chicken. The addition of the cornstarch will allow the sauce to thicken up after 1 to 2 minutes of cooking together. 
Then just mix everything together, serve it over some fluffy rice, and enjoy!
Spicy Hunan Chicken Recipe
Nothing beats the smell of restaurant-style Hunan chicken stir-fry wafting through your living room. This chicken dish has a spicy yet scrumptious kick.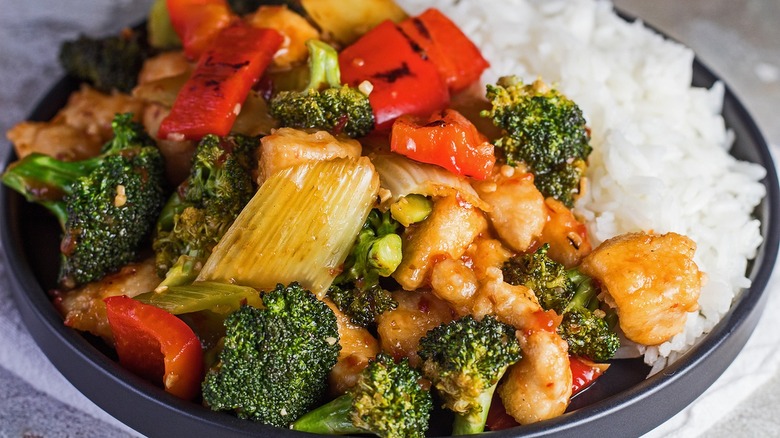 Ingredients
2 tablespoons vegetable oil
1 pound boneless, skinless chicken, trimmed of fat and cut into bite-size pieces
¼ cup + 2 teaspoons cornstarch, divided
2 cups broccoli florets
2 to 3 ribs celery, rough chopped
1 red bell pepper, cut into 1-inch squares
½ tablespoon garlic, minced
½ cup chicken broth
2 tablespoons soy sauce
2 tablespoons oyster sauce
2 teaspoons rice vinegar
1 teaspoon sugar
2 tablespoons chili paste
Optional Ingredients
Salt and pepper, to taste
Directions
Heat a large skillet or non-stick frying pan with the vegetable oil over medium-high heat. The oil should shimmer when ready and be just beginning to smoke.
Coat the cubed chicken with the first ¼ cup portion of cornstarch, either in a bowl or in a plastic storage bag.
Add the chicken pieces to the heated pan in a single layer and season with salt and pepper if desired. Cook for 3 to 4 minutes per side or until golden brown and no pink is showing.
Transfer the cooked chicken to a paper towel-lined plate or tray and set aside.
Add the broccoli, celery, and red bell pepper to your frying pan and cook for 4 to 5 minutes, or until well seared and your desired level of tenderness.
Add the garlic and cook for an additional 30 seconds.
Return the cooked chicken to your skillet.
Make the sauce by whisking together the chicken broth, soy sauce, oyster sauce, rice vinegar, sugar, chili paste, and the second 2 teaspoons of cornstarch in a small bowl.
Add the sauce to the frying pan with the chicken and vegetables.
Continue to cook for 1 to 2 minutes, or until the sauce has thickened. Remove the pan from the heat and serve immediately with rice.
Nutrition
| | |
| --- | --- |
| Calories per Serving | 392 |
| Total Fat | 24.8 g |
| Saturated Fat | 5.5 g |
| Trans Fat | 0.2 g |
| Cholesterol | 85.9 mg |
| | |
| --- | --- |
| Total Carbohydrates | 17.0 g |
| Dietary Fiber | 1.3 g |
| Total Sugars | 3.3 g |
| Sodium | 841.4 mg |
| Protein | 24.3 g |