Sea Bass Recipe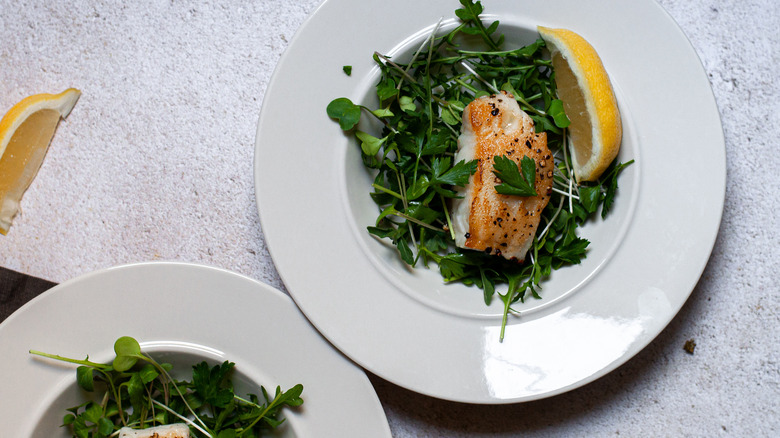 Christina Musgrave/Mashed
We've all probably heard that we should be eating two to three servings of fish per week. Besides being a great source of protein, fish is also high in healthy omega-3 fatty acids. However, cooking fish at home can often cause the average person to hesitate, worried that their house will stink up or that they will not cook the delicate protein appropriately. Besides these qualms, some types of fish, particularly white-fleshed varieties, seem to break the second you try to move them from the pan to your plate. Unless you're trying to make fish cakes, that isn't really the characteristic you want to see in your fish. 
With a few simple tips and a straightforward recipe that minimizes steps while enhancing the flavor, you will want to cook fish on a regular basis. Christina Musgrave from Tasting with Tina eliminates any complicated procedures and has developed a delicious recipe so that you can enjoy a sophisticated sea bass dish at home with no fuss. The trick is to use a few basic ingredients that come together seamlessly for a dish with plenty of appeal. You'll see that the secret behind a restaurant-quality fish dish at home is all about a rich, buttery sauce. 
Gather your ingredients for this sophisticated sea bass dish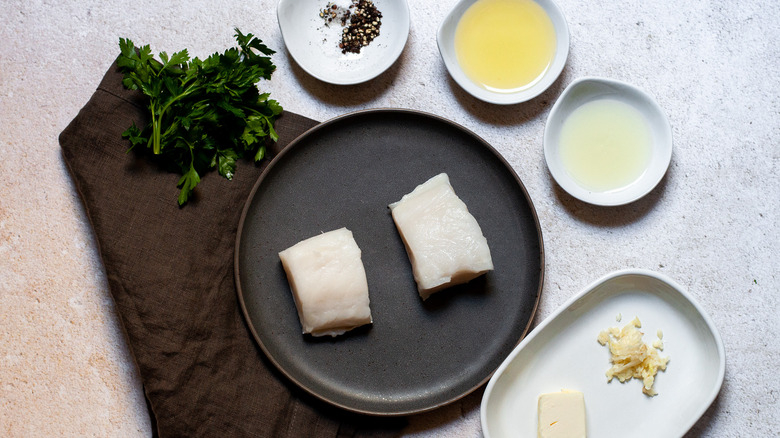 Christina Musgrave/Mashed
As promised, this dish sticks to standard ingredients without the need to rush around purchasing exotic, indecipherable items. The main component in the dish is certainly the sea bass, and it's important to aim for quality when shopping for fish. Improper storage can lead to food-borne illness, which is definitely no fun. There are actually many hundreds of sea bass varieties, and some are only sold as bass for marketing purposes! Regardless, there is some leeway as to the exact species, and the goal is to choose a firm white fish, ideally sea bass or a similar variety such as snapper or cod. Sea bass is a delicate fish and works well with sauces that complement it. Be sure to choose fillets of fish — otherwise, you'll have to pick through the bones. 
Once you've found your fish, you'll need salt, pepper, olive oil, minced garlic, lemon, and butter. The latter three will be used to make a delicious sauce to serve with your sea bass. Finally, to bring some color and crunch to the dish, gather some Italian parsley (also known as flat-leaf parsley), fresh arugula, microgreens, and a wedge of lemon for service. Many different plants can be grown as microgreens, so choose your favorite. Now you're ready to start cooking!
Pat the fish dry and season well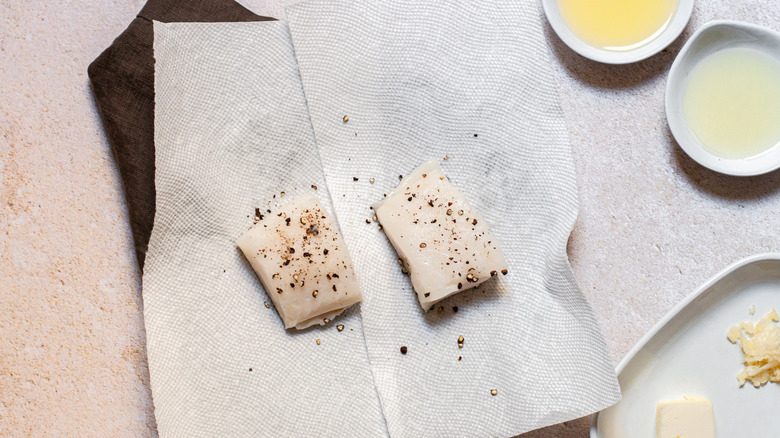 Christina Musgrave/Mashed
Pat the fillets of sea bass dry with absorbent paper towels to remove excess moisture. This helps retain a flaky desirable texture, synonymous with the perfect bite of fish. Additionally, it makes it more likely that the fish will brown nicely in the pan instead of steaming in its own juices. And isn't flaky fish with a crispy exterior the eternal goal?  
Next, season the fillets with salt and pepper to bring out the flavor and eliminate any odors. Make sure to season the fish right before putting it on the heat, or else the salt will begin to break down the proteins in the fish, resulting in a texture veering toward mushy. Though it may seem counterintuitive, salting the fish will draw out some moisture, keeping the flesh firm yet tender. It should also help reduce the unappetizing white blobs that often appear when cooking fish. 
Heat your pan and cook the fish on both sides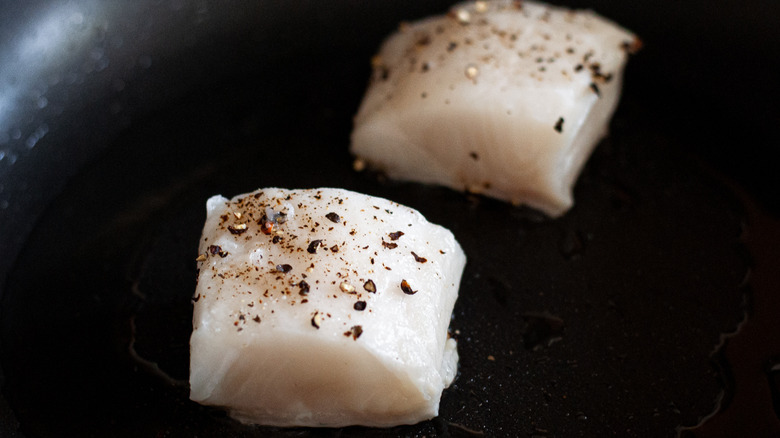 Christina Musgrave/Mashed
Heat the olive oil in a large nonstick pan on medium. Choose a pan that will easily fit the two fillets to avoid overcrowding. Make sure to give the pan some time to heat before adding the fish, or it will cook unevenly and might risk sticking. Oil helps add moisture to a lean fish, and olive oil is a heart-healthy option. Olive oil will also give your fish a nice crispy exterior when you quickly pan-fry the fish on each side. 
Your sea bass fillets likely won't be huge, and about three minutes per side should be sufficient to cook it through. You'll know the fish is ready when the flesh has changed from translucent to opaque. It should also have developed a golden exterior if you made sure to pat it dry. If you've chosen a different fish, cooking time may vary slightly, but follow the visual cue of opacity, and you should be fine. 
Prepare a lemon, garlic, and butter sauce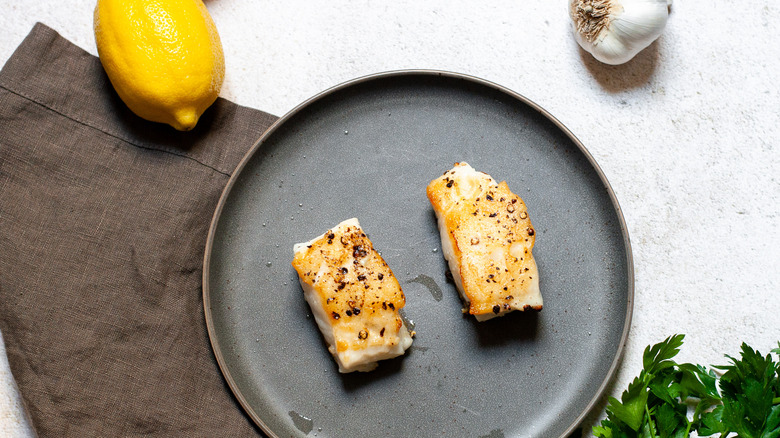 Christina Musgrave/Mashed
Add your minced garlic, lemon juice, and butter to the pan with the fish, allowing the butter to melt evenly. The combination of butter and lemon is reminiscent of a meunière sauce, a popular sauce to serve with sole, another white fish. However, this lemon butter has the addition of garlic for a Mediterranean twist and heaps of flavor. Part of the appeal of the buttery sauce is that it balances the delicate, lean nature of the fish while avoiding strong flavors that would overpower the dish. The lemon adds the right amount of acid, giving the sauce a subtle yet rich flavor that makes it equal parts light and decadent. 
Top the fish with the lemon, garlic, and butter sauce and parsley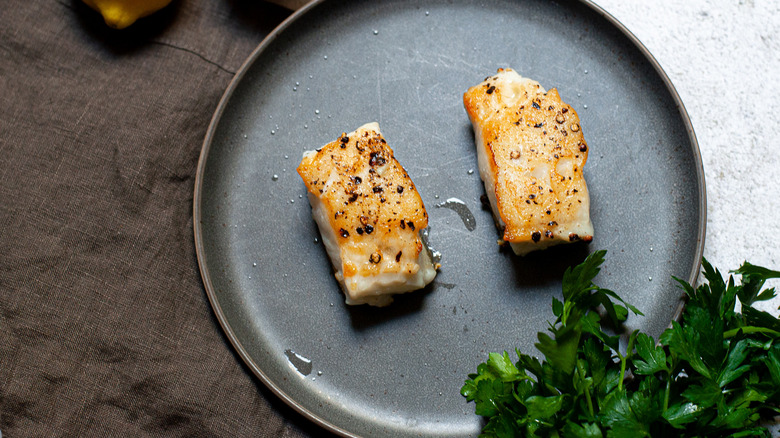 Christina Musgrave/Mashed
Once the butter has melted and combined with the lemon and garlic, spoon it over the fillets of fish. Make sure to properly coat your fish with the creamy sauce to add plenty of flavor while keeping the fillets nice and juicy. If you leave the butter on the heat after it has melted, it will start to brown and develop a nutty aroma. Browned or not, the buttery, rich sauce is well-balanced by the lemon's bright, acidic tang. The classic combination proves that you don't need elaborate ingredients for excellent flavor. 
Remove the fish from heat and place it on a plate. Sprinkle some chopped Italian parsley (the flat-leaf variety) on top of the fish for an herbaceous element. Its peppery notes add an earthy green taste to the dish, accompanying the other greens served with the fish. 
Serve your fish with arugula and microgreens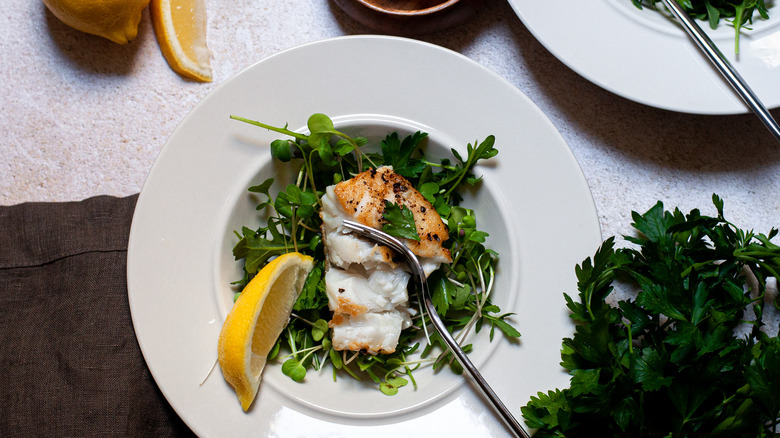 Christina Musgrave/Mashed
Serve the tasty fish with some microgreens, arugula, and a wedge of lemon. The rich, creamy sauce pairs well with greens that have a slight kick, which is what makes arugula and many microgreens stand out. Using these greens is a good way to add some nutrients and freshness without resorting to any old salad. The lemon butter sauce should do fine for dressing, or add an extra squeeze of lemon to coat the leaves. 
Ready to eat in 15 minutes, this sophisticated sea bass is easy enough to pull off any night of the week and is suitably impressive to serve to guests. Since it's quick to prepare, it's best to make serving sizes you can finish since the greens will become wilted if they aren't eaten the same day. You can also make the dish a bit heartier by serving it with rice, risotto, or vegetables. 
Sea Bass Recipe
With a few simple tips and a straightforward recipe that minimizes steps while enhancing the flavor, you will want to cook this fish on a regular basis.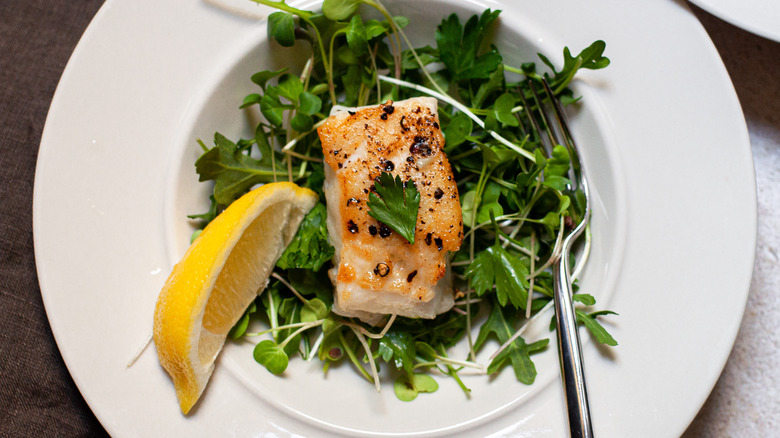 Ingredients
2 small fillets of sea bass, about ½ pound
½ teaspoon salt
½ teaspoon pepper
2 tablespoons olive oil
2 cloves garlic, minced
1 tablespoon lemon juice
1 tablespoon butter
2 tablespoons fresh Italian parsley, chopped
Fresh arugula, to serve
Optional Ingredients
Fresh microgreens, to serve
Lemon wedges, to serve
Directions
Pat sea bass fillets dry.
Season the fish with salt and pepper and set it aside.
Heat the olive oil in a nonstick pan over medium heat.
Add the sea bass and cook for 3 minutes on each side.
Add the garlic, lemon juice, and butter to the pan.
Let the butter melt, and spoon the mixture over the sea bass.
Remove from heat and top fish with chopped Italian parsley.
Serve with arugula, microgreens, and lemon wedges.
Nutrition
| | |
| --- | --- |
| Calories per Serving | 273 |
| Total Fat | 21.3 g |
| Saturated Fat | 6.0 g |
| Trans Fat | 0.2 g |
| Cholesterol | 54.9 mg |
| | |
| --- | --- |
| Total Carbohydrates | 2.2 g |
| Dietary Fiber | 0.4 g |
| Total Sugars | 0.3 g |
| Sodium | 308.1 mg |
| Protein | 18.3 g |