Grocery Stores Have Increased The Price Of This Type Of Food By Almost 20%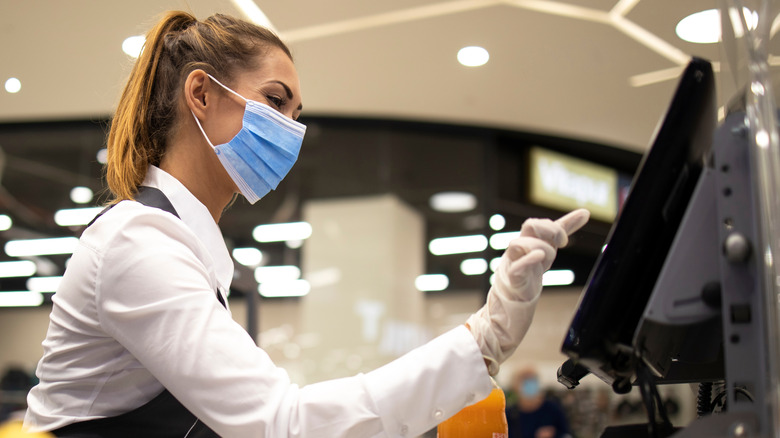 Shutterstock
Since the beginning of the COVID-19 pandemic, experts in the field of the global food supply chain have warned that pandemic-related difficulties such as labor shortages and production roadblocks would drive the price of groceries up (via NBC News). Now, it appears, that day has come. According to Bloomberg, new data from NielsenIQ shows that out of the 52 categories examined, 50 of them are more expensive at grocery stores across the country, including bagels, donuts, fruit, and meat — pretty much everything we buy on the regular ... great.
As the Bloomberg article explains, the costs of transportation, labor, and inputs have all increased dramatically since the start of the pandemic, with that effect trickling down the line to grocery stores large and small, who have had no choice but to raise their prices in response to their increased costs. While the price of a few yummy ingredients, including milk and butter, have remained flat (via Bloomberg), almost everything else has become much pricier than our wallets would prefer. One category of food in particular has been hit the hardest, and if you're a fan of its delights, you might want to crack down on your budget in order to be able to afford it.
The cost of seafood has gone sky high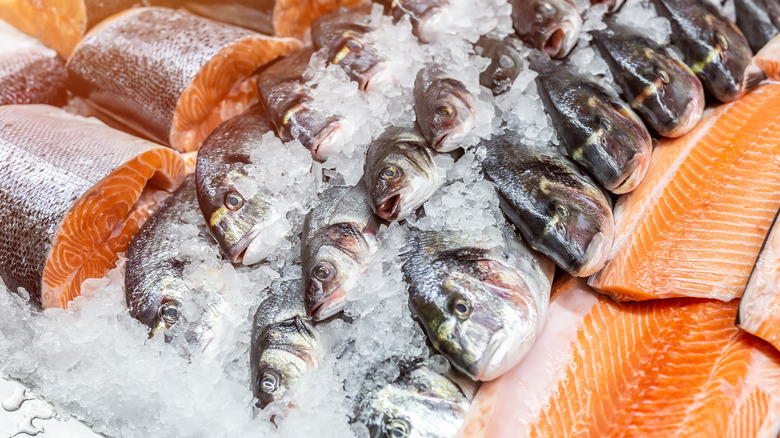 Shutterstock
If you can't get enough shrimp cocktail, ceviche, and sushi, we've got bad news for you: according to Bloomberg, seafood prices are up nearly 19 percent across the country. As reported by ABC News, pandemic production issues have been exacerbated in recent weeks by weather difficulties: colder and wetter conditions, to be specific, which have put the crab, shrimp, and bluefish seasons behind by about five to six weeks. With supply so low and demand comparatively high, fisherman are able to charge much more for these items: According to ABC News, the price of crab, in particular, is running about 60 percent higher than usual.
As home cooks, many of us can simply opt not to purchase these items for the time being. But restaurants across the board — and seafood restaurants in particular — are feeling the gut punch of higher prices at a time when demand is higher than in recent months. According to CNBC, diners are returning to restaurants in droves, and to keep up with them, eateries are paying top dollar to stock their kitchens.
Fish is delish — but the prudent move right now might be to hold off on the crab boils until prices come down. Did we mention that milk and butter prices have remained stable? Bring on the eggs Benedict, baby!