Hearty Kidney Bean Salad Recipe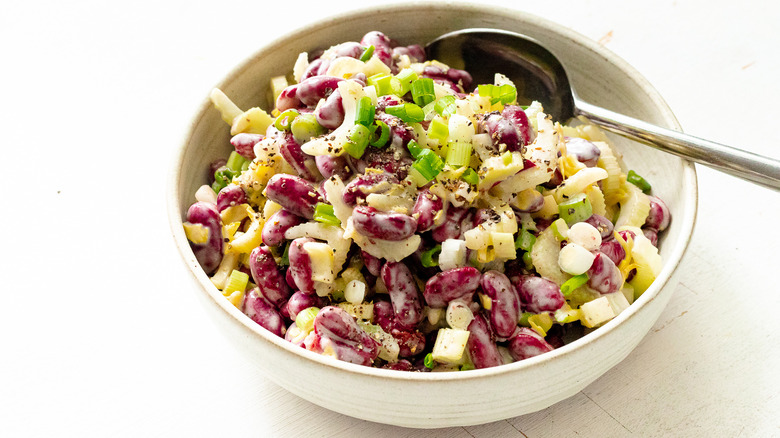 Sher Castellano/Mashed
If you are looking for a delicious and hearty side dish, look no further than this creamy kidney bean salad. You will only need a few ingredients for this recipe, and you may have a lot of the items in your home already. Recipe developer and plant-based chef Sher Castellano says that creamy kidney bean salad is an excellent choice to bring as a side to any summertime potluck or cookout. We think she hit the nail on the head, because this isn't your ordinary salad — it's a totally unique side dish. Whip this up the next time you entertain, and you're sure to be the talk of your friend circle. Not only is this recipe scrumptious, it's chock-full of healthy ingredients.
This recipe calls for mayo, but vegans can still prepare it. Castellano shares that vegan mayo is an easy sub, and it will still bring the same creamy flavors to the salad. Keep scrolling to find out more on making this delectable side dish that is perfect for vegetarians and meat eaters alike.
Gather the ingredients for this creamy kidney bean salad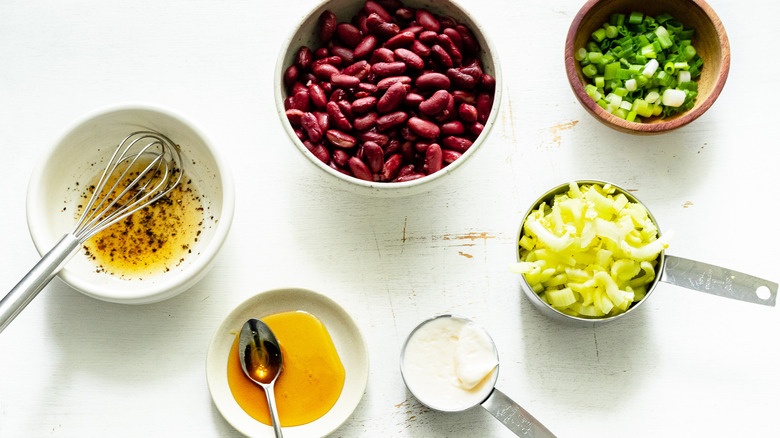 Sher Castellano/ Mashed
First, you'll want to grab everything you'll need to put together this quick and easy dish. Get one can of kidney beans, then be sure to drain and rinse them. You'll only need a little bit of produce, including thinly sliced celery and thinly sliced green onion. You'll also need a small amount of mayo. As mentioned before, you can sub vegan for regular. Everything else can likely be found in your pantry or spice cabinet, so gather the apple cider vinegar, honey, fine sea salt, and black pepper, then let's get to preparations.
Whisk the ingredients together to prepare the dressing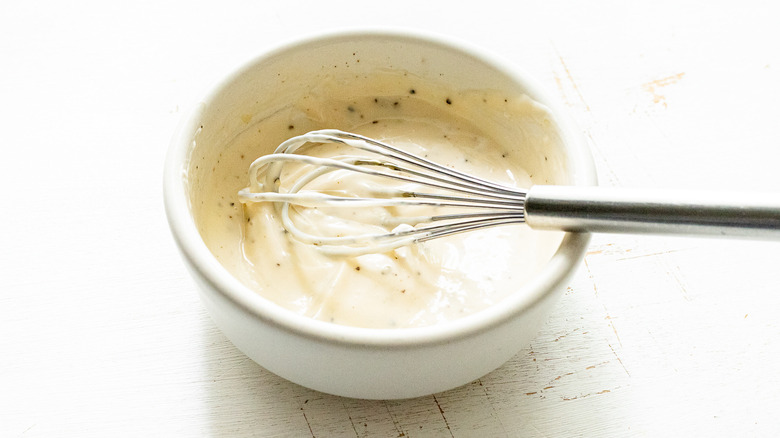 Sher Castellano/ Mashed
Grab a small bow to put together all the ingredients. You'll want to combine the mayo, apple cider vinegar, honey, salt, and pepper. Whisk them so that everything mixes thoroughly. You won't need this again quite yet, so when you are done whisking the dressing, set it aside and keep it for later. As you can see from the photo, you're really starting to get somewhere. In just a few more minutes, you'll have the perfect summer side dish ready to serve.
Combine the beans, celery, and onions, then add the dressing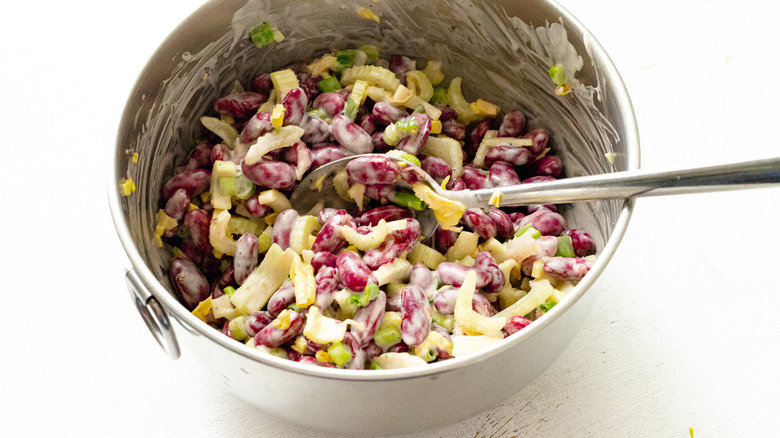 Sher Castellano/ Mashed
At this point, your kidney beans should be drained and rinsed, so you can add your celery and green onions to the bowl. Then, mix the three ingredients together. Give a few big turns, so everything is combined and distributed well. You want to make sure all the different items are mixed properly, so you can taste a few pieces in every spoonful. Now, you're going to add your bowl of dressing that you prepared earlier.
Once you pour the dressing over the bean mixture to combine, give a few good stirs, and mix it well. To be honest, this is probably the most labor-intensive piece of the recipe, so that's really saying something. Go ahead and move on to the next step, which also happens to be the last step! Can we can a "hooray"?
Chill your bean salad before serving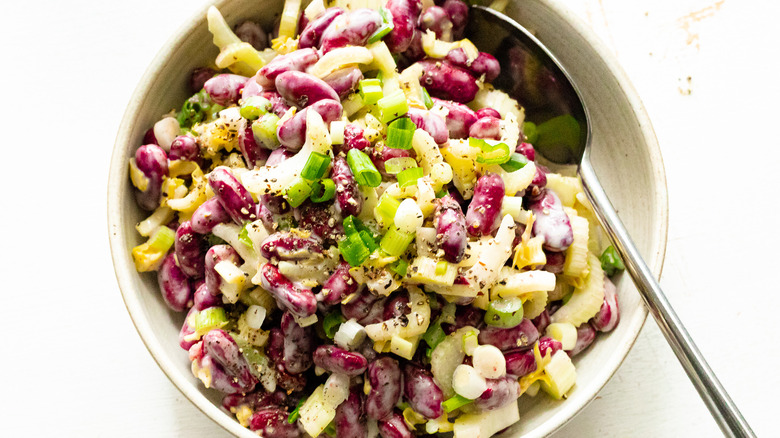 Sher Castellano/ Mashed
You now have an incredibly tasty finished product. Transfer it to a fancy serving dish, or you can keep it in the same bowl you used to mixed, if you'd prefer. If you are prepping in advance, make sure to place the bowl in the fridge, and chill until it's ready to be served. Trust us on this one — this dish is better when it's cold, and it will definitely knock your socks off. Enjoy with your friends and family.
Hearty Kidney Bean Salad Recipe
This creamy kidney bean salad is an excellent choice to bring as a side to any summertime potluck or cookout.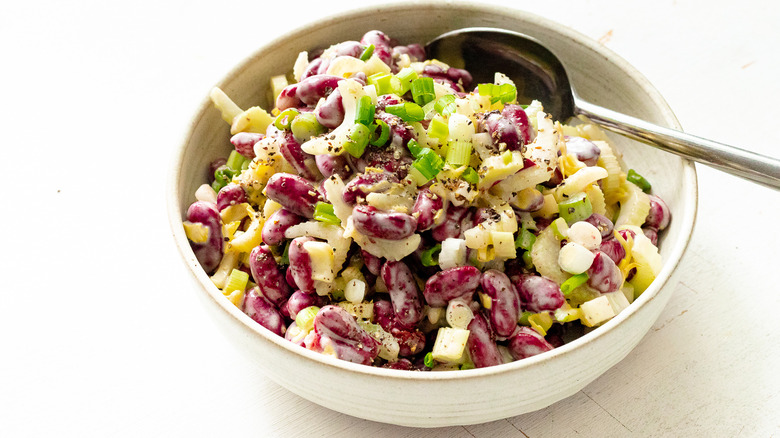 Ingredients
¼ cup mayonnaise
1 tablespoon apple cider vinegar
1 teaspoon honey
¼ teaspoon fine sea salt
¼ teaspoon black pepper
1 (14-ounce) can kidney beans, drained and rinsed
1 cup celery, thinly sliced
¼ cup green onions, thinly sliced
Directions
Whisk together the mayonnaise, apple cider vinegar, honey, salt, and pepper in a small bowl. Then, set aside.
Combine the kidney beans, thinly sliced celery, and thinly sliced green onions in a bowl. Then, pour the dressing in, and mix together.
Chill until you're ready to serve.
Nutrition
| | |
| --- | --- |
| Calories per Serving | 196 |
| Total Fat | 11.8 g |
| Saturated Fat | 1.8 g |
| Trans Fat | 0.0 g |
| Cholesterol | 5.6 mg |
| | |
| --- | --- |
| Total Carbohydrates | 17.2 g |
| Dietary Fiber | 4.9 g |
| Total Sugars | 3.8 g |
| Sodium | 398.5 mg |
| Protein | 5.5 g |