Do This Before Throwing Away Costco's Galbani Marinated Mozzarella Containers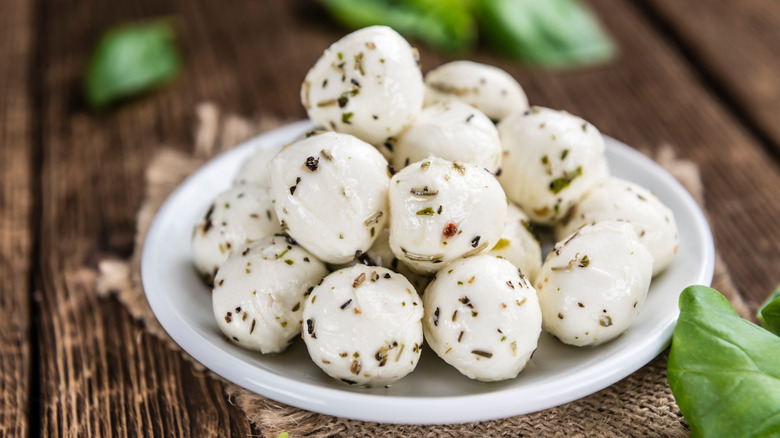 Shutterstock
Costco members are used to getting great deals on gourmet food while shopping in their vast warehouses, which are stocked with a veritable cornucopia of delightfully fancy ingredients that make compiling any meal a much less daunting task. On the Costco Reddit page, users have hit upon an ingenious way to get the most out of a Costco favorite — marinated fresh mozzarella balls made by Galbani.
The Galbani website describes their product as "ciliegine" mozzarella (a term related to the Italian word for cherry), which well describes the size and shape of this fresh cow's milk cheese (via The Kitchn). According to a Target product listing, the bite-size balls of mozzarella are marinated in olive oil seasoned with a flavorful blend of garlic, parsley, basil, red pepper, oregano, and black pepper — and it seems a shame to let that fragrant oil go to waste after all the delicious mozzarella is gone! Many Reddit users agree, as demonstrated by a helpful post filled with creative suggestions for giving a second life to the leftover brine.
Leftover mozzarella marinade is tasty and versatile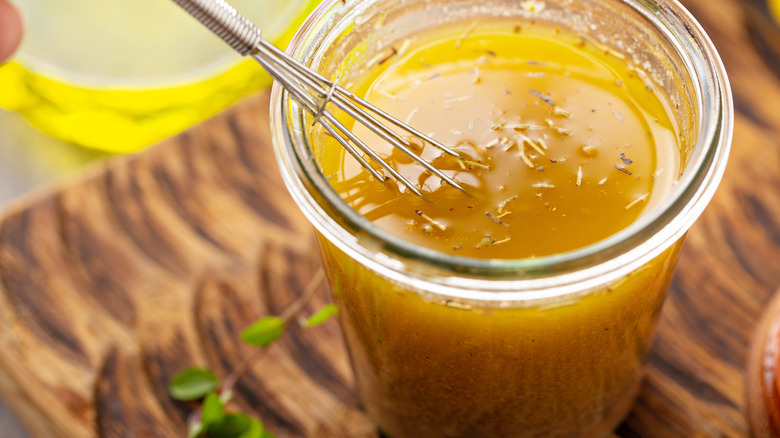 Shutterstock
The herbaceous olive oil remaining in an empty container of Costco's Galbani mozzarella makes a great salad dressing or marinade, according to Reddit users. One contributor explains that they combine their leftover Galbani oil with a splash of balsamic vinegar, salt, and some pesto. They keep a bottle of this concoction in the fridge to pour over salads or give poultry and seafood an extra kick. A second dressing variation uses red wine vinegar and a little mustard in place of balsamic and pesto. (If this clever hack has you thinking about what else you might repurpose, another Redditor uses the marinade from Costco's artichoke hearts as a base for salad dressing.)
A few other exceptionally innovative Reddit responses included a parent who says frying eggs in the oil makes them a hit with their kiddos, and another person who uses it to make grilled cheese sandwiches. Those who had not already thought to make use of Galbani's mozzarella marinade were thrilled by the idea, and sounded eager to put their personal spin on the situation. Plus, it's extra motivation to finish all that cheese.