Why Andrew Zimmern Didn't Like The 'Bizarre Foods' Name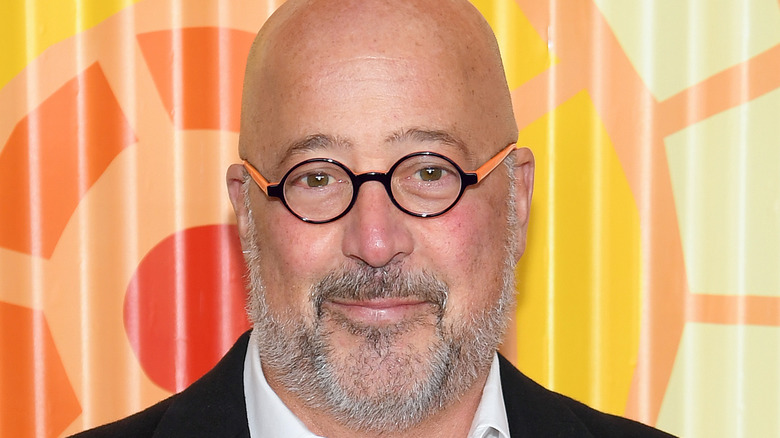 Dimitrios Kambouris/Getty Images
We may receive a commission on purchases made from links.
It's no secret that parts of our language that were acceptable five or 10 years ago, or even last year, are now seen in a new, sometimes harsher light. Whether it's "woke" culture or an evolving sense of social justice is subjective, but the fact remains that our vocabulary, and what is considered acceptable or objectionable, is changing. To that end, acclaimed chef, television personality, and restaurateur Andrew Zimmern says that he never liked, and now regrets, what show producers and network executives once considered benign and catchy in 2006: the name of his TravelChannel show, "Bizarre Foods with Andrew Zimmern."
It's easy to understand why "Bizarre Foods" was chosen. The show's title seemed to sum up the zeitgeist of the concept: A chef and food expert travels the world trying foods that are unknown, exotic, and strange to a Western audience. However, Zimmern recently discussed with Thrillist his regrets about the sensational and even judgmental connotations of the name, especially considering the way the show has evolved, as he points out, beyond bug-eating. At its inception, however, Zimmern said "Bizarre Foods" seemed like the best name of the bunch. One rejected title included "The Wandering Spoon." 
Zimmern says he sacrificed some integrity for TV success
After his namesake show evolved into a more respectful look at the foods of the world, Zimmern said he wished he could change the title. However, the program had become too popular. So instead, Zimmern chose to think of "bizarre" by its secondary definition: "unusual or interesting."
In a YouTube video from 2014 that might not sit well with some of his fans, Zimmern throws some shade at "Bizarre Foods." He points out that not only did he dislike the name, but he seems to resent the commercial angle that made it so popular. Ideally, Zimmern says, the show would have been called something more "witty and urbane," and it would have been a 10-episode deep cultural dive via food (which sounds like Anthony Bourdain's "Parts Unknown") and aired not on the TravelChannel, but PBS. Zimmern says he would have gained the "love and applause" of his peers instead of the "more marketable" show he ended up with. In a 2018 interview with Fast Company, he admitted to making a "Faustian bargain," conceding that a successful television career cost him some of his integrity.
Zimmern said he now regrets "playing someone else's culture for laughs," and believes the show redeemed itself with its latter seasons, which took a more serious look at food and culture. TravelChannel canceled "Bizarre Foods" in 2018. If you miss seeing Zimmern eating bugs, however, you can always purchase earlier episodes of "Bizarre Foods" on Amazon Prime.