Costco's New Kentucky Bourbon Bottles Are Turning Heads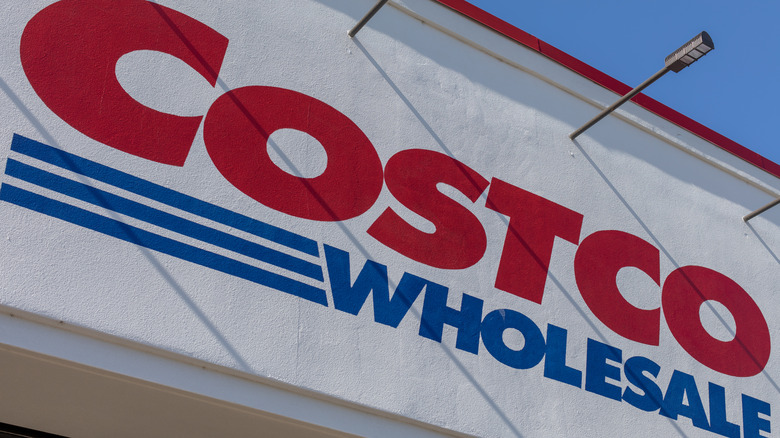 Shutterstock
Costco is known and loved (among other things) for offering private label liquors that are considered good value in terms of quality and price. In recent months, however, Costco bourbon lovers may have noticed that Costco's private label bourbons that had been sold under the Kirkland label, have been missing in action. Indeed, in February, one Reddit user said they'd been trying and failing to find Kirkland bourbon at various Costcos in the Chicago area and was wondering whether anyone else had been having any luck — or if perhaps Kirkland bourbon was being discontinued altogether (via Reddit). A hopeful answer came from one Redditor, who said they'd heard Costco was actually in the midst of switching to a "Barton branded version" and linked to a photo of an upcoming Costco slash Barton bourbon label. As it turns out, the respondent was right. 
Costco has, in fact, partnered with Barton 1792 Distillery to develop three Kirkland Signature Kentucky Straight Bourbons, according to the May 2021 edition of Costco's magazine, Costco Connection. These include Small Batch (92 proof), Bottled-in-Bond (100 proof), and Single Barrel (120 proof). The first of the three, the Small Batch, is slated to turn up on Costco shelves in select locations in June as part of a "rotational program" and in limited quantities. 
Here is why Costco's partnership with Barton 1792 is turning some bourbon lovers' heads
"The popularity of bourbon, America's only native spirit, has been steadily growing over the last decade," according to Curtis Adamson, a buyer in Costco's wine, beer, and spirits program, which has made the Costco buying teams really "excited to introduce new bourbons to our members" (via Costco Connection). And introducing new bourbons is precisely what Costco will be doing starting in June 2021, to the delight of Reddit's bourbon and Costco fans. 
When discussing the initial rumors that Barton 1792 would be developing Kentucky straight bourbons for Costco, Redditor LionRoars87 pointed out that Kirkland — with or without Barton — is what they consider to be a "premium" brand (via Reddit). "They don't sell substandard stuff." But RegularHandLuke pointed out on the thread that what is particularly interesting is that the Barton name will be on it, along with Kirkland's. "I'm excited to see how it's priced," they added.
"I've been waiting for this to come out ever since I saw the label approvals go through months ago," Reddit user Arren Pawk commented soon after Reddit user Sparksx12 posted photos of the new bottles' labels, adding that they believe Costco to be one of the best spots to find a good bottle.