Costco Fans Are Divided On Its Caramel Tres Leches Bar
Costco's prepared food section definitely has a dedicated fan base, but if you think those fans agree on every item available, you are in for a rude awakening. Take the wholesale store's caramel tres leches cake, for example. Instagrammer @costcodeals recently posted a photo of the cake with a caption notifying Costco shoppers about a deal on the sweet treat, and got some contrasting pushback on the caramel confection (via Instagram). The captions reads: "Caramel #tresleches bar is right now on sale $2 off now only $12.99! #deal ends 5/16! This #dessert is sooo good!"
Some fans were quick to agree, with comments like: "This is my fav, going to tomorrow and I definitely will be getting this," and "Literally the BEST creation since carrot cake and sheet cake LOL." One user even blamed the sweet treat for their dental degradation, writing: "LORD YES. This is why my teeth are f****d lol." However, not everyone had good things to say about the somewhat popular cake.
Why some shoppers won't be buying Costco's caramel tres leches cake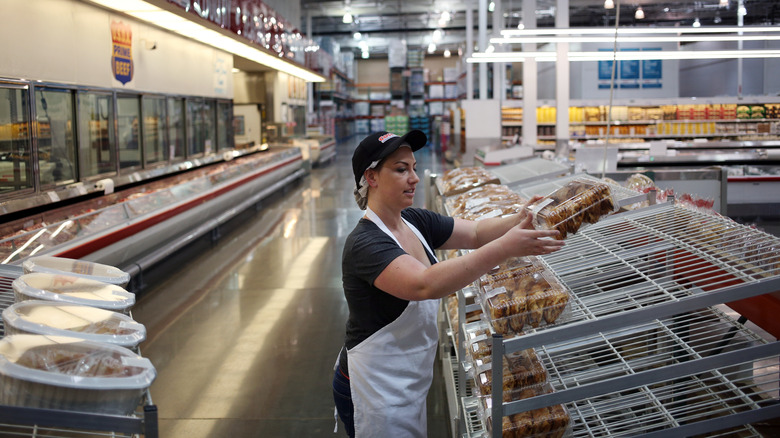 Bloomberg/Getty Images
Tres leches cake, made by soaking a simple sponge cake in three types of milk (evaporated, condensed, and whole milk or cream), is widely loved and for good reason; it's simple, light, and never too dry. However, for some commenters, the Costco caramel version causes some concern (via Instagram).
One shopper took issue with the sale, writing: "$2 discount is weak for a fresh cake," and another complained, "So many ingredients and oils," with several frowning emojis. One person even found their cake was still frozen in the middle when they got it home and needed to be left out at room temperature for a few hours to fully thaw (but, to be fair, they insisted it was "delicious" both ways).
However, there was one critique that showed up again and again in the comments section, despite @costcodeals' post quickly gaining over 5,500 likes, and that was that the cake is too sweet. In the words of one commenter: "Recently got it and it was WAYYYYYYYY TOO sweet. Like no lie I thought I'd be getting diabetes after eating a slice." Others chimed in, calling the cake, "Way too sweet" and "Toooooo sweet, too much sugar in it." So, if you don't have a serious sweet tooth, this might not be the cake for you.