Hearty And Easy Ham Pot Pie Recipe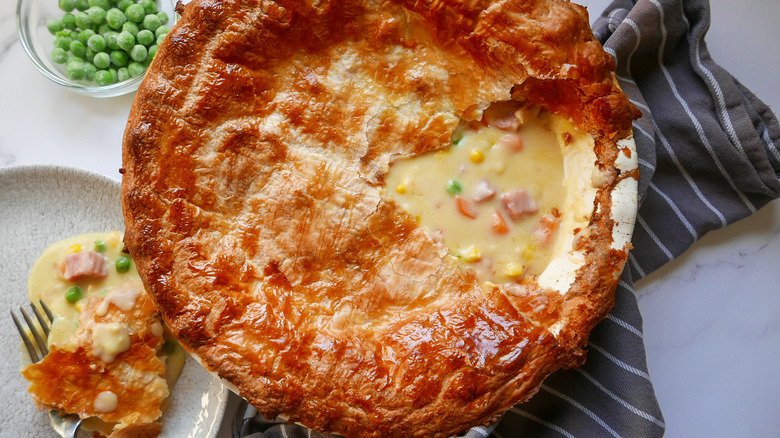 Ting Dalton/Mashed
When you think of comfort food, sometimes it's synonymous with hours in the kitchen, but that isn't always the case. This easy ham pot pie will make you feel full and satisfied, and it's super quick to whip up. It's perfect for rainy summer days when you just want to stay in and watch a movie or if you're craving a heavier dish after a long day outdoors. And it'll become your go-to in the fall and winter.
This recipe comes from Ting Dalton of Cook Simply, who also happens to be a former "MasterChef UK" contestant. Ting has put a spin on the traditional chicken pot pie by subbing ham for the poultry. This recipe uses pre-made puff pastry, which cuts down your prep time dramatically, as it takes just 10 minutes to get this meal together. Most of the work is done in the oven during its bake time, so you can sit back and relax while knowing something delicious is brewing.
Most of what you'll need for this dish is fairly basic as well, and you probably have most of it on hand. There are even a few substitutions you can make to save yourself a trip to the grocery store if need be. Ting has also noted that the filling for the pot pie can be made in advance, and there is actually an advantage to doing so. If you're looking for an easy comfort meal that'll delight the whole family, keep scrolling!
Gather your ingredients for the easy ham pot pie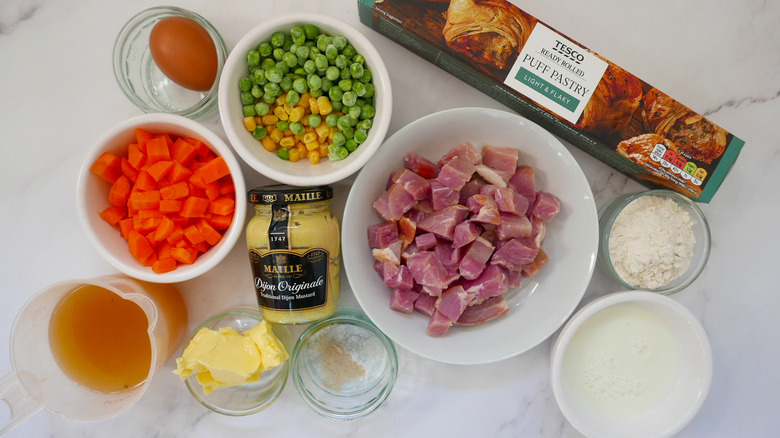 Ting Dalton/Mashed
The star of this pot pie is the ham, and with so many options to choose from, go with your personal preference. You might find yourself overwhelmed with choices regarding flavors of ham at the grocery store, be it hickory-smoked or apple-spiced, so pick whatever suits your palette. You'll need eight ounces of ham, which will be chopped into small cubes. Additionally, you'll need one sheet of ready-made puff pastry, which is normally found in the frozen foods section.
For the veggies, the recipe calls for half a cup of frozen peas, half a cup of frozen sweet corn, and a fresh carrot that will also need to be diced into cubes. If you're in a pinch and don't have a carrot on hand, feel free to use frozen diced carrots, which can often be found bundled with peas. Recipe creator Ting Dalton notes that you can use whatever vegetables you prefer, but stuck with traditional pot pie veggies for this recipe.
You'll also need four tablespoons of unsalted butter, four tablespoons of all-purpose flour, one cup of chicken stock, one cup of milk, one heaping teaspoon of Dijon mustard, one beaten egg, and a pinch of white pepper.
Prep your easy ham pot pie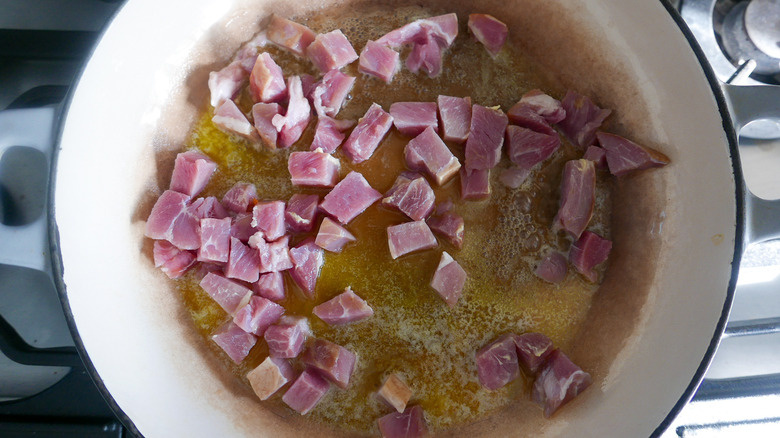 Ting Dalton/Mashed
Go ahead and preheat your oven to 350 degrees Fahrenheit. Next, chop up your ham into cubes and place them to the side. If you've opted for the fresh carrot, chop it up as well into the same size cubes and set them aside.
Heat up a large skillet and add the four tablespoons of butter to melt. After it's melted, add the cubed ham and cook for one to two minutes, until the cubes are slightly brown. Be sure to not burn them. Add in the chopped fresh carrot and cook for another minute.
Begin to build your easy ham pot pie filling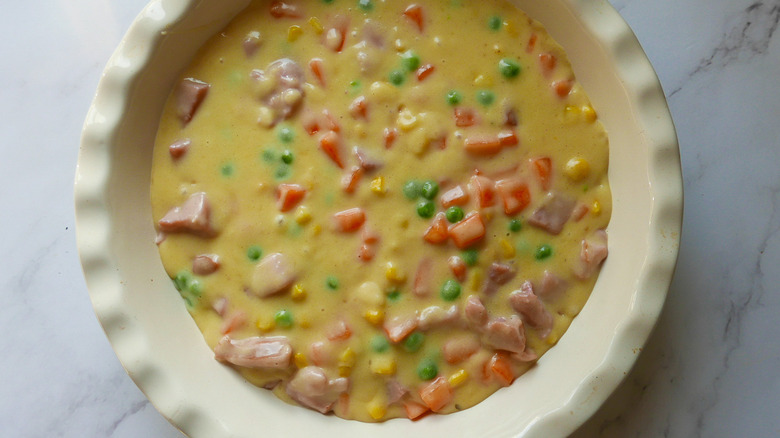 Ting Dalton/Mashed
Add in the four tablespoons of all-purpose flour and mix well. Combine the flour with the carrot and ham well. Once that is well incorporated, begin to add in the chicken stock, and keep stirring the mixture as it starts to thicken. While you continue to stir, add in the milk slowly, but not all at once. It's possible you may not even need the entire cup — it's all based on your preference. If you want a thicker sauce, lighten up on the milk. If you prefer it runnier, you might use all of it.
Assemble the easy ham pot pie for baking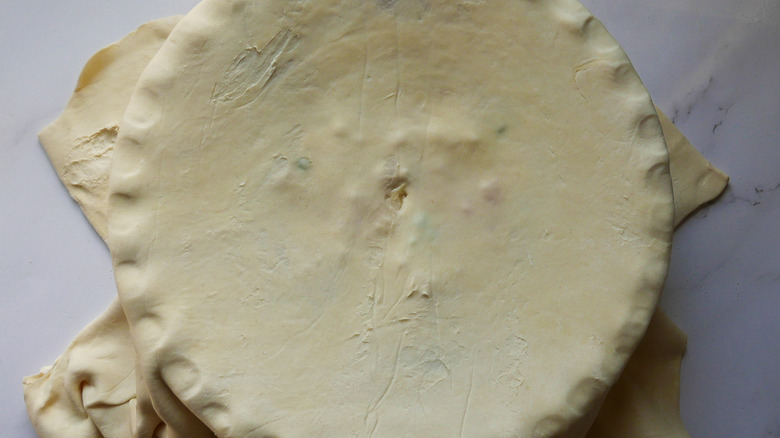 Ting Dalton/Mashed
You're almost done with your filling! Add in the heaping teaspoon of Dijon mustard along with the pinch of white pepper, peas, and sweet corn. Mix the items in well with the rest of the filling, and once blended, pour the filling into a pie dish.
Now you can take out your ready-made puff pastry to cover the dish. If it looks like you'll need a bigger piece than how it comes, lightly dust the puff pastry and stretch it out with a rolling pin until you reach the necessary size. Brush some of the beaten egg to the edges of your pie dish to help the puff pastry adhere.  Gently place the puff pastry over your filling, and trim off any pieces that might be hanging over the edge.
Recipe creator Ting Dalton notes you can make the pie filling ahead of time and store it in an airtight container in the refrigerator for one to two days before you plan to serve it. The cold pie filling helps with applying the puff pastry to the top of the pie dish. Also, if you're unhappy with how you placed the pastry on top or made an error, it's much easier to remove if the filling is cold.
Secure the puff pastry top for your easy ham pot pie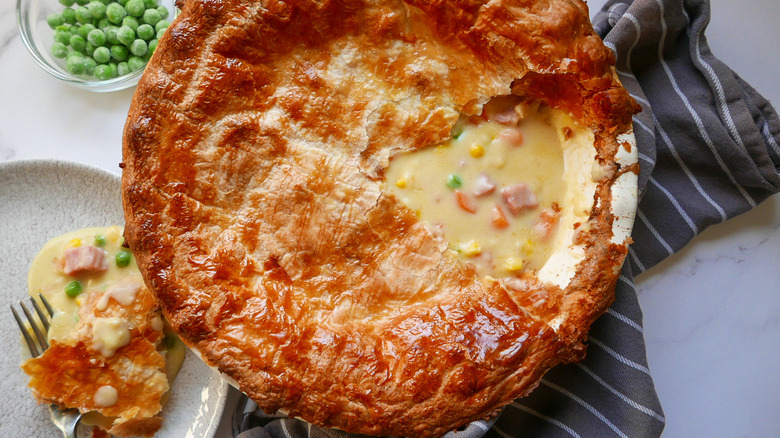 Ting Dalton/Mashed
Now that you've got the right size top on your pot pie filling, secure the puff pastry by firmly pressing the ends of the edges to the pie dish. Take a knife and make a small slit at the center of the ham pot pie, to allow steam to escape during baking.
Apply the beaten egg to the top of the puff pastry with a brush, and apply it over the entire surface. This will ensure a beautiful golden-brown crust, an absolute must for any pot pie! Place your prepped product in the oven and bake for 20 to 25 minutes. You can gauge its doneness based on the color of the puff pastry. 
Once it looks nice and golden, take it out and enjoy! If you're looking to bulk up to dish or have a lot of mouths to feed, Ting also suggests serving the pot pie with additional veggies on the side or with mashed potatoes.
Hearty And Easy Ham Pot Pie Recipe
This easy and quick ham pot pie with pastry crust and vegetables will be your go to comfort meal for a hearty meal in any season.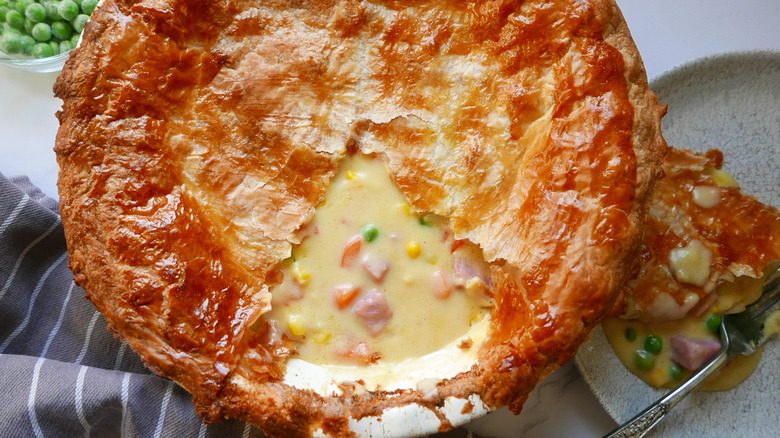 Ingredients
8 ounces of ham chopped into small cubes
4 tablespoons unsalted butter
4 tablespoons all-purpose flour
½ cup of frozen peas
½ cup of frozen sweetcorn
1 carrot diced into small cubes
1 pack of ready-made puff pastry
1 cup of chicken stock
1 cup of milk
1 heaping teaspoon dijon mustard
1 egg (beaten)
1 pinch of white pepper
Directions
Preheat the over to 350 degrees Fahrenheit.
Heat a skillet and add the butter and let it melt.
Once the butter has melted, add the ham and cook for a 1 to 2 minutes.
Add the carrots, and continue to stir for another minute.
Add the flour, thoroughly combining with the ham and carrots.
Slowly add the chicken stock while stirring as the sauce thickens.
Continue to stir, then add the milk a little at a time. You may not need all the milk if you're happy with the consistency of the sauce.
Next, stir in the dijon mustard and a pinch of pepper.
Add the frozen peas and sweet corn, and combine well.
Pour the finished pie filling into an ungreased pie dish.
Take the puff pastry out, roll with a dusted rolling pin if a larger sheet is needed.
Using a brush, apply the beaten egg on the edges of your pie dish to help the pie crust stick.
Carefully put the puff pastry over the top of your pie dish, and remove excess pastry hanging over the edges with a knife.
Press the puff pastry firmly to the edges of your dish, and then use a knife to make a small incision in the center of your ham pot pie.
Brush beaten egg over the entire pie crust.
Put in the oven and bake for 20 to 25 minutes until the pastry is deep golden brown.
Nutrition
| | |
| --- | --- |
| Calories per Serving | 397 |
| Total Fat | 25.1 g |
| Saturated Fat | 11.8 g |
| Trans Fat | 0.5 g |
| Cholesterol | 110.7 mg |
| | |
| --- | --- |
| Total Carbohydrates | 25.8 g |
| Dietary Fiber | 2.7 g |
| Total Sugars | 6.9 g |
| Sodium | 851.5 mg |
| Protein | 17.6 g |