Easy Creamy Grits Recipe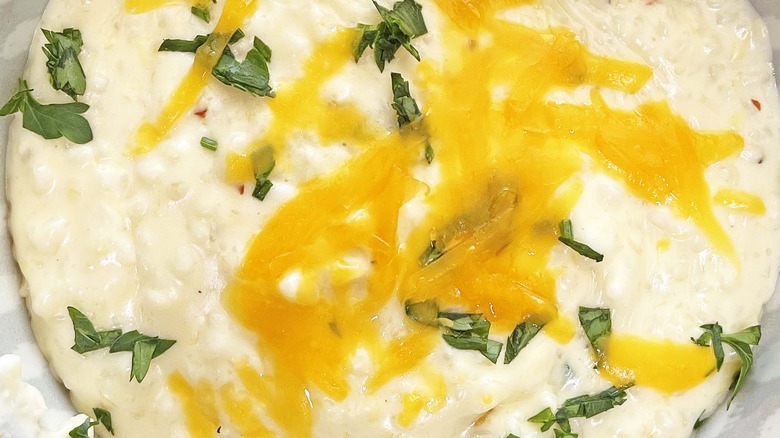 Jason Goldstein/Mashed
If you want to do grits right, don't go the instant route. You have to make them slow roll-style in a pot on the stove if you really want to make your grits-eating experience the best it can possibly be. We here at Mashed are fully confident that you can whip up this delicious breakfast staple anytime with this extremely simple recipe, where the cooking time is only 20 to 25 minutes.
This creamy grits recipe is brought to you by chef and recipe developer Jason Goldstein of Chop Happy. He says, "I love grits. They are a simple comfort food hug that makes me smile!" We could not agree more.
The only kitchen tool you'll need for these grits is a large pot. It's recommended that you eat these grits immediately after they're done cooking, but that's certainly not required. According to Goldstein, "You can serve immediately, but also eat another day. It won't be creamy, but still tastes great." 
Enjoy your grits with a warm batch of freshly baked buttermilk biscuits, bacon and eggs, or all of the above to create the ultimate breakfast or brunch spread. You can also savor them as-is for a tasty snack. Now, let's get into how you can prepare this grits recipe at home.
Gather the ingredients to prepare these creamy grits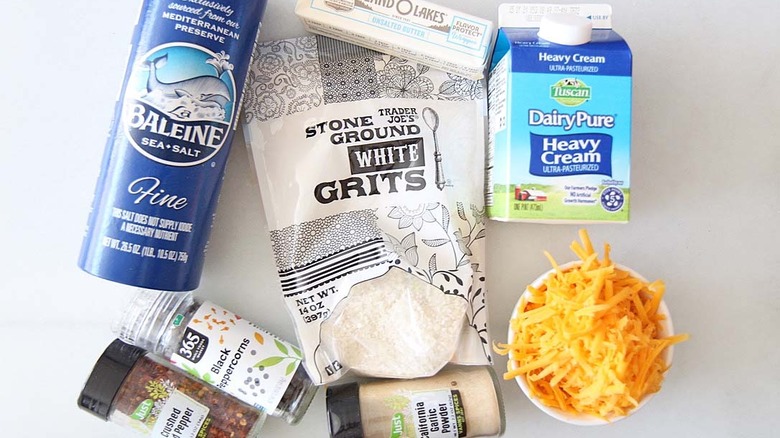 Jason Goldstein/Mashed
Make sure you have everything you need before you commence cooking these tasty grits. This recipe calls for stone ground grits, unsalted butter, salt, pepper, garlic powder, heavy cream, water, red pepper flakes, and cheddar cheese, which you'll add to the pot at the very end.
Depending on your personal taste preferences, you can include some add-ins. Grits are very versatile in that regard. Goldstein suggests chives, sour cream, or herbs you have in the fridge. You can also leave out the red pepper flakes if spicy flavoring isn't really your thing. 
Combine all ingredients except the cheese and grits in a pot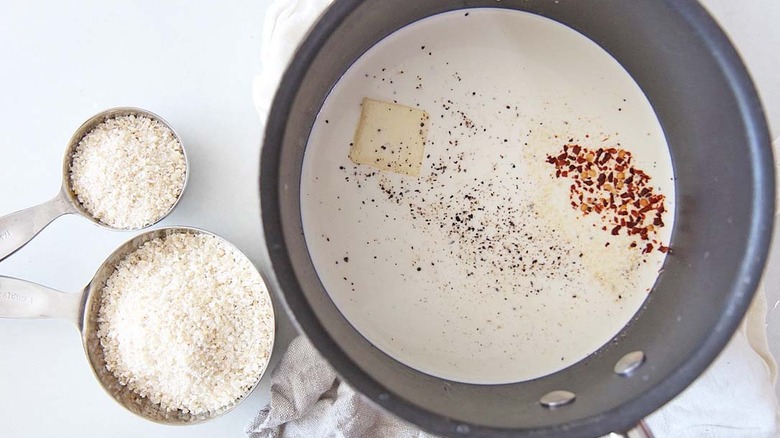 Jason Goldstein/Mashed
The first step in getting this creamy grits show on the road is placing the heavy cream, butter, water, salt, pepper, garlic powder, and red pepper flakes into a large pot. You don't have to stir to combine anything yet, since you'll be bringing everything to a boil in the next step.
It's also worth mentioning that if you want to do a lighter version of these same grits, you can use milk (regular or non-diary kind) instead of heavy cream. Keep in mind, though, that the heavy cream will make them, well, creamier!
Bring the liquid to a boil, then stir in the grits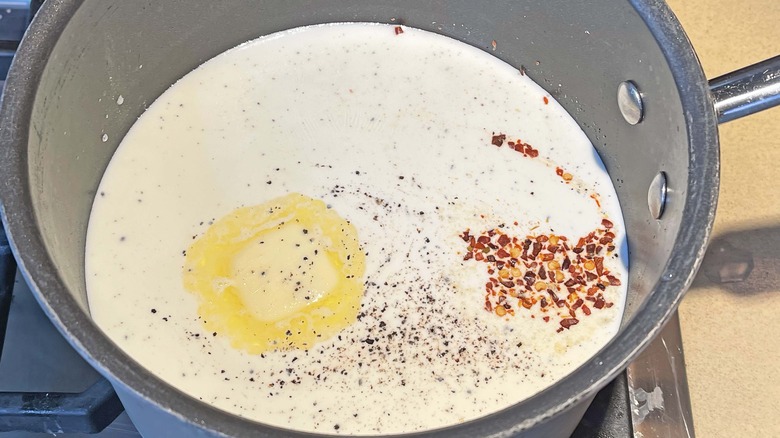 Jason Goldstein/Mashed
The next step in this grits recipe is to set the stove's burner to high, and bring everything in the pot to a boil. Once the liquid is boiling, slowly whisk in the stone ground grits. Once the grits have been added, reduce the heat to a simmer. When the liquid is simmering, cover the pot and let the grits cook, stirring them pretty frequently for about 20 to 25 minutes. Make sure you also scrape the inner sides of the pot occasionally as you stir to ensure the grits aren't sticking.
At the end of cooking, stir the cheddar cheese into the pot of grits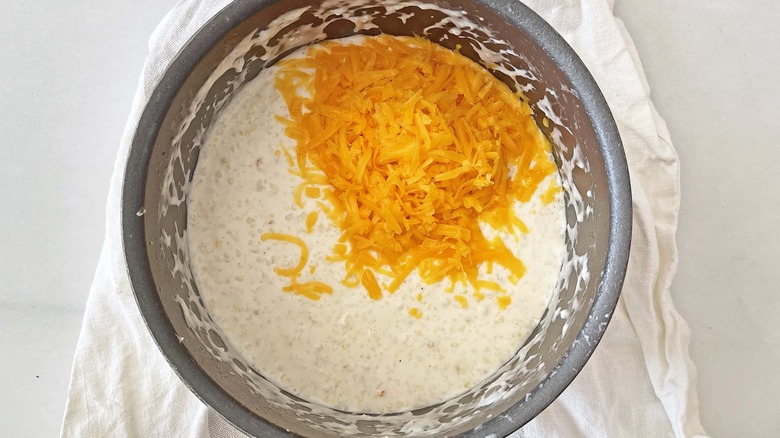 Jason Goldstein/Mashed
After you've cooked the grits for 20 to 25 minutes, lift the lid, and stir in the cheese. Then, remove the pot from the heat. Season the grits with more salt and pepper to taste. Sprinkle more cheese on top when you serve, or feel free to mix in the aforementioned add-ins — maybe even toss in some chopped-up bacon or scrambled eggs if you really want to get wild here.
This recipe yields four servings of creamy grits, so it's such a great dish to serve for brunch. If it's more than four people you're serving, though, be sure to double up on all the ingredients. 
Easy Creamy Grits Recipe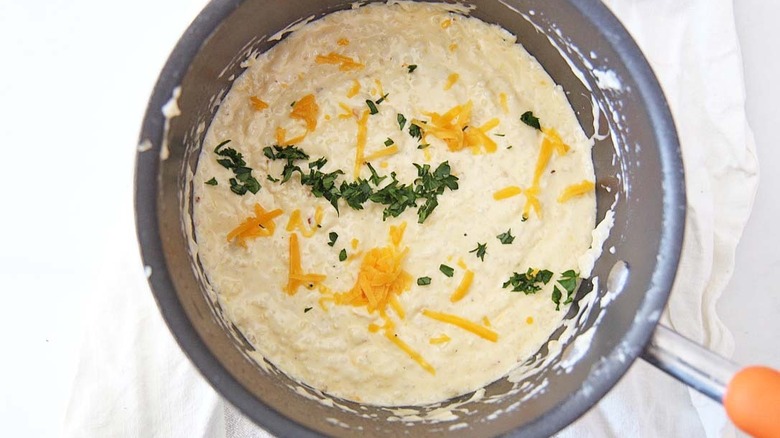 Jason Goldstein/Mashed
Prep Time:
Cook Time: 25m
Yield: 4 servings
Ingredients
2 cups heavy cream
1 tablespoon butter
2 cups water
1 teaspoon salt
1 teaspoon pepper
1 teaspoon garlic powder
½ teaspoon red pepper flakes
1 ¼ cups stone ground grits
1 cup cheddar cheese
Optional Ingredients
sour cream, for serving
chives, for serving
fresh herbs, for serving
Directions
Place the heavy cream, butter, water, salt, pepper, garlic powder, and red pepper flakes into a pot.
Bring to a boil, and then slowly whisk in the stone ground grits. Reduce to a simmer, and cover.
Stir frequently, and cook for 20 to 25 minutes.
Mix in the cheddar cheese, and enjoy.