How Rich Is The Five Guys CEO And What's The Average Pay Of Its Employees?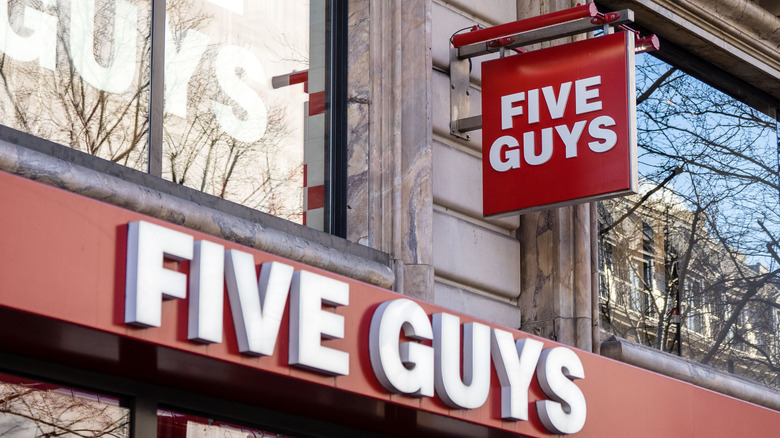 Edward Berthelot/Getty Images
Describing the fast food industry as competitive would be a considerable understatement. Aside from the market being packed with monoliths such as McDonald's, Burger King, and KFC, individual takeouts can be found filling neighborhoods across the country. In fact, research by Reuters shows that fast food outlets account for 70% of all money spent while eating out, equating to $281.6 billion.
So, the industry is hotly competitive. That means companies need two things to ensure at least some market dominance: hot food and a hot brand. Five Guys is one of the businesses at the center of this grueling battle. While it keeps its menu updated with delicious burgers, hot dogs, and fries, how does its reputation hold up?
A good way of judging this is to consider the wealth of its CEO, Jerry Murrell. Murrell founded Five Guys in 1986 with his four sons and has remained at the helm ever since (via Inc.). According to Evening Standard, Five Guys achieves an annual turnover of $1 billion, valuing the Murrell family's income from the firm at $400 million — allowing an enviable share for Jerry Murrell.
Five Guys is understood to be particularly considerate of its employees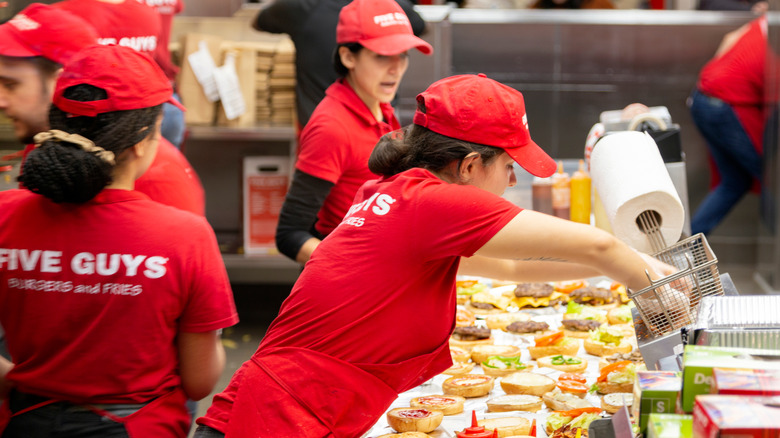 Shutterstock
Clearly continuing to succeed in the ambitious fast food climate, Five Guys' 5,000 employees are believed to be treated rather well, with the mighty company being ranked as one of the best businesses to work for in America by Forbes and ranking on a handful of the publication's other lists in prior years.
Although not being gifted the lives of gold enjoyed by the company's owners, Five Guys workers achieve an average pay of $11.79 an hour (via Payscale). Cashiers at the firm can expect to earn $9.30 each hour, while cooks take home $9.97. Wage benefits increase as employees progress through the ranks, with store managers gaining $50,061 a year and area managers earning $58,858 (via Indeed).
With employees giving boss Jerry Murrell an 87% approval rating on employment website Glassdoor, evidently, he is well placed to lead Five Guys' fight for control of the rampaging fast food industry.