Why You Should Think Twice About Getting Cracker Barrel's Dumplins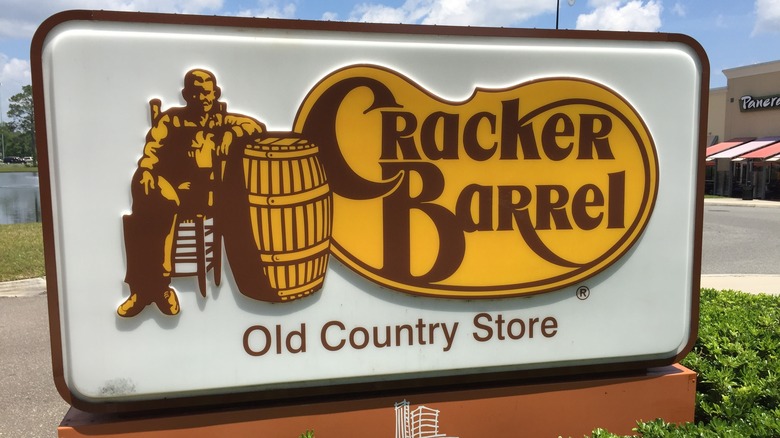 Shutterstock
Cracker Barrel is a restaurant that is popular for its take on Southern food and its homely dishes that have managed to find fans all across the U.S. There are several delectable food options at Cracker Barrel and as per Eat This, Not That, some of the best dishes to order at the restaurant include the Good Morning Breakfast, Apple n' Cinnamon Oatmeal, Grilled Pork Chop, the Roast Beef Sandwich, and more. 
Another menu item that does get a lot of attention from Cracker Barrel? The Dumplins that are a part of dishes like Chicken N' Dumplins. According to Taste of Home, the restaurant prepares millions of Chicken N' Dumplins every year. Phew. And it makes sense: feasting on delicious dumplings and chicken is an irresistible option, if you think about it, huh?
Bad news: the dumplings may not be the best option for you and it may be wiser to opt for something else when you're dining at Cracker Barrel if you're after a delicious meal and don't want to compromise on quality.
They're a disappointment
The problem with the Dumplins at Cracker Barrel is that you can't be sure what you're paying for until it is actually in front of you. According to a Dallas Observer piece, the dish was a major letdown in every way possible: it didn't look delicious and the dish was a huge disappointment in terms of flavors. The author wrote that the dish was "barely-cooked dough" and that it felt like they prepared the dish and got rid of the flavors post that. They further wrote, "If this is a Southern favorite, what dishes did the South reject?" Ouch!
There are plenty of disappointed diners, too. One Trip Advisor review noted, "My chicken and dumplings were a mess looks like they dumped it on the plate." Don't worry about insulting the chefs with Dumplin critique. As one Reddit commenter said, "Sorry to tell you they come to CB in a boil to heat bag."
A good solution is to prepare your own version of Chicken and Dumplins at home. That way, you'll save up on the calories and will be guaranteed a good meal at the same time. Try a Chicken and Dumplings recipe such as this one for the best results. Happy feasting!