Costco's 3-Gallon Beverage Dispenser Is Perfect For Summer
If you're ready for summer barbecues and backyard entertaining, Costco's 3-gallon beverage dispenser will be your entertaining must-have. As seen on @costcobuys Instagram, this Buddeez brand dispenser is more than just a way to serve beverages. With a top compartment for napkins and cups, as well as a drip tray, it might simplify that tablescape. A few comments share that it is "great for entertaining" and "perfect for summer parties." And if that hasn't sold you on this versatile item yet, the price just might. Costco has the product on sale for $21.99, which is a $5 savings from the regular price.
The spout is also corrosion resistant and the reservoir is made from stain and break resistant Tritan, making it the perfect way to serve lemonade or spiked seltzer. According to Buddeez, it "has developed a line of Tritan break-resistant beverage dispensers that have quickly developed a Best-In-Class reputation around the world." Give that this item could be used for outdoor summer entertaining, the break-resistant characteristic would be beneficial. No one wants an errant table bump to cause the whole item to smash into little pieces. Instead of lining up empty cans and bottles at the next summer gathering, put this 3-gallon beverage dispenser on the table and everyone will be able to serve themselves some refreshment.
Great summer tableware finds at Costco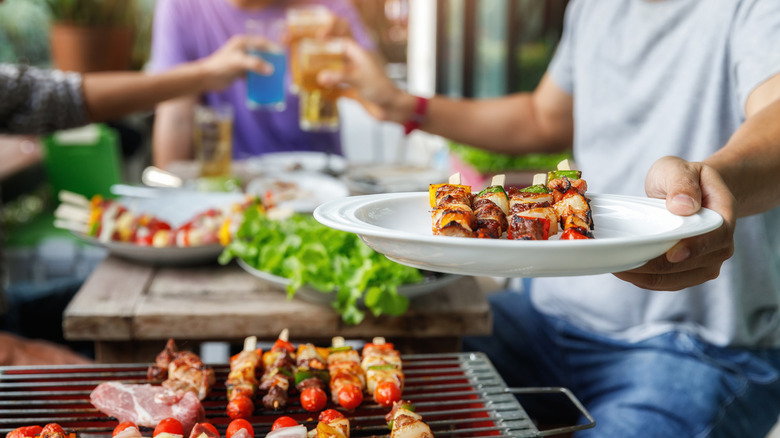 Shutterstock
Costco shoppers are always finding great summer deals both in the warehouse and online. As summer entertaining begins to take shape, many shoppers are looking to upgrade their summer tableware. Luckily, there are many options available, in addition to the popular 3-gallon beverage dispenser. For example, Costco has a 12 piece Tritan drinkware set on sale for $20.99. Available in clear and colored, the multi-sized tumblers are perfect for outdoor entertaining. Both dishwasher safe and shatter resistant, these cups will be in use all season long. 
Costco is also offering a Pandex 12-piece Melamine Dinnerware Set, service for four, that is great for outdoor entertaining. The durable dinnerware is dishwasher safe, plus no one has to worry about stoneware pieces shattering on the patio or paper plates crumbling under the weight of the summer barbecue food. Thankfully, Costco has summer tableware that can fit almost any occasion.