Fluffy Chocolate Chip Pancakes Recipe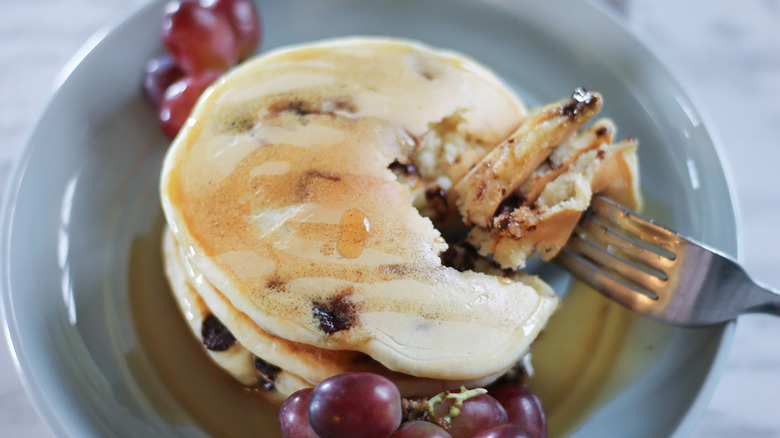 Melissa Olivieri/Mashed
If you're looking for a decadent breakfast that's sweet but not too heavy, this is the one for you. These fluffy chocolate chip pancakes give you all the sweetness you want in a meal without weighing you down. This recipe, developed by Melissa Olivieri of The Olive Blogger, requires practically no time at all. You can get everything done in just 10 minutes. It doesn't get much quicker than that, especially for an impressive breakfast!
You can also enjoy these pancakes with any number of toppings — the traditional maple syrup is always a solid choice, but you could also do a bit of fruit, maybe some whipped cream, or try some Nutella. Whatever topping will start your day off right is the one you should choose. 
This recipe is perfect for a family of four, as it makes 12 pancakes. Because they're so fluffy, you won't need more than two or three of them in a serving. So if you're ready to wow your family with this scrumptious (and easy) recipe, keep reading for the full instructions that'll guide you through the process. 
Pick out all your ingredients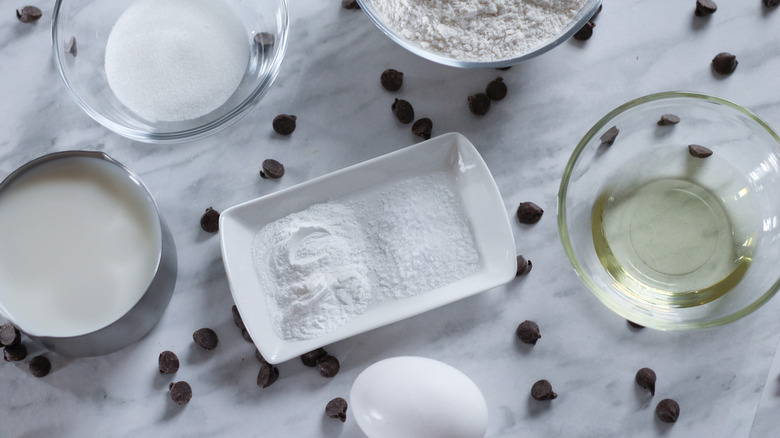 Melissa Olivieri/Mashed
First things first, you need to get together all your ingredients for these fluffy chocolate chip pancakes. This recipe requires flour, baking powder, sugar, salt, milk, vegetable oil, an egg, and semi-sweet chocolate chips. 
Recipe developer Melissa Olivieri noted that she used two percent milk when creating this recipe, but one percent would also work. If you're on a dairy-free diet, you can also easily swap out the milk for a non-dairy option like almond milk or oat milk.
Mix the dry ingredients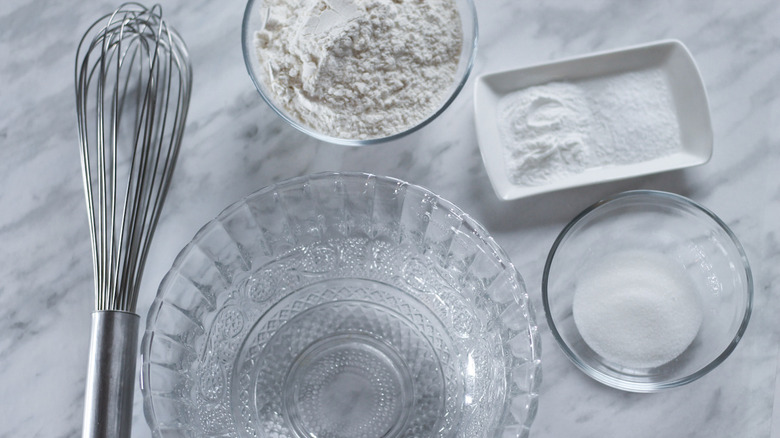 Melissa Olivieri/Mashed
In a bowl, mix together the flour, baking powder, and salt. We suggest a whisk to combine all these ingredients, but you could use a wooden spoon or rubber spatula if you prefer. For the flour, we suggest all-purpose flour, as it'll make for the fluffiest pancakes. 
Once your dry ingredients are fully combined, grab your wet ingredients as well.
Mix the wet ingredients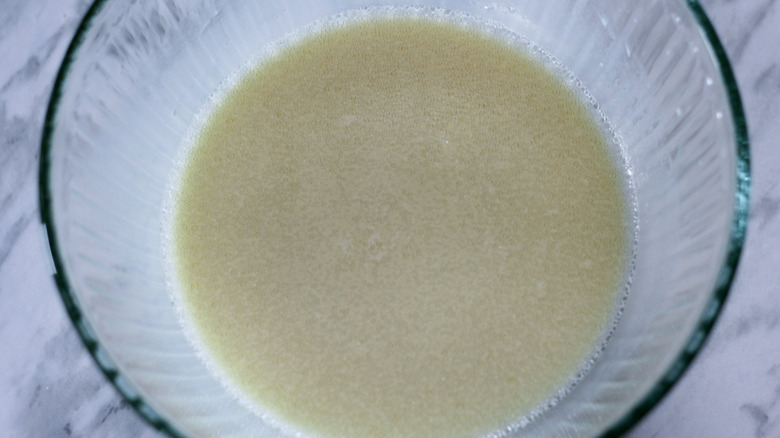 Melissa Olivieri/Mashed
Once you've mixed the dry ingredients, combine the wet ingredients in a bowl. Crack the egg in first and use a whisk to break up the yolk. Then add the milk and oil, and whisk everything together until it's combined. 
If you don't have a whisk on hand, a fork will work fine to break up the yolk and bring all the wet ingredients together. A wooden spoon could also work, though a whisk is the easiest and most ideal kitchen tool to use. Once mixed, set this bowl aside.
Mix it all together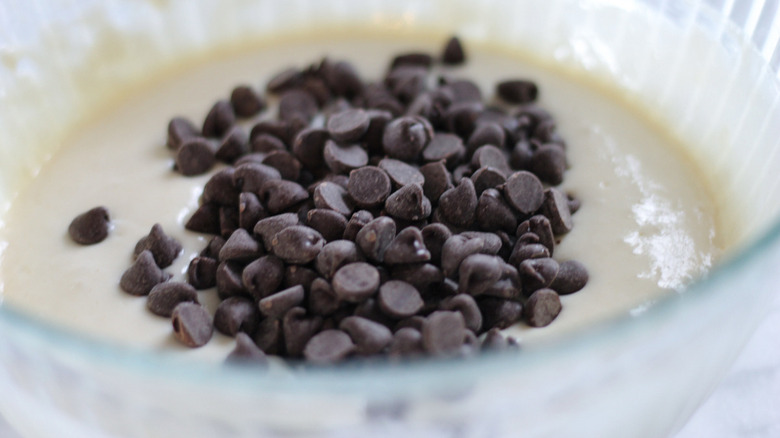 Melissa Olivieri/Mashed
Pour the dry ingredient mixture into the wet ingredient mixture bowl. Using your whisk, slowly combine the two mixtures until they're almost fully blended. It's fine if the mixture is lumpy, as you don't want to over-mix it. Doing so can cause tough pancakes, and you want these to be fluffy!
Once mixed, pour in the chocolate chips and give the batter a couple of whisks to combine. You could also use a rubber spatula for this. Then, fold the chocolate chips in. 
Now it's time to cook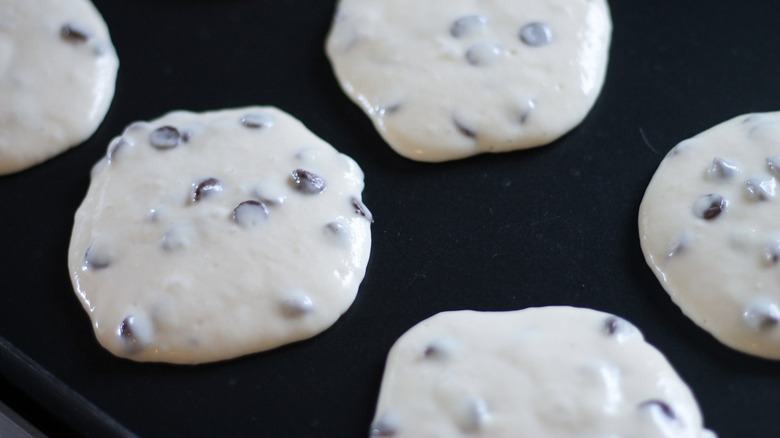 Melissa Olivieri/Mashed
To cook your pancakes, you can use either a griddle or a medium pan on the stove over medium heat. Once the griddle is hot, use a measuring cup to pour the batter onto the surface. You can use whatever size measuring cup you want, but we suggest a third or a half of a cup. Leave the pancakes to cook until you start to see small bubbles around the edges. That means it's time to flip. This should take about two minutes.
Using a spatula, flip the pancakes over to cook on the other side. Cook on this side for about a minute until they're finished. Remove from heat and repeat this process until you've used all the batter. 
Dress up the pancakes and enjoy!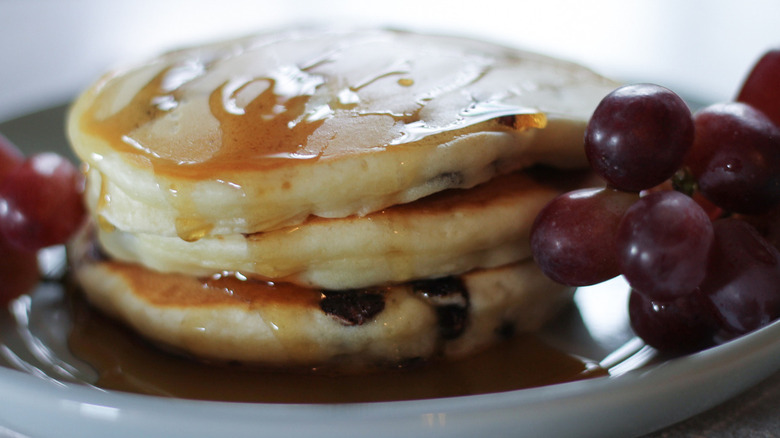 Melissa Olivieri/Mashed
Dress up your pancakes however you'd like. We suggest a bit of butter and maple syrup, but you could also do Nutella and fruit for a bit of an indulgent meal. These fluffy chocolate chip pancakes are best enjoyed right off the griddle while the chocolate is still melty!
The pancakes can also be stored, though, for later. They'll keep in the fridge in an airtight container for a day or in the freezer for a few weeks. If you freeze them, they're easy to reheat in the mornings for a quick breakfast by just popping them in the toaster.
Fluffy Chocolate Chip Pancakes Recipe
If you want a decadent breakfast, this is for you. These fluffy chocolate chip pancakes give you all the sweetness you want in a meal without weighing you down.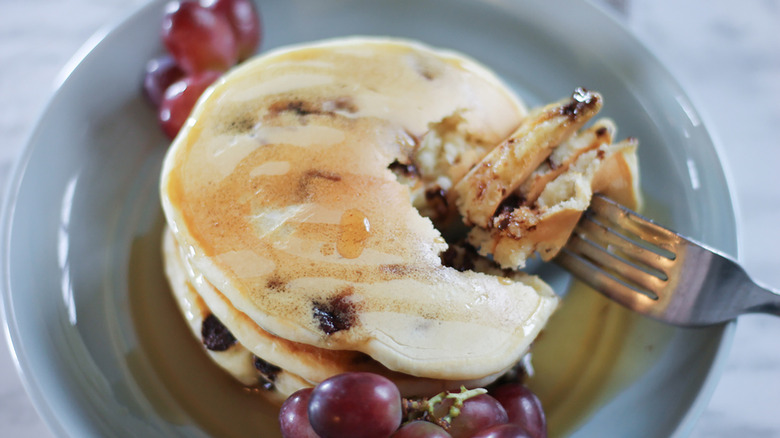 Ingredients
1 ¼ cup all-purpose flour
2 teaspoons baking powder
2 tablespoons granulated sugar
¾ teaspoon kosher salt
1 large egg
1 ⅓ cups milk (dairy or non-dairy)
3 tablespoons vegetable oil
¾ cup semi-sweet chocolate chips
Directions
Whisk all dry ingredients together in a small bowl.
In a medium bowl, mix together all of the wet ingredients. Start by gently whisking the egg to break the yolk down.
Add the dry and wet ingredients together and mix using a whisk.
Add in the semi-sweet chocolate chips and mix to combine.
Heat a griddle (or medium pan) over medium heat and pour batter using a measuring cup or ladle to your preferred size.
Flip pancakes after about 2 minutes, when bubbles begin to appear in the tops.
Let cook for an additional 1 minute once flipped, then remove from heat and serve with a drizzle of maple syrup and fresh fruit.
Nutrition
| | |
| --- | --- |
| Calories per Serving | 161 |
| Total Fat | 8.1 g |
| Saturated Fat | 2.8 g |
| Trans Fat | 0.0 g |
| Cholesterol | 18.2 mg |
| | |
| --- | --- |
| Total Carbohydrates | 20.4 g |
| Dietary Fiber | 1.0 g |
| Total Sugars | 9.4 g |
| Sodium | 142.9 mg |
| Protein | 3.2 g |