Costco Fans Are Loving These Plant-Based Chocolate Puddings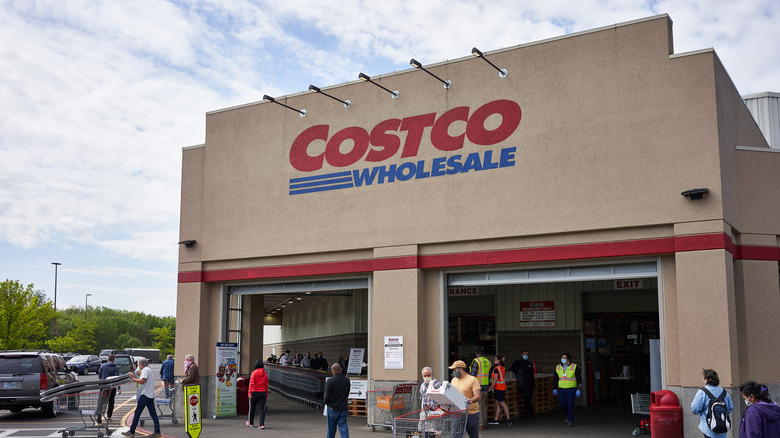 Shutterstock
It's no secret that the Costco dessert inventory is in a league of its own. From 7-pound tubs of Nutella to whole wedding cakes made of cheese, patrons of the store have access to some of the most exciting confections in retail. A recent addition to Costco shelves is now gaining steam as an all-time favorite: Petit Pot's Plant-Based Dark Chocolate French Pudding.
Costco superfan account @costcodeals announced yesterday via Instagram that they found the new plant-based chocolate puddings at Costco, and that the wholesaler would be stocking them in all of its Midwestern locations — and fans couldn't be happier with the news. The post has already received well over 1,200 likes, with a number of Costco fans stopping by in the comments to celebrate. "Yessssss!!! We need these" read a top comment. "One of the better plant-based puddings," concurred another Costco fan, pausing to add a word of advice on Pot de Crème best practice: "For original pudding texture, stir up completely."
Other followers shouted out Petit Pot's popular vanilla bean flavor, as well as the brand's iconic reusable glass jars. Several shoppers also asked about the availability of the product in other regions of the U.S. As it stands, there is no word yet of the timeline for Petit Pot coming to East Coast Costcos, but the product will hit shelves in the Pacific Northwest by August (via Instagram).
A taste of France at Costco
As detailed in @costcodeals' post, the plant-based chocolate pudding will retail for $9.99 per six-pack, a steal compared to the going rate at top competitors. Costco fans from outside of the Midwest and Pacific Northwest lamented the expense of Petit Pot products at other major retailers — with a couple of mentions of a steep $3-per-jar rate at Whole Foods (whose website seems to confirm a rate close to this).
While that is indeed steep for a chocolate pudding — and you might even wonder about paying $10 for a six-pack — a glance at Petit Pot's website puts the price into context. The dessert company, founded in San Francisco in 2014, only uses organic, locally-sourced ingredients, and makes the guarantee that all of its products are naturally gluten-free. Petit Pot is owned and run by Maxime Pouvreau, a French pastry chef trained by some of the best chefs in Europe. The Petit Pot line, which includes traditional dairy-based treats as well as plant-based pot de crème-style puddings, is a unique take on a classic French dessert.
The Dark Chocolate pot de crème originally debuted in June of 2019, Petit Pot having struggled "for years" to achieve the correct taste and texture with a plant-based recipe (via Perishable News). If the Costco fans' reactions are any indication, it was well worth the wait.