The Conspiracy Theory Burger King UK Is Trying To Debunk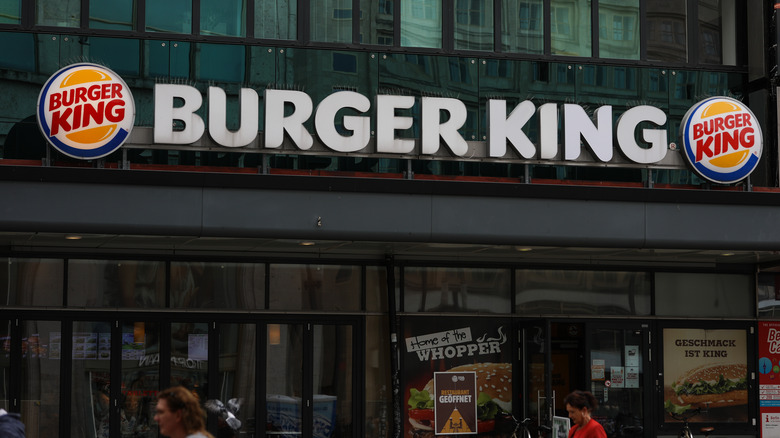 Jeremy Moeller/Getty Images
For the past few months, a conspiracy has been floating around the internet in the United Kingdom, positing that the Burger King Whopper might not be exactly as it claims. While Burger King says that their iconic Whopper is made of "1/4 pound of savory flame-grilled beef," some skeptical consumers believe that may not really be the case (via Burger King). Instead, the conspiracy claims that the Whopper gets its signature smoky flavor, not from real fire, but from liquid smoke. The theory goes that the chain orders the smoke-flavored liquid and then dips their meat into the concoction to give their burgers a smoky flavor. 
However, in a new ad, Burger King U.K. fired back at the conspiracy in a tongue-in-cheek way. The 20-second clip portrays a skeptical customer telling her friend that the Whopper gets its flavor from liquid smoke. She goes on to say: "They get it from the internet, on a computer. And every morning somebody just dips the beef into it, into its own smoky little beef bath," (via Bandt). But the ad then declares: "It's not a secret. It's real fire."
Burger King Whoppers are made from flame-grilled beef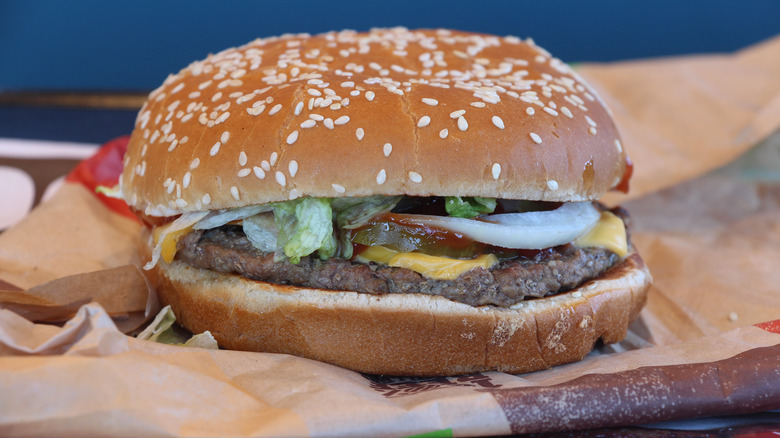 Shutterstock
While the ad might be jokey, it has made it apparent that Burger King takes its flame-grilled meat very seriously. The message is clear: Burger King's Whoppers are not made with fancy liquid potions or strange cooking methods. The meat simply goes straight from the flames onto your plate, so the smoky flavor customers know and love comes simply from grilling it on a regular, old-fashioned fire.
"In a world of fake news, people find it hard to believe the incredible taste of the Whopper can be that simple, but it really is. At Burger King we pride ourselves on being transparent with customers, and offering them great-tasting food, so, we won't be keeping any secrets about our delicious burgers," Soco Nunez, Burger King U.K.'s marketing director, said of the new ad (via Campaign Live). So there you have it — straight from Burger King U.K.'s mouth.