Trader Joe's Fans Are Divided On Its New Chile Lime Mayo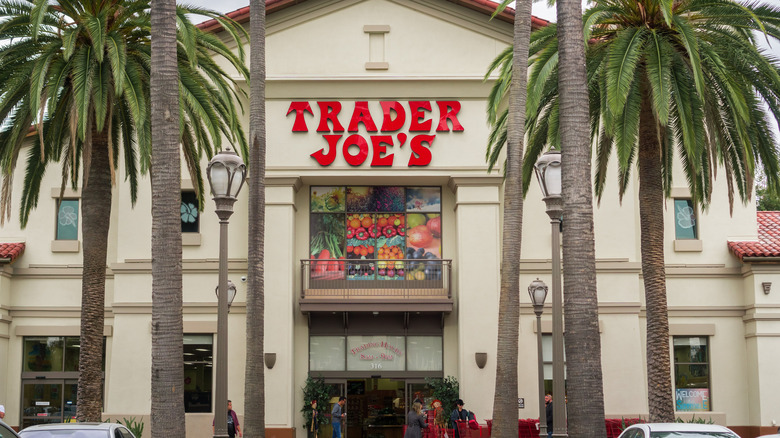 Shutterstock
Trader Joe's popular Chile Lime Seasoning Blend just got saucy. Avid Trader Joe's shoppers and Instagrammers @traderjoeslist and @traderjoesobsessed both announced the same in-store find on their accounts on May 18: Trader Joe's Chile Lime Mayonnaise. She Knows reports that the mayo is brand-new at the no-brand-name grocery chain. It's a spreadable version of the Trader Joe's seasoning, which PopSugar says was inspired by the Mexican red-pepper-and-lime spice mix Tajín.
Check out the ingredient list pictured on either Instagram post: Lime juice concentrate and powdered chipotle and ancho chile peppers give this mayonnaise its Mexican-inspired flair. Instagrammer @traderjoeslist said they would waste no time and incorporate the mayonnaise in their taco Tuesday plans. Meanwhile, @traderjoesobsessed envisioned adding the mayo to grilled corn, sandwiches, and salad dressing. 
While @traderjoeslist and @traderjoesobsessed seemed plenty pleased with their find, their followers were divided over Trader Joe's new Chile Lime Mayonnaise, which sells for $2.99 for a 12-ounce jar.  
Some Trader Joe's fans gave Chile Lime Mayonnaise thumbs-down for soybean oil
Some commenters under the @traderjoeslist post about Trader Joe's Chile Lime Mayonnaise raved. One wrote, "Trader Joe's really doesn't miss!" 
Other people who immediately fell in love with the mayo already had ideas for how they would use it. "Holy moly! Need this for my at-home sushi nights," commented fitness trainer Dannah Eve. Yet another commenter thought the mayo would be good layered in a quesadilla.
On the other hand, a swarm of thumbs-down rained on Chile Lime Mayonnaise's first listed ingredient: soybean oil. "What was the need for soybean oil as the first ingredient?" a commenter wrote on the @traderjoesobsessed post. "Every product they come out with now is cheapened up and cut with poor quality ingredients." 
Back on the @traderjoeslist post, several commenters joined the anti-soybean oil chorus. "Looks amazing, but we will not be picking this up," a commenter said. "Soybean oil is a big no!"
What's the matter with soybean oil? Bashing the oil is popular on blogs such as Perfect Keto, but not all of the site's claims are sound. Healthline points out that soybean oil benefits heart and skin health, but it does contain a relatively high amount of omega-6 fatty acids. Healthline recommends limiting your intake of soybean oil for this reason.