Hearty Mustard Stuffed Chicken Breast Recipe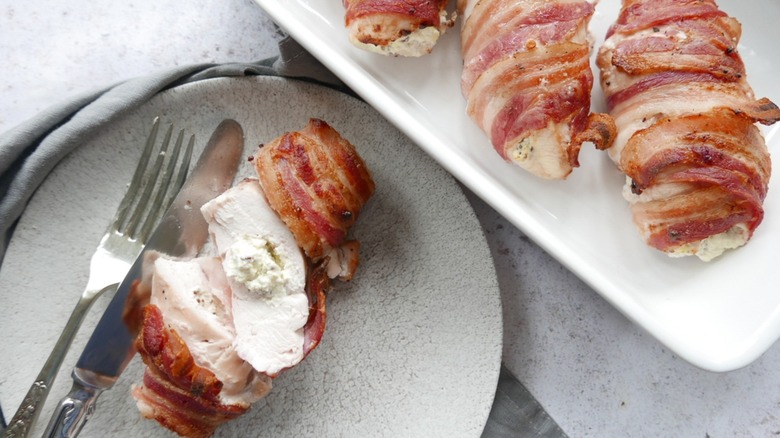 Ting Dalton/Mashed
Chicken breasts are not only a heart-healthy protein choice, but they can also be baked or pan-fried and can be paired with all kinds of sauces. Like whole chicken or any other meat, you can stuff chicken breasts with various condiments, herbs, and spices — just like with this recipe for mustard stuffed chicken breast. It's packed with flavor, very easy to make, and the whole prep and cook time is just below an hour — perfect for quick lunches and dinners.
While the dish is already good on its own, you can also pair it with numerous side dishes. "You can serve these mustard stuffed chicken breasts with a salad, or green vegetables like peas or broccoli along with mashed potato or roasted potatoes," says Ting Dalton, recipe creator, award-winning writer, and blogger of Cook Simply. Dalton also notes that you can make some minor changes to the recipe, depending on how you want your chicken to taste. "You could even switch the cream cheese for a stronger cheese, like goat cheese or an herb cream cheese," says Dalton.
Gather your ingredients for the mustard stuffed chicken breast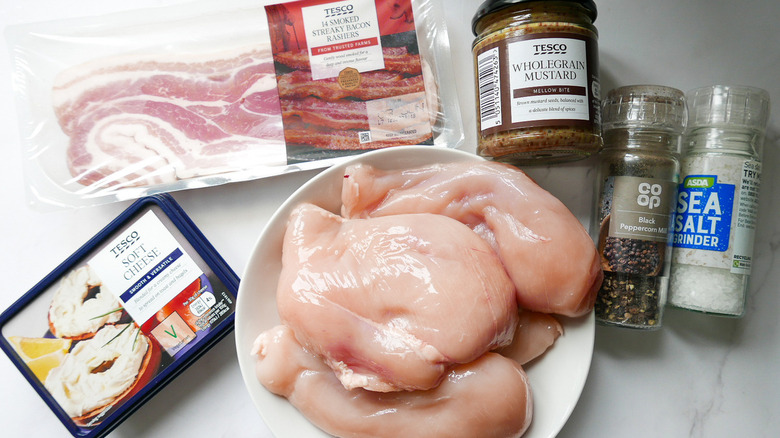 Ting Dalton/Mashed
To make the dish, you will need four skinless chicken breasts, 7 ounces of cream cheese, wholegrain mustard, 12 slices of streaky bacon, salt, and pepper. "I used wholegrain mustard here, which adds a delicate mustard kick to the cream cheese stuffing, and my kids loved it as it wasn't too strong. However, you can add another tablespoon if you want a stronger flavor," says Dalton. The cook also suggests using "Dijon mustard for more of a kick."
Preheat the oven and prepare the baking tray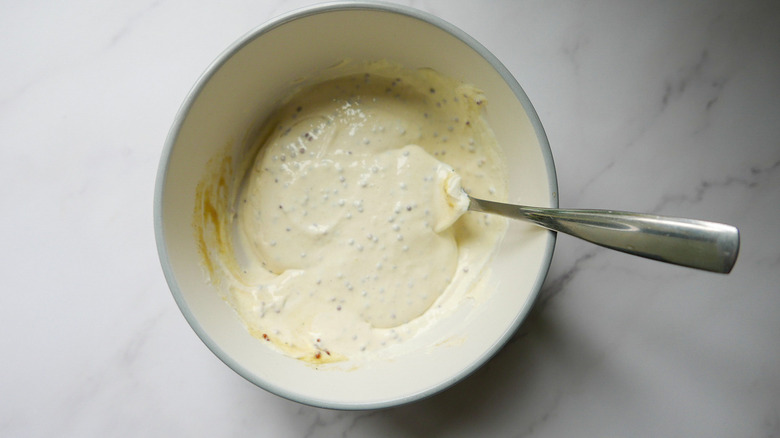 Ting Dalton/Mashed
When you have all of the items on the list, gather them on the kitchen counter and do make sure to have the chicken breasts thawed out before prep time, as well as the bacon. Before you start, preheat the oven at 350 degrees Fahrenheit. This step is simple but necessary to have the right temperature for cooking later on. While waiting for the oven, proceed with the other steps. To bake the chicken breasts, you will need a baking tray. Line the tray with baking paper, then set it aside.
Mix the ingredients and slice the chicken breasts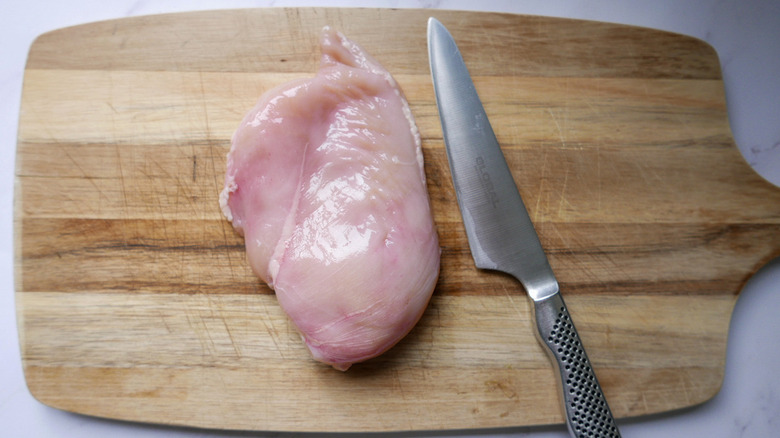 Ting Dalton/Mashed
Grab a mixing bowl, then pour in the cream cheese and mustard. Mix thoroughly to combine. Next, season the mixture with salt and pepper, and then mix again. Set aside the mustard mixture, then grab your chicken breasts and place them onto the cutting board. 
Using a sharp knife, slice a pocket into the chicken breasts along its side. Do it carefully to avoid cutting all the way through. "To make a pocket, it is easier to start at the thicker end of the chicken breast," says recipe creator Ting Dalton. "Once you've made the slit, you can then use your finger to create a bigger pocket without having to worry about cutting through with the knife."
Stuff the chicken breasts and wrap with bacon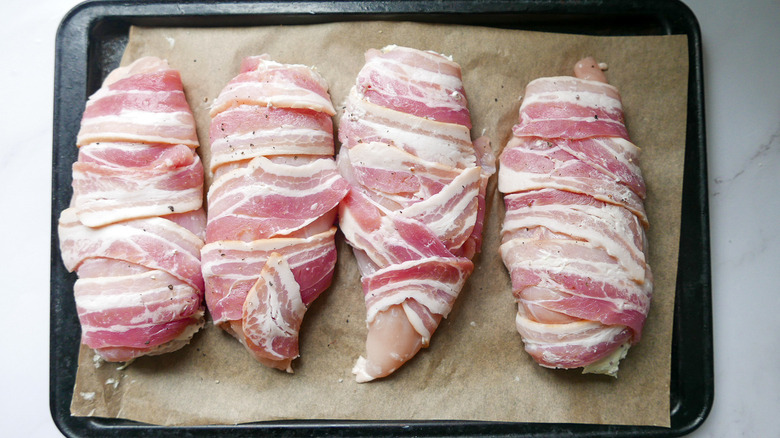 Ting Dalton/Mashed
When you're done making pockets on the chicken breasts, grab your mustard mixture. Stuff each chicken breast with the mixture and distribute evenly on all four pieces. When done, move to the next step. Use three slices of bacon and wrap them around a piece of stuffed chicken breast to hold the meat together. Repeat this step on the remaining chicken breasts. You can also use toothpicks to hold the bacon in place and then just remove them after baking.
Bake the stuffed chicken breasts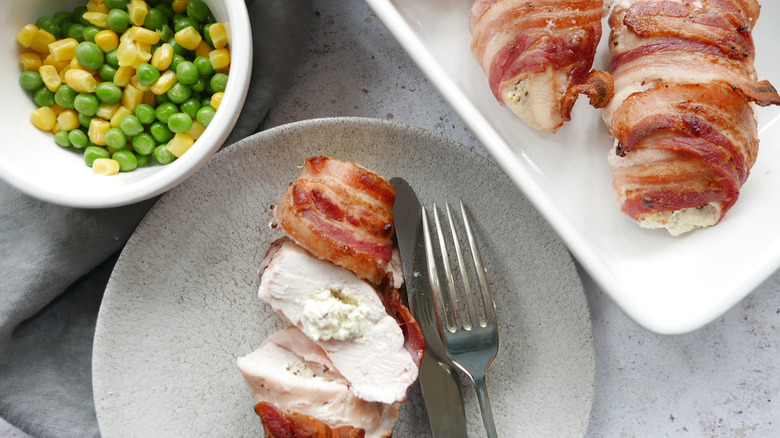 Ting Dalton/Mashed
Place all of the stuffed chicken breasts on the baking tray after you're done wrapping them in the bacon. Season the chicken with salt and pepper, then pop it in the oven and bake for up to 25 minutes or until it's cooked through. Apart from the wait time, you can also check the chicken's temperature with a thermometer. It's cooked when it's at 165 degrees Fahrenheit. 
When cooked, serve each chicken breast on plates with side dishes for a full dinner presentation, or you can put them on a platter for a casual affair. This dish is best eaten while hot, so serve immediately.
Hearty Mustard Stuffed Chicken Breast Recipe
Cream cheese stuffed chicken breasts wrapped in bacon are a great dinner option any night of the week. Mustard adds an extra kick and goat cheese is an option.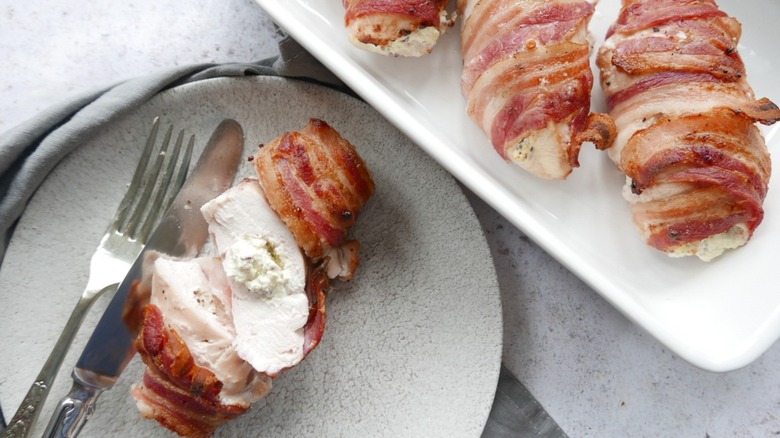 Ingredients
4 skinless chicken breasts
7 ounces cream cheese
1 tablespoon mustard
12 slices bacon
Optional Ingredients
Directions
Preheat the oven to 350 degrees Fahrenheit and line a baking tray with baking paper
In a bowl, mix the cream cheese and mustard until combined. Season with salt and pepper. Set aside.
Take the chicken breasts, and using a sharp knife, slice a pocket into each chicken breast along its side. Be careful not to cut all the way through.
Get the cheese and mustard mixture and stuff inside each breast.
Wrap each breast with the bacon, so that they are holding the chicken together. Use toothpicks if needed.
Place each chicken breast on the baking tray and season with salt and pepper to taste.
Place in the oven and bake for 25 minutes until the chicken is cooked through to an internal temperature of 165 degrees Fahrenheit.