Rachael Ray's Pozole With A Twist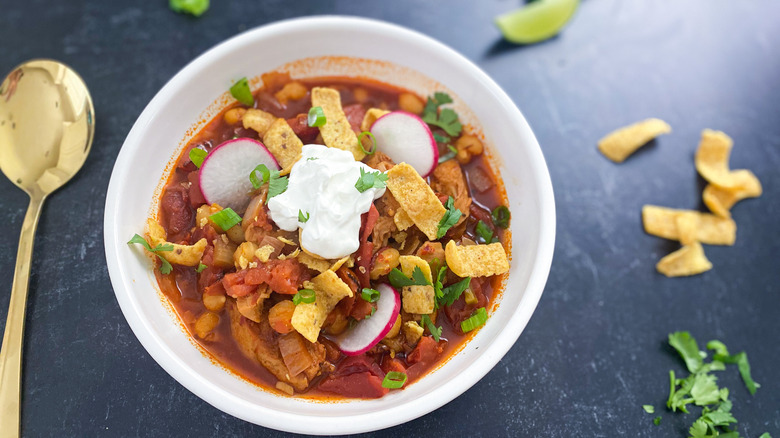 Erin Johnson/Mashed
Rachel Ray has become a household name, creating a ton of recipes that are easy and delicious for home cooks to whip up. And really, what more could we ask for? Recipe developer Erin Johnson of Probably in the Kitchen took Ray's recipe for pozole and added a unique twist to it that takes it to the next level. There's no doubt that Ray's recipe is scrumptious as-is, but we think our twist elevates the flavors and the cooking method! Johnson has nothing but good things to say about this popular Mexican dish. "This recipe is relatively easy to make and tastes amazing," she raves. "It's also familiar flavors, but [they] come together in a way most people may not have tried before." 
If you're a fan of toppings, that's another big plus of whipping up this recipe. "[Pozole] can be topped with anything you'd put on a taco or on top of chili," Johnson shares. "It's really limitless and up to personal preference. I used my favorites." The crunch of Fritos and a dollop of sour cream will add even more delicious elements to the already flavorful soup. Keep scrolling to find out what Johnson did to alter the recipe while still keeping it with Ray's original in mind.
Gather the ingredients to prepare Rachael Ray's pozole with a twist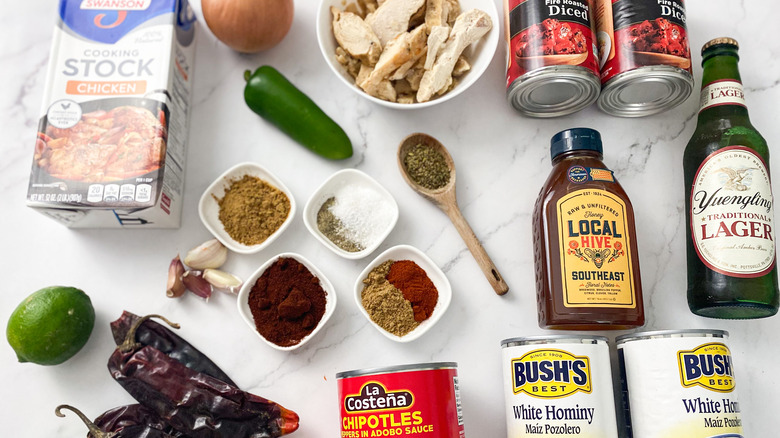 Erin Johnson/Mashed
Spices are the main star in this dish, and you'll need several of them! Luckily, most can be found in your spice cabinet, saving you a trip to the grocery store. Grab the chili powder, ground cumin, ground coriander, smoked paprika, dried oregano, salt, and of course, pepper. For actual spice, you also need chipotle in adobo, a jalapeño pepper, a few anchos, or guajillo peppers (stemmed and seeded).
Several other ingredients make up the rest of this flavorful dish, including chicken stock, olive oil, cooked hominy, cooked chicken, fire-roasted tomatoes, chopped onion, minced garlic, a can of beer (amber or lager), and cooked chicken. To round it off, you'll need honey and lime juice.
Prepare the peppers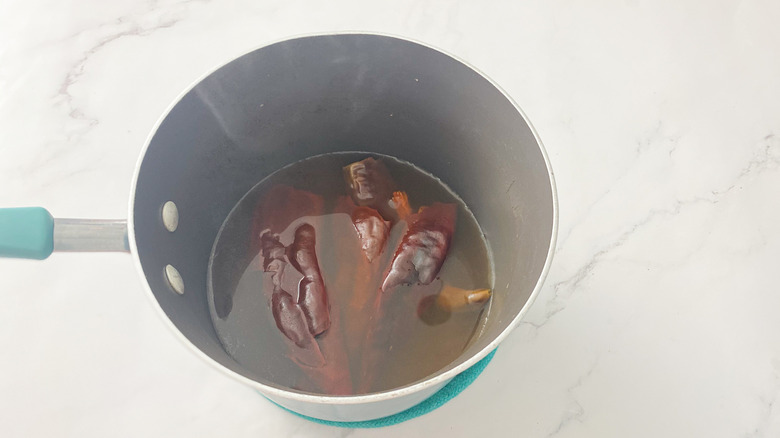 Erin Johnson/Mashed
First, you're going to tend to one of the spice all-stars of this dish. Grab a sauce pot, and turn on the stove to heat it up. You'll want to grab your ancho or guajillo peppers, and make sure they're seeded and stemmed. Add them to the sauce pot with the chicken stock until they're soft. Once they're ready, take them out, and puree them in a blender or food processor. Set them aside until they're needed again.
Whip out your Instant Pot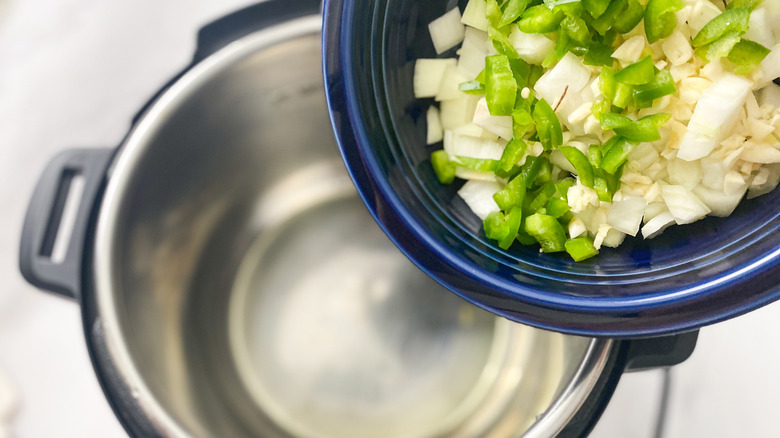 Erin Johnson/Mashed
If you love your Instant Pot and all of the magic that it makes, then this recipe is right up your alley! This is the other twist of the recipe. "An Instant Pot does all the work quickly and really packs in flavor in a short amount of time," Johnson says. 
So, grab your trusty pot, and set it on the counter. Turn the setting to "sauté," and add your olive oil. Next, you'll put in the onions, jalapeños, garlic, salt, pepper, and the remaining spices, and stir everything.
Add the chicken, tomatoes, and additional ingredients to the Instant Pot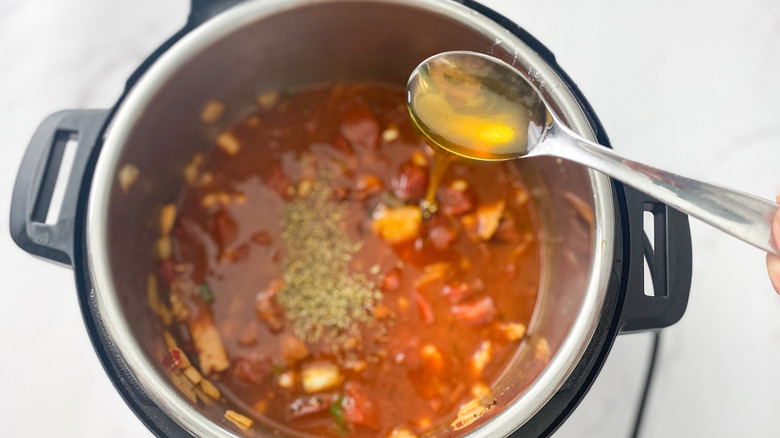 Erin Johnson/Mashed
Keep the lid of your Instant Pot open, because you're not entirely done with it yet. Now, you'll want to add the most vital part of the dish. Toss in the chicken, tomatoes, and hominy. You'll also need your chipotle peppers, beer, reserved pepper liquid, and honey. Once they're all in the pot, give it another good stir to combine. Keep moving on, because you're really getting somewhere now.
Set the Instant Pot to high pressure, and cook for 15 minutes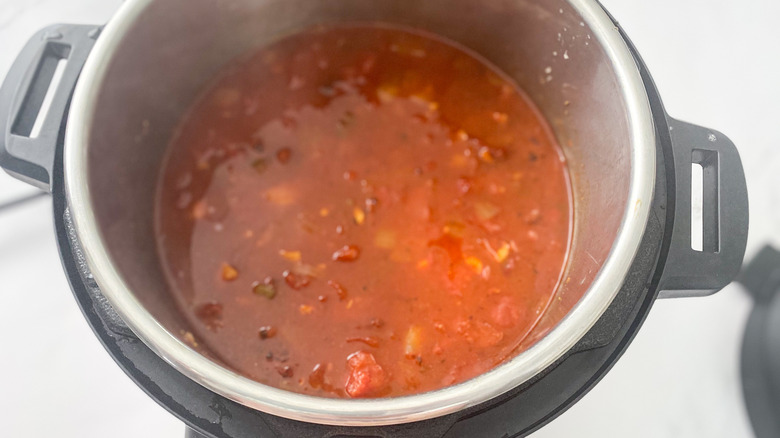 Erin Johnson/Mashed
Here's where the best part of the Instant Pot comes into play! Set the pressure to high, and put 15 minutes on the timer. The Instant Pot can do the job in minutes, whereas a slow cooker would take hours. Less waiting can just be better when you have a hungry family to feed.
Once the timer dings, add some lime juice, and taste before serving. Can you even believe how easy it was to throw that together?
What did we change?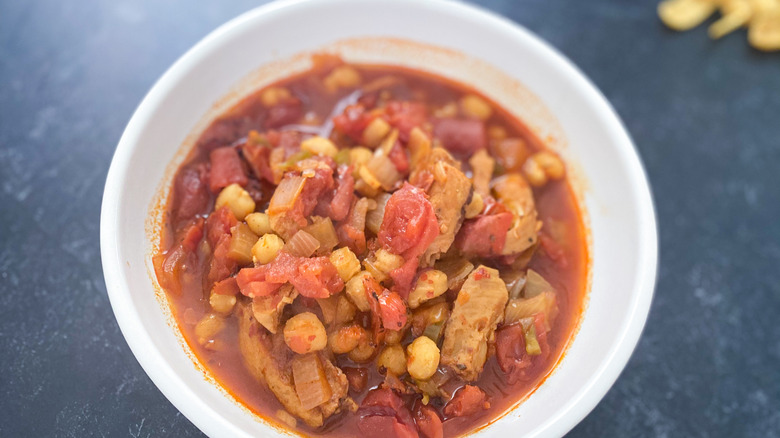 Erin Johnson/Mashed
We bet you're dying to know what the twist was in this recipe, so look no further. Johnson added cooked chicken to this dish, which initially called for no meat. She also opted to use an Instant Pot for cooking the dish, whereas Ray's original recipe was done in a Dutch oven. You can really do it either way, but we must admit that we love the chicken in this recipe! Plus, the ease of the Instant Pot makes this a quick dish that seems like you spent hours preparing it. All and all, it's a huge win.
Rachael Ray's Pozole With A Twist
Rachael Ray's pozole with a twist is quite simple to whip up and tastes undeniably delicious when topped off with sour cream and Fritos.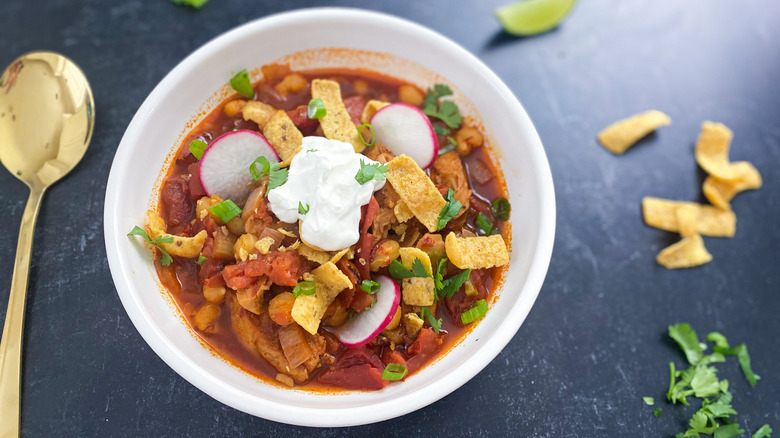 Ingredients
4 large ancho or guajillo peppers, stemmed and seeded
4 cups chicken stock
2 tablespoons olive oil
1 large onion, chopped
1 large jalapeño pepper, seeded and chopped
4 cloves garlic, minced
salt, to taste
pepper, to taste
1 tablespoon chili powder
1 tablespoon ground cumin
1 tablespoon ground coriander
½ tablespoon smoked paprika
½ tablespoon dried oregano
2 tablespoons chipotle in adobo, finely chopped
2 cups cooked chicken
1 (12-ounce) beer (lager or amber)
28 ounces fire roasted tomatoes
28 ounces cooked hominy
2 tablespoon honey
Optional Ingredients
Directions
Prepare the ancho or guajillo peppers by heating them in a sauce pot with the chicken stock until soft.
Then, puree the peppers in a food processor or blender, and reserve.
Set your Instant Pot to sauté, and add 2 tablespoons of olive oil.
Add the chopped onions, seeded and chopped jalapeño, minced garlic, salt, pepper, and spices to the pot. Stir.
Add the finely chopped chipotle, chicken, beer, reserved pepper liquid, fire roasted tomatoes, cooked hominy, and honey. Stir to combine.
Set Instant Pot to high pressure, and cook for 15 minutes.
Add lime juice to taste before serving.