Air Fryer Roasted Vegetables Recipe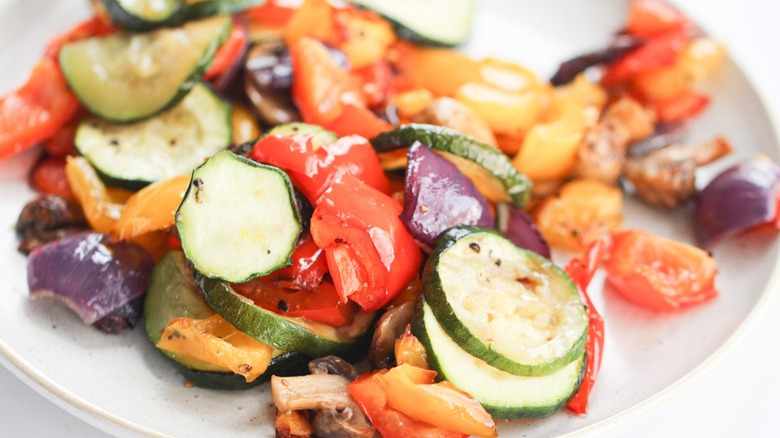 Susan Olayinka/Mashed
Air fryers might conjure up visions of chicken wings, french fries, and any other food that's, well, fried. While those certainly are delicious ways to use the appliance, there's a whole other wonderful world waiting to be explored: vegetables. 
Roasting vegetables in the oven may be a tried and true method, but between cooking time and preheating the oven, it can be a time-consuming process that heats up your home a bit more than you'd prefer. That's where the air fryer comes in. In this recipe from Susan Olayinka of The Flexible Fridge, getting perfectly roasted veggies takes less than 30 minutes, chopping included. Plus, this process uses a minimal amount of oil.
Fresh, colorful veggies like zucchini, bell peppers, red onion, and mushrooms get a quick chop and are tossed with olive oil, salt, and pepper. A quick trip to the air fryer and voila! You've got a plate of tasty veg you'll be reaching for again and again. 
Gather your veggies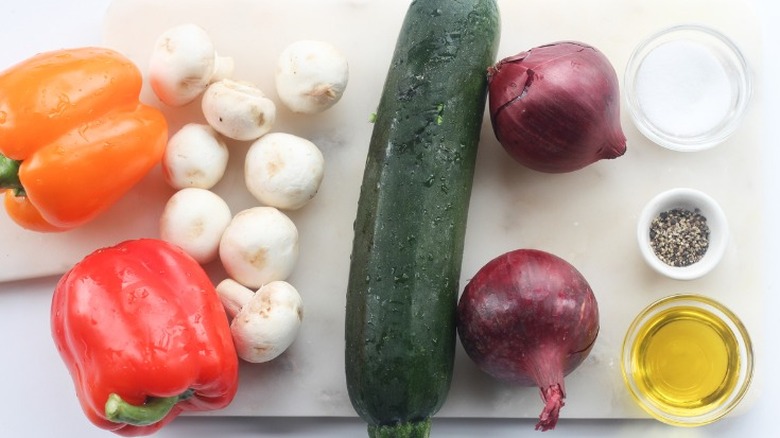 Susan Olayinka/Mashed
Vegetables are the star of the show here, so treat them well by washing and drying your bell pepper, red onion, zucchini, and mushrooms. Drying your veggies ensures they will cook well without getting soggy.
Once you've made sure all your vegetables are accounted for, measure out two tablespoons of extra virgin olive oil, one teaspoon of salt, and half a teaspoon of black pepper. 
If you want to use more seasonings than just salt and pepper, feel free! Recipe developer Susan Olayinka even has some suggestions: For an Indian-inspired take, she recommends turmeric and curry powder, and for a Mexican flavor profile, go with a mix of cumin, red pepper, onion powder, garlic powder, and paprika. "Even using jerk seasoning would be nice," Olayinka says.
Chop your way to mise en place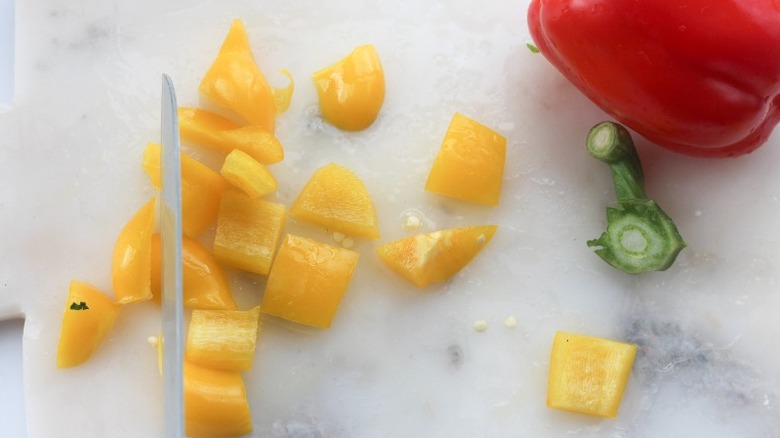 Susan Olayinka/Mashed
Once you've gathered everything you need for this recipe, the most involved step begins: chopping each vegetable into bite-sized pieces. Unlike sauteeing, where you can potentially get away with chopping vegetables as you add them to the pan, air frying requires everything to be added in one go. Cut button mushrooms in half, slice zucchini into coins, quarter your red onion, and roughly chop the bell peppers.
Get oiled, seasoned, and ready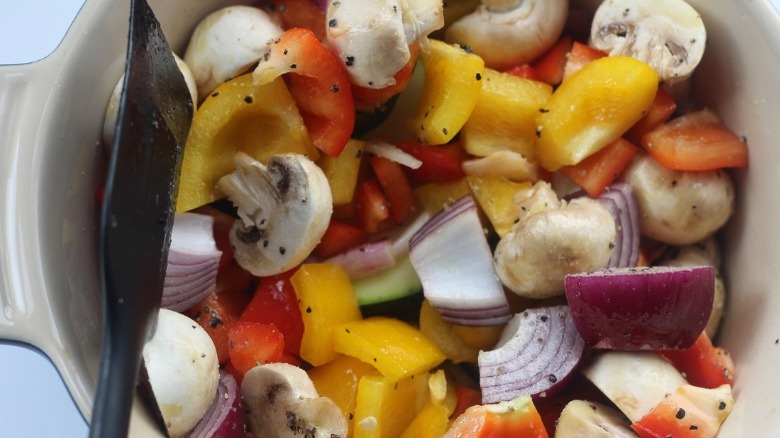 Susan Olayinka/Mashed
After you've chopped everything, place all the vegetables in a large bowl. Then, add your extra virgin olive oil, salt, pepper, and any other seasonings you might be using. This step should be quick and easy, since you've already measured everything out. Then, using a wooden spoon or rubber spatula, give everything a good mix. You want to make sure each piece of vegetable is coated with the oil and seasonings; not even the smallest bit of pepper or mushroom should be neglected. 
Air frying begins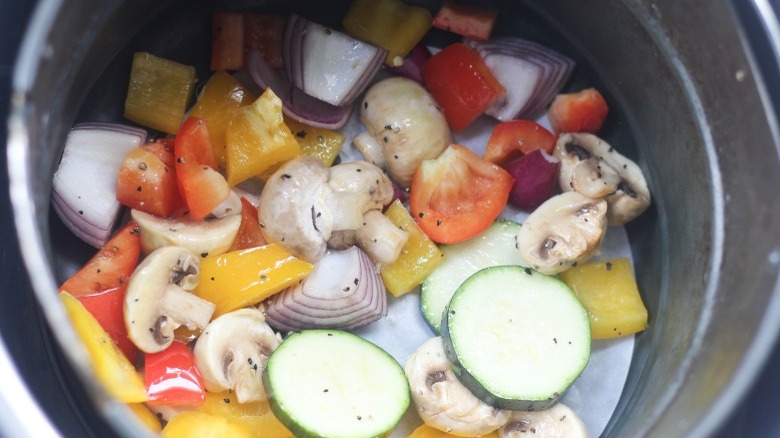 Susan Olayinka/Mashed
Now that your veggies are completely prepped and seasoned, it's time to air fry. First, line your air fryer basket with a piece of parchment paper. "This step is quite important as most things tend to stick to the tray unfortunately," recipe developer Susan Olayinka explains.
While you don't have to arrange the vegetables in a specific way, there is one ground rule to follow: make sure the basket isn't too crowded. When a pan of any sort is too packed, you risk the food steaming instead of roasting. If you happen to be doubling this recipe to air fry veggies for a crowd — or if you have a smaller air fryer — work in batches so everything cooks up the way it's intended.
You'll be air frying at 350 F for 15 minutes. About halfway through the cooking process, give the veggies a toss so that every side gets evenly cooked.
Serving ideas and substitutions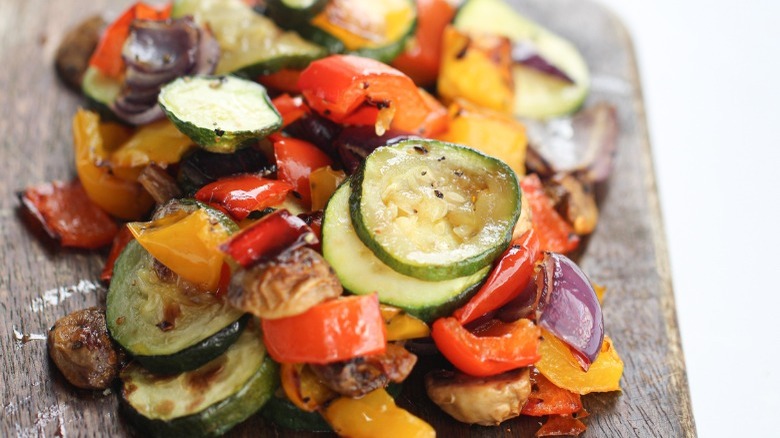 Susan Olayinka/Mashed
Once the air fryer has finished working its magic, you're ready to serve! Place your perfectly air fried vegetable medley on a plate and dig in. Recipe developer Susan Olayinka suggests serving these air fried veggies with grilled meat like steak or BBQ chicken. "If you are vegetarian or vegan, refried beans or bean curry would be nice too," Olayinka adds. 
Now, it can feel tempting to throw any type of vegetables together in your air fryer. Not so fast — Olayinka's recipe is designed around vegetables that have similar cooking times, so everything is able to intermingle while still roasting to perfection. Need to make some swaps? "Great alternatives would be broccoli, cauliflower, eggplant, okra, [or] sugar snap peas," Olayinka suggests. If you don't have a red onion, feel free to use a different type, but Olayinka notes the sweetness inherent in red onions makes the dish "that more flavourful." Happy air frying!
Air Fryer Roasted Vegetables Recipe
Grab some zucchini, onions, mushroom, bell peppers and more for tasty air fryer roasted vegetables. There's less oil yet all the flavor you love from the dish.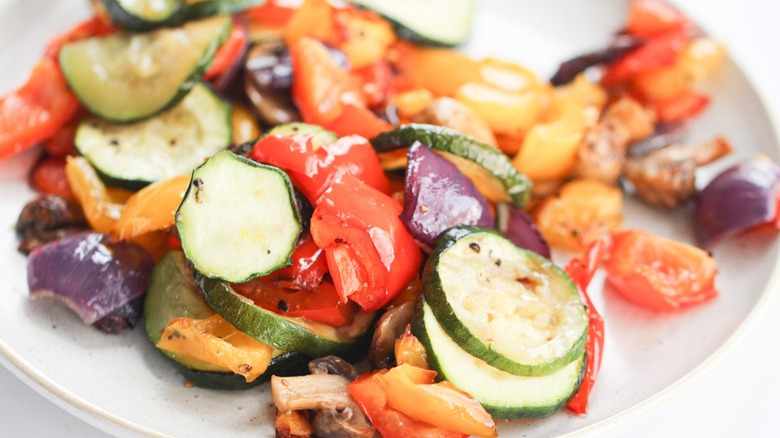 Ingredients
2 bell peppers
1 red onion
½ zucchini
1 cup button mushrooms
2 tablespoons extra virgin olive oil
1 teaspoon salt
½ teaspoon black pepper
Directions
Wash, dry and chop the bell peppers, red onion, zucchini, and button mushrooms into bite sized pieces.
Add the vegetables to a large mixing bowl along with extra virgin olive oil, salt and black pepper. Mix together until well incorporated.
Get the air fryer tray and line with parchment paper.
Place the vegetables inside the tray and cook at 350 degrees F for 15 minutes, turning halfway through.
After the cycle has finished, carefully open the lid, remove the vegetables and place on a serving dish.
Nutrition
| | |
| --- | --- |
| Calories per Serving | 100 |
| Total Fat | 7.1 g |
| Saturated Fat | 1.0 g |
| Trans Fat | 0.0 g |
| Cholesterol | 0.0 mg |
| | |
| --- | --- |
| Total Carbohydrates | 8.1 g |
| Dietary Fiber | 2.3 g |
| Total Sugars | 4.8 g |
| Sodium | 325.2 mg |
| Protein | 1.8 g |