Everything You Need To Know About Burger King's New Ch'King Sandwich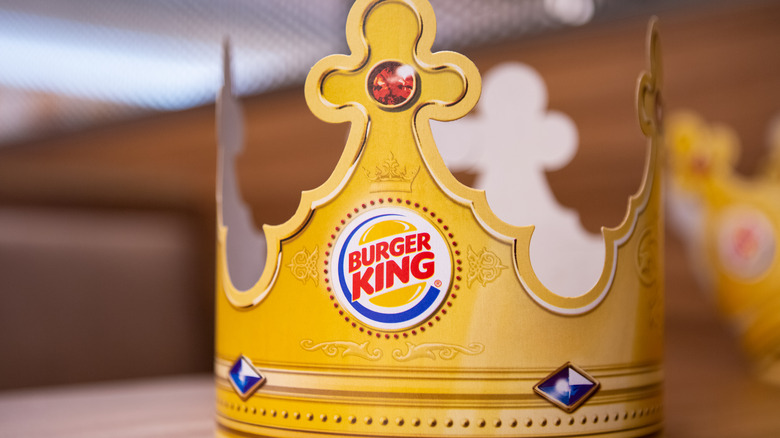 Shutterstock
"The battle for chicken sandwich dominance" began in August 2019, when Popeyes laid down the gauntlet with its fried chicken sandwich, according to Restaurant Business Online (RBO). Chick-fil-A was the first fast food giant to take the bait, tweeting that its fried chicken sandwich was and remains the "OG." Despite the ensuing "social media frenzy," Burger King initially opted to "make like Switzerland" and just stay out of the fray. However, on May 19, 2021, the royal-themed fast food giant announced via press release that it is now ready to head to the front line.
Starting on June 3, 2021, Burger King's new "Ch'King" will debut nationwide. "We said we would create a delicious hand-breaded chicken sandwich that was worth the wait," explained Burger King North America chief marketing officer Ellie Doty, via press release. "We just didn't anticipate that it would turn out quite this good." So, does the sandwich live up to the hype? Read on to learn everything you need to know about Burger King's new Ch'King sandwich.  
Burger King's new Ch'King sandwich is only sort of available "your way"
Somehow, Burger King managed to stay out of the chicken sandwich wars for nearly two years. But apparently, it has been secretly working on its own challenger all along. On May 19, 2021, the Home of the Whopper announced that the debut of the Ch'King; as Burger King describes it, the sandwich consists of a "freshly hand-breaded chicken filet" that's "crispy on the outside and juicy on the inside," and "served on a toasty, potato bun with crisp pickles and a savory signature sauce." It will be available in both a regular and a spicy version featuring a "tastebud-tingling glaze." Both sandwiches come "regular" (as is) or "Deluxe," which for this purpose means with fresh lettuce and tomato.
What you might want to know before you order your first Ch'King is that if you go for the Deluxe, you're going to have to do without pickles. Other than that, from what we're hearing on the social media boombox, the "Ch'King" represents "a home run" for Burger King.