10-Minute Creamy Grape Salad Recipe
Kristen Carli/Mashed
This creamy grape salad is the sister recipe to other, better known "salads" like chicken salad and potato salad. The addition of grapes not only makes this recipe unique, though; it also makes it incredibly delicious! 
Chef Kristen Carli is the mastermind behind this dish. "This is more of a breakfast type of salad, sort of like a yogurt parfait," she said, and recommends serving it as a breakfast side with quiche or breakfast casserole. The tasty eat has an incredibly creamy base made from a mix of Greek yogurt and cream cheese. Add a few grapes, a hint of vanilla extract, and some chopped pecans, and this sweet salad will knock your socks off!
Luckily, it doesn't take much time to whip together. From start to finish, it will only set you back about 10 minutes ... and we like the sound of that! Here's how to put together this tasty salad that's sure to be a staple in your recipe repertoire.
Gather your ingredients for the creamy grape salad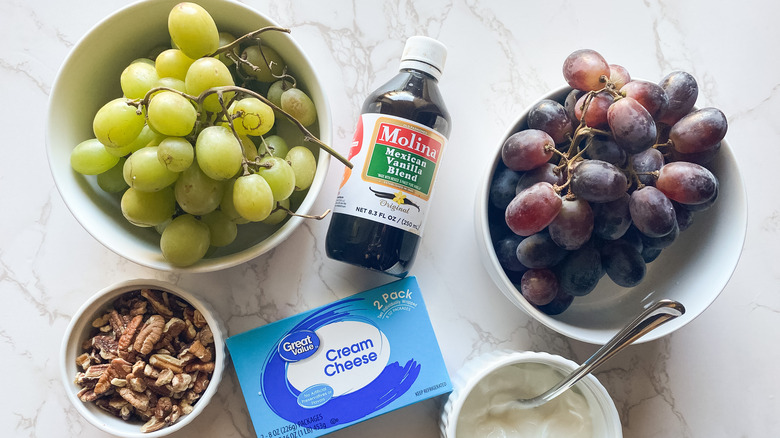 Kristen Carli/Mashed
There aren't a ton of items that go into this simple salad, and you might have most of them at your home already. You'll need less than a cup of Greek yogurt (be sure that it's unsweetened) and a block of cream cheese. The recipe is best with both red and green grapes, which are cut in half. To round off the list of ingredients, get some chopped pecans and vanilla extract.
Mix up the creamy grape salad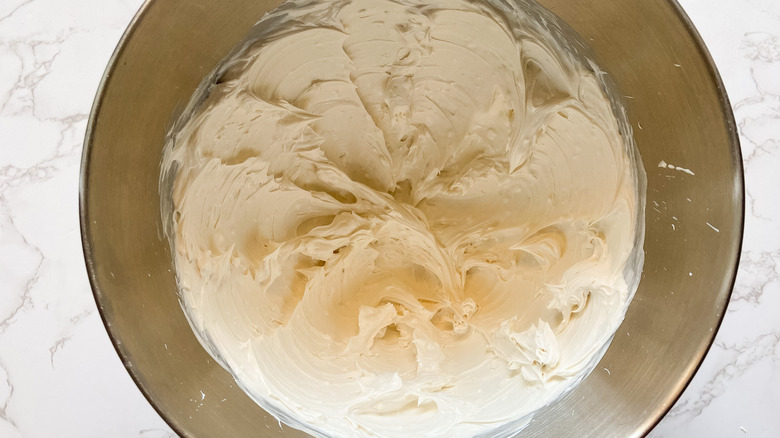 Kristen Carli/Mashed
For this step, you'll need a stand mixer. In the bowl of the mixer, you combine the cream cheese, yogurt, and the vanilla extract and mix it well until everything is combined. You can also use a hand mixer, or a whisk if the cream cheese is already softened to room temperature. The finished product should look as creamy as the photo. 
Now, move on to the next (and last) step! 
Fold in the fruit and nuts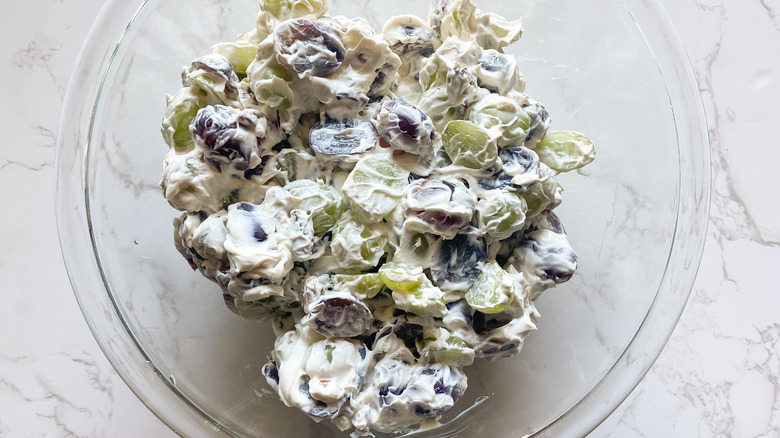 Kristen Carli/Mashed
Once your base is mixed well, you'll want to fold in all of the good stuff. First, add in the chopped pecans. It's best if you can buy them pre-chopped because it saves you the hassle of having to cut them yourself. 
Then, cut your grapes in half and add them to the mix. For this step, you'll definitely want to stir with a spoon and not the mixer so that the grapes stay intact.
That's all you need to do and now you're ready to enjoy this simple salad. As previously mentioned, this is best served as a side to accompany breakfast.
Think About Adding Some Extra Ingredients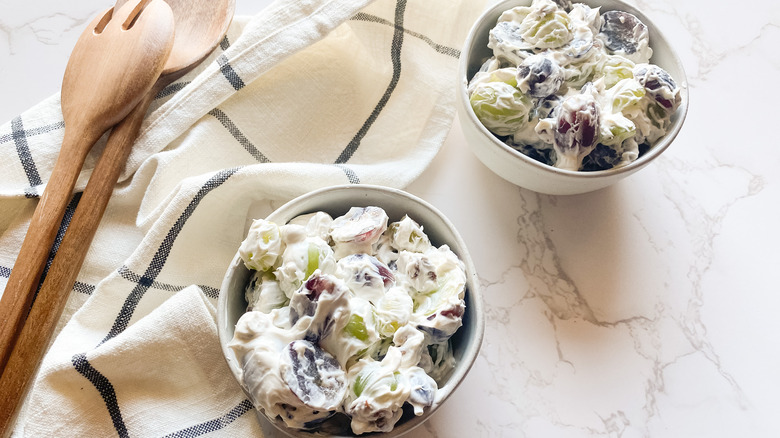 Kristen Carli/Mashed
If you're a huge lover of toppings, we have a little extra step for you! For this dish, there are plenty of different options that pair well with the salad including other nuts such as almonds, pistachios, walnuts, or even some crushed peanuts. Additionally, other fruits make a great addition to this salad, including strawberries, apples, or blueberries, just to name a few. Feel free to add a little bit of your preferred sweetener or a dollop of yogurt on top to complete. 
10-Minute Creamy Grape Salad Recipe
With a base of Greek yogurt and cream cheese, plus vanilla extract and some chopped pecans, this sweet and creamy grape salad recipe is ready in 10 minutes.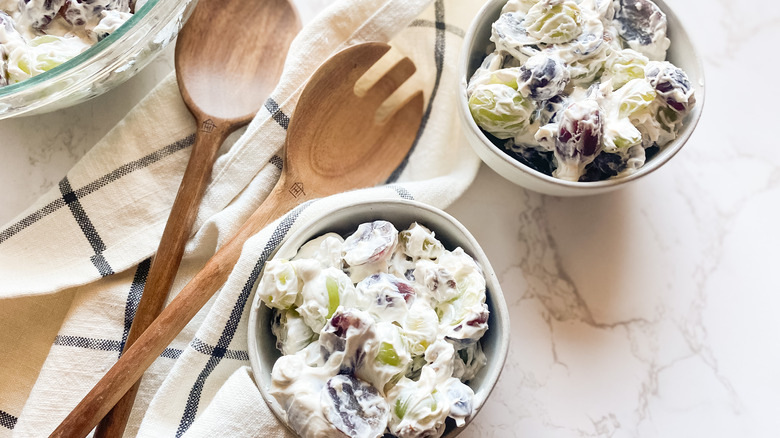 Ingredients
¾ cup plain unsweetened Greek yogurt
8 ounces cream cheese
1 teaspoon vanilla extract
2 cups green grapes, halved
2 cups red grapes, halved
½ cup chopped pecans
Directions
In the bowl of a stand mixer, add the cream cheese, yogurt, and vanilla extract. Mix until combined.
Add the pecans and stir to combine.
Stir in the halved grapes and serve.
Nutrition
| | |
| --- | --- |
| Calories per Serving | 295 |
| Total Fat | 21.5 g |
| Saturated Fat | 9.1 g |
| Trans Fat | 0.0 g |
| Cholesterol | 46.4 mg |
| | |
| --- | --- |
| Total Carbohydrates | 22.3 g |
| Dietary Fiber | 1.8 g |
| Total Sugars | 18.4 g |
| Sodium | 156.8 mg |
| Protein | 6.4 g |