Creamy Chicken Carbonara Recipe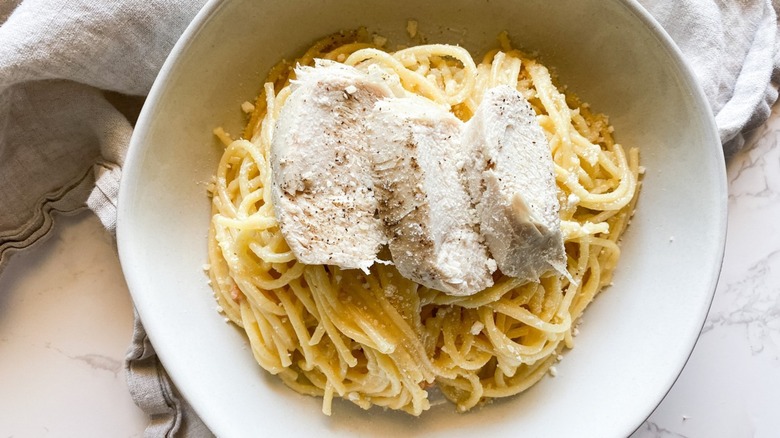 Kristen Carli/Mashed
Who doesn't like pasta? People around the world have fallen in love with the classic Italian dish for its versatility. While the Italians regard pasta as a first course dish, many individuals eat it as a meal on its own. Because why not? Eating a large portion of it can make you full, and when you add meat, it becomes a complete package. This creamy chicken carbonara is a perfect example — it's classic carbonara topped with chicken breasts and mingled with a touch of bacon.
Carbonara is one of the most popular pasta dishes out there, and it's super easy to make. Plus, this recipe uses the Instant Pot to cook the chicken breasts, which is another great time saver.
"I love cooking chicken in the Instant Pot. This makes perfect chicken every time, in under 15 minutes — ideal for busy nights," says dietician and recipe developer Kristen Carli of Camelback Nutrition & Wellness in Phoenix, Arizona. When you have all of the ingredients lying at home, you can easily whip up this dish whenever you want.
Gather your ingredients for the creamy chicken carbonara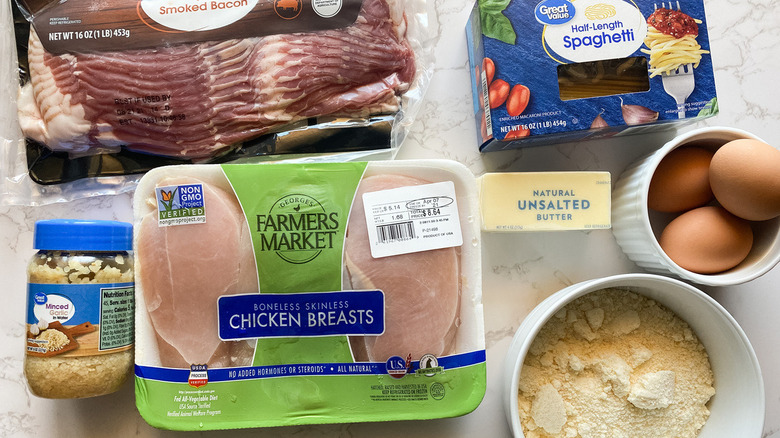 Kristen Carli/Mashed
You may already have some of the items on the list in your kitchen — like eggs, unsalted butter, garlic, and salt. As for the other ingredients, you will need three chicken breasts, one pound of spaghetti, four slices of bacon, and grated Parmesan cheese. If you want to use other types of pasta, you can certainly do so. "I love this dish made with penne," says recipe developer Kristen Carli.
Cook the chicken in the instant pot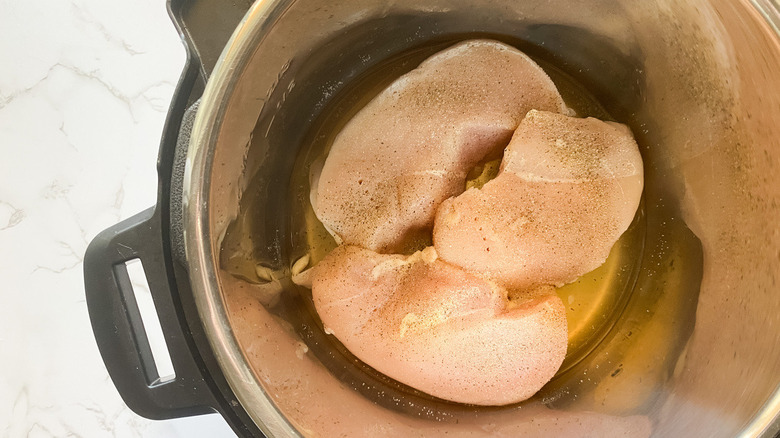 Kristen Carli/Mashed
First, you will need to cook the chicken breasts. Grab your Instant Pot, then place the chicken inside and pour in one cup of water. Close the lid and place the valve to seal. Let the meat cook for about 10 minutes, and then allow it to naturally release. If you don't have an Instant Pot, it's not the end of the world. According to Carli, you can cook the chicken breasts by baking them instead.
Cook the spaghetti and slice the bacon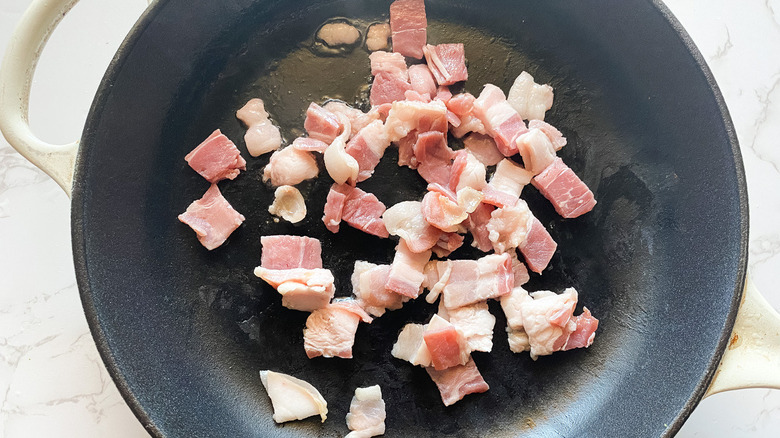 Kristen Carli/Mashed
While waiting for your chicken to cook, you can continue with the other steps. Grab a large pot and add in water. Bring the water to a boil, and then add in the spaghetti. Cook according to the package directions. Alternatively, you can also check the tenderness after the intended cooking time. While waiting for the pasta, proceed with the bacon. Slice them into small pieces (diced). According to recipe creator Kristen Carli, "pancetta is a great substitute for bacon." It's similar to bacon, and you don't have to slice the meat, as they are usually sold diced in supermarkets.
Cook the bacon and the carbonara sauce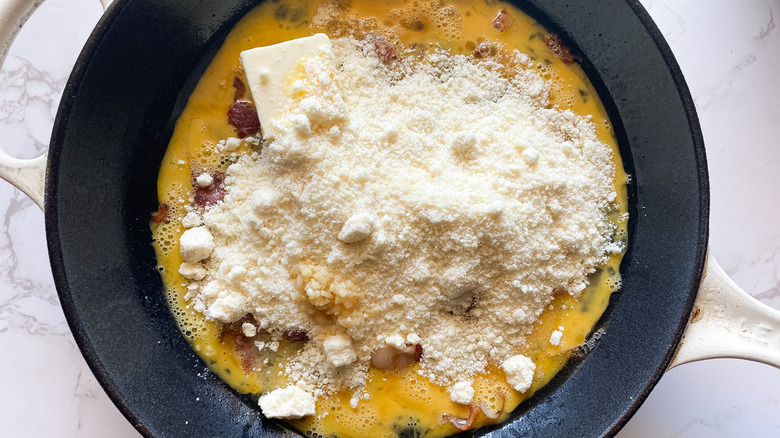 Kristen Carli/Mashed
Check your pasta before proceeding to the next step. If it's cooked, drain it with a strainer. As for the eggs, crack them open and pour all three eggs on a bowl, then whisk to combine. When you have prepared the bacon and eggs and gotten the cheese set up, you're now ready to cook the sauce. Grab a large skillet and place it over medium heat. Pour in the bacon and cook until crispy. When cooked, remove the pan from the heat. Next, add the butter, eggs, Parmesan cheese, and garlic to the skillet with the bacon.
Add the drained spaghetti to the sauce and slice the chicken breasts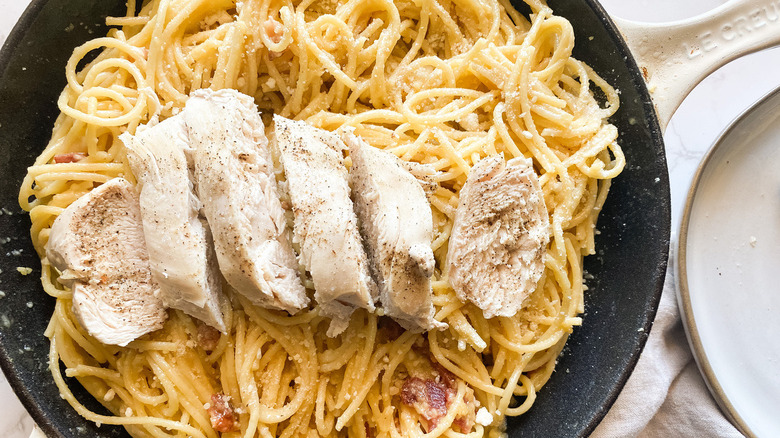 Kristen Carli/Mashed
Pour in the drained pasta in the skillet and combine it with the sauce using tongs. Add salt to the pasta and mix everything thoroughly. Now, you have your creamy carbonara. You can either leave the pasta on the skillet or transfer it to a plate. On your cutting board, slice the cooked chicken breasts, then place them on top of the pasta. Serve immediately.
Creamy Chicken Carbonara Recipe
This simple spaghetti carbonara is packed with taste. Your Instant Pot or oven can be used for the chicken breast, while bacon and parmesan add a kick.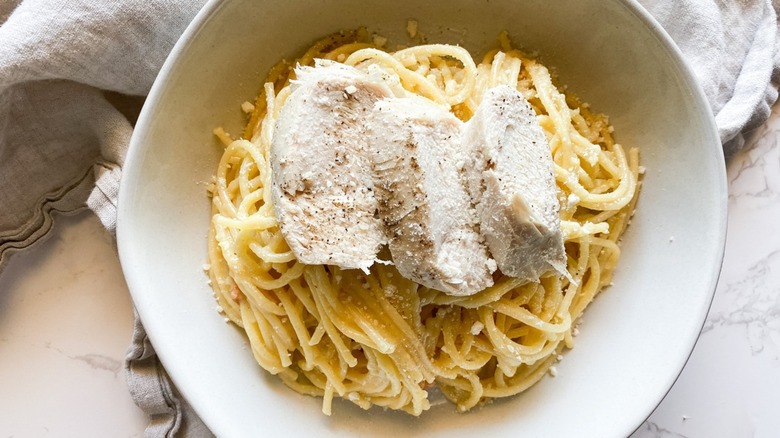 Ingredients
3 chicken breasts
1 pound spaghetti
4 slices of bacon
3 eggs
1 ½ cups grated parmesan cheese
2 tablespoon unsalted butter
1 teaspoon minced garlic
1 teaspoon salt
Directions
In an Instant Pot, add chicken breasts and 1 cup of water. Close lid and place valve to sealing. Cook for 10 minutes. Allow to naturally release. (Alternatively, you can cook chicken by baking).
Bring a large pot of water to a boil. Add spaghetti. Cook according to package directions.
In a large skillet over medium heat, add bacon. Cook until crispy. Remove from heat.
Add butter, eggs, parmesan cheese, and garlic to skillet with bacon.
Add drained pasta to skillet. Using tongs, stir to combine.
Add salt and stir to combine.
Top pasta with cooked chicken and serve.
Nutrition
| | |
| --- | --- |
| Calories per Serving | 1,083 |
| Total Fat | 48.5 g |
| Saturated Fat | 21.4 g |
| Trans Fat | 0.4 g |
| Cholesterol | 275.8 mg |
| | |
| --- | --- |
| Total Carbohydrates | 87.3 g |
| Dietary Fiber | 3.6 g |
| Total Sugars | 3.9 g |
| Sodium | 1,095.0 mg |
| Protein | 69.7 g |