Trader Joe's Fans Are Loving Its New Strawberry Vanilla Yogurt Covered Pretzels
Do you love the combination of sweet and salty? New strawberry vanilla yogurt-covered pretzels have been spotted at Trader Joe's and customers are making a special trip to get a bag. As shared on @TraderJoesList Instagram account, the Strawberry Yogurt Mini Pretzels have been spotted in stores.
While the account commented that the flavor is "a little on the sweet side," the snack did have a "strawberry flavor" and they would purchase them again. Even though the snack wasn't quite like "strawberry Pocky," it was enjoyable. Although the sentiment of "they are pretty good" isn't as emphatic as other Trader Joe's product endorsements, many people are excited to try this sweet-and-salty treat.
Since a few Trader Joe's fans have shared that "yogurt covered anything is my kryptonite," it appears that the Strawberry Yogurt Mini Pretzels could become a summer must-have treat. While the strawberry flavor is sweet but good, these snacks could be a nice addition to a cheese board, dessert plate, or even a topping for an ice cream sundae. For a classic summertime dessert twist, consider adding some of these pretzels to s'mores. A single strawberry vanilla covered pretzel on top of the roasted marshmallow might be the hit of the summer.
The Trader Joe's Strawberry Yogurt Mini Pretzels are prized at $2.99 for a 7-oz. bag. Like many Trader Joe's items, product availability may vary.
What are some of the best Trader Joe's snacks?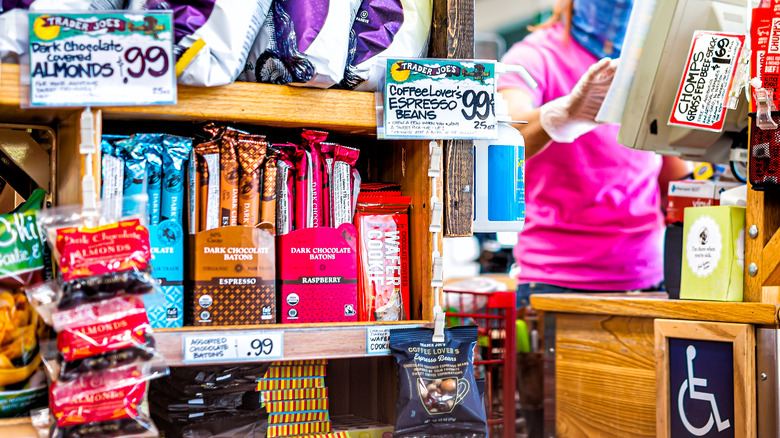 Shutterstock
While the Fearless Flyer often highlights some special, seasonal or limited edition products, some of the best Trader Joe's snacks are always sitting on the shelf. Although wandering up and down the aisles might seem like an endless array of delicious treats, some food choices always deserve a spot on that grocery list. From salty snacks to sweet indulgences, it can be hard to narrow down all the choices.
BuzzFeed recently shared its top choices for best Trader Joe's snacks. While that list includes over 70 items, the reality is that Trader Joe's has a snack to satisfy any craving. From the always popular chocolate-covered peanut butter pretzels to the acquired taste of the Thai Lime Chili Almonds, only the weekly grocery budget can limit the food in the cart. Add to the list certain limited edition, seasonal items and it seems that the Trader Joe's snack aisles hold limitless flavor possibilities.
Although some people might choose to avoid that bag of rice crackers and others cannot resist a bag of sesame sticks, the variety of snack options is what adds to the brand loyalty of Trader Joe's customers.