2-Ingredient Bagel Recipe
Susan Olayinka/Mashed
New York-style or not, bagels are a perfect breakfast or snack for busy people and breakfast lovers alike. But what makes them so special? Maybe it's their crusty outer texture and their soft and warm inside, or maybe it's because they are filling and can be paired with meat, veggies, cream cheese, or any kind of condiment, really. 
What you might not know is that you can easily make bagels at home — they're not only fast to prepare, but you can also bake them with only two ingredients! Yes, you read that right. You only need two items to make this tasty and convenient go-to. 
"I love bagels. We eat them a lot in my house. The filling options are endless. My favorites are salmon, cream cheese, and salad," says recipe developer and blogger Susan Olayinka of The Flexible Fridge, who shared her recipe for two-ingredient bagels with us. Just like any fresh bread, the bagels can go to waste fast. "I found these go hard quickly. So store in an airtight container or a bread bin. Not in the fridge," advises Olayinka.
Gather your ingredients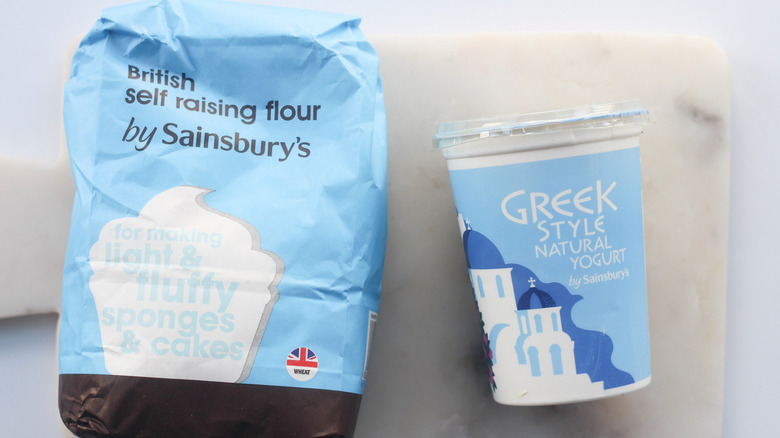 Susan Olayinka/Mashed
To make homemade bagels, you just need some self-raising flour and Greek yogurt. You'll need to set aside 3 1/2 cups of flour and two cups of Greek yogurt for this recipe.
If you don't have self-raising flour, there's no need to run out to the grocery store and grab some. Self-raising flour is simply basic flour, with baking powder and salt added in. You can make self-raising flour yourself by adding 1 1/2 teaspoons of baking powder and 1/4 teaspoon of salt to each cup of flour you're using. 
Measure the ingredients and preheat the oven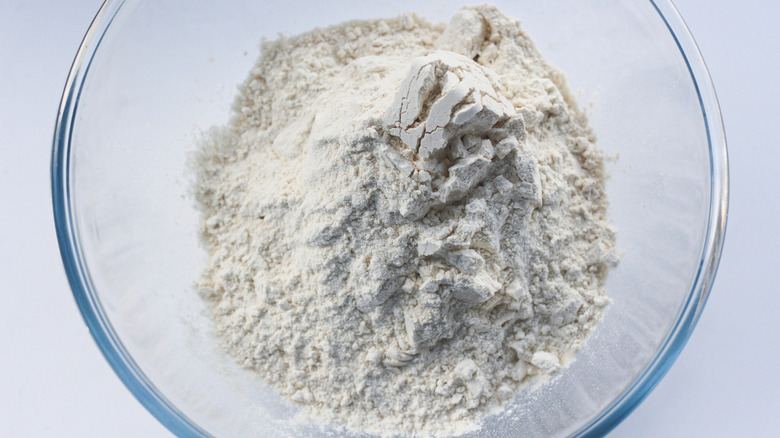 Susan Olayinka/Mashed
Before you start mixing ingredients, be sure preheat your oven to 375 degrees F, since doing so can assure even cooking later on. After starting up the oven, measure the ingredients, then set them aside for the next steps. When it comes to baking, measuring accurately is key, so don't rush just because there are only two ingredients! Now that we're all set up, let's get to mixing.
Mix the ingredients and knead the dough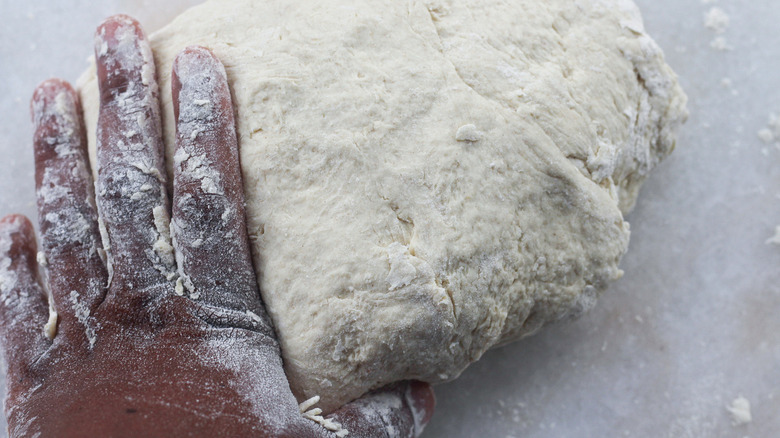 Susan Olayinka/Mashed
Grab a large mixing bowl and pour in the self-raising flour. Next, add the Greek yogurt. Mix the two ingredients with a spatula, and combine thoroughly. When the dough forms, knead it using your hands. You can also move the mixture onto a flat surface — though you'll need to flour your surface before doing that — then knead it for about three to four minutes. 
Make sure the mixture is not too sticky or dry. If it's too sticky, add some more flour, just a little bit at a time. Of course, if it's too dry and is more crumbly than doughy, you can add a little bit of Greek yogurt until it starts to come together. Next, divide the dough into eight equal parts, and then set them aside.
Roll the dough and seal the edges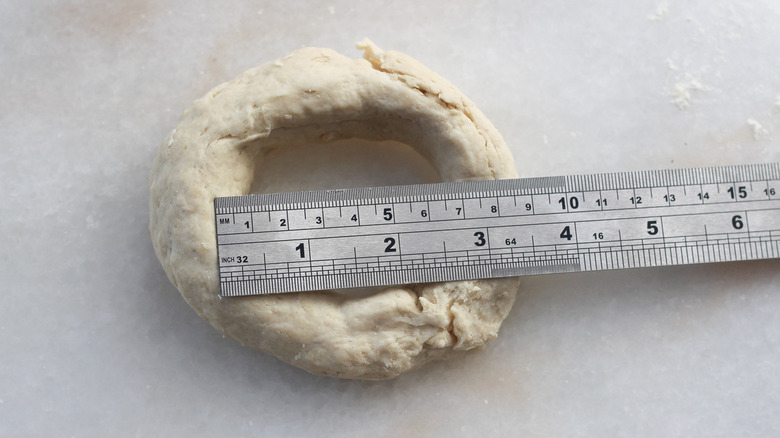 Susan Olayinka/Mashed
On a floured surface, roll a dough piece into a cylinder shape using your hands, until it's about 4 inches long. If you find that it's sticking to your hands, coat them in flour and try again. Next, connect the edges of the dough to form a circle. Make sure you pinch the edges to completely seal them. Also, be attentive to the size of the hole — it should not be too small as the bagels will seal up when baked under high heat. Repeat the process to the rest of the dough pieces.
Place bagels on a lined baking tray and bake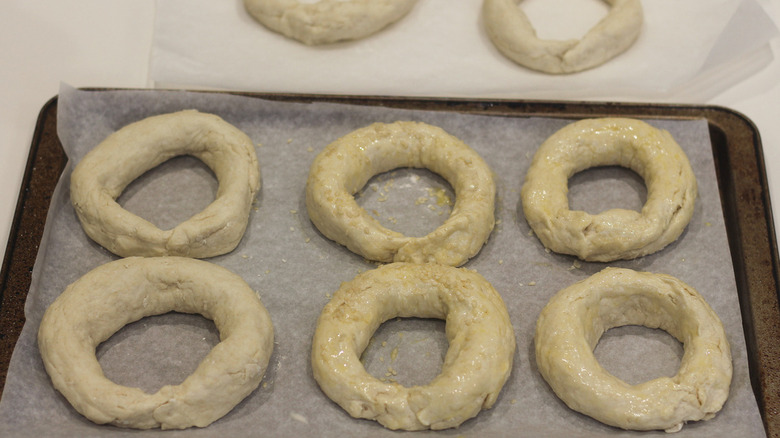 Susan Olayinka/Mashed
Now, grab a baking tray and line it with parchment paper. Get your bagels and arrange them neatly on the tray. You can also coat each of them with egg wash to give them a shiny finish, or add a sprinkling of seasonings if you prefer, but they're just as tasty without those extra touches.
Pop the baking tray in the oven and bake for about 18 minutes. When time is up, immediately get your bagels out of the oven to prevent overcooking them. You can serve while warm, or let them cool and store in an airtight container for up to 24 hours.
2-Ingredient Bagel Recipe
Yes, you can make bagels at home. All you need is some self-rising flower and Greek yogurt to create these cost-saving treats from creator Susan Olayinka.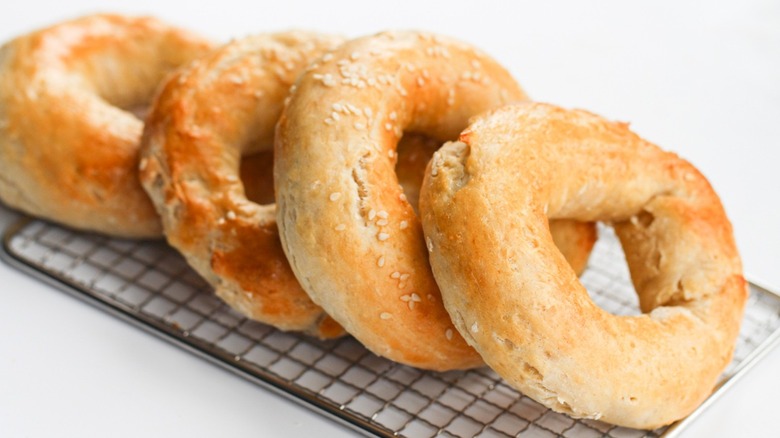 Ingredients
3 ½ cups self-raising flour
2 cups Greek yogurt
Optional Ingredients
Directions
Preheat the oven to 375 degrees F.
Pour the self-raising flour into a mixing bowl.
Pour the Greek yogurt into the same mixing bowl.
Mix with a spatula until ingredients are incorporated.
Knead mixture in the mixing bowl with your hand.
Move dough to a flat surface and knead for another 3 to 4 minutes. The mixture should not be too sticky or dry.
Divide the dough into 8 equal parts and set aside.
With your hands, roll each part into about 4-inch-long cylinders.
Join the ends of the dough to form a circle, ensuring that you pinch the edges to seal them. Make sure that the holes are big enough, or the bagels will seal up while baking.
Repeat with remaining dough parts.
Arrange the bagels on a baking tray lined with parchment paper.
Coat the bagels with egg wash to give a shiny finish (optional).
Bake for 18 minutes
Remove from the oven and serve warm.
Nutrition
| | |
| --- | --- |
| Calories per Serving | 262 |
| Total Fat | 4.4 g |
| Saturated Fat | 2.5 g |
| Trans Fat | 0.0 g |
| Cholesterol | 9.6 mg |
| | |
| --- | --- |
| Total Carbohydrates | 44.1 g |
| Dietary Fiber | 1.5 g |
| Total Sugars | 2.5 g |
| Sodium | 34.7 mg |
| Protein | 10.9 g |