Easy Instant Pot Oatmeal Recipe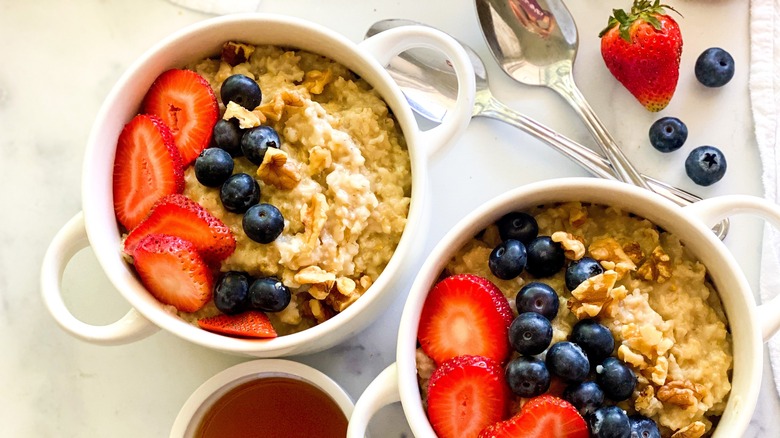 Miriam Hahn/Mashed
Oatmeal is one of those classic breakfast dishes that's jam-packed with fiber, so you're almost guaranteed to stay full until lunchtime. Plus, you can dress it up with toppings and give it a special personalized touch to best suit your flavor preferences. Unless you're microwaving it from a pre-packaged packet (And let's be honest — those don't taste that good.), stovetop oatmeal can be a bit of a hassle to make if you're rushing around doing other things. That's why recipe developer Miriam Hahn of YouCare-SelfCare loves using the Instant Pot to whip up this breakfast favorite.
"The main reason why I do it this way is that you can put the oats and water in the Instant Pot and then leave it unattended," Hahn says. "I usually set this up in the morning before I go run, and when I come back, the oatmeal is absolutely perfect and ready to eat." Plus, the machine's automatic "keep warm" setting keeps the food fresh and ready for family members who get ready at different times during the week. This is a big benefit over making oatmeal on the stovetop, where you have to wait for the water to boil, stir and lower the heat, then monitor it to make sure it doesn't stick to the bottom of the pan or burn. So give this recipe a whirl — you'll have the perfect batch of oatmeal ready in under 20 minutes. 
Gather your ingredients to prepare this Instant Pot oatmeal recipe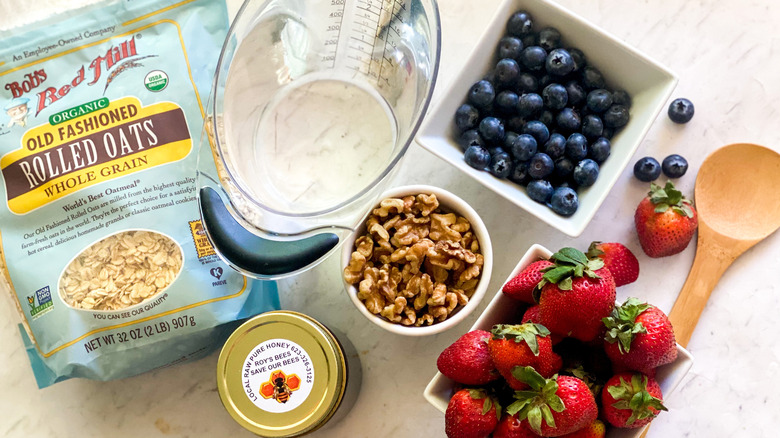 Miriam Hahn/Mashed
To whip up a batch of oatmeal fit to serve four people, all you have to gather up is 2 cups of rolled oats (Note that you shouldn't use quick oats for this recipe.) and 4 cups of water. That's literally all you need to make your oatmeal.
In addition to the basics, toppings such as fresh strawberries, blueberries, walnuts, and raw honey are all good options to add flavor. And while fresh berries and fruits are a delicious way to add sweetness, fiber, and good-for-you vitamins and minerals to your breakfast, there's nothing wrong with opting for frozen or dried fruits instead if you already have those on hand. Hahn says she often uses frozen wild blueberries that she thaws on the counter while the oatmeal cooks, or she'll add chopped dates, raisins, or dried cranberries.
And, of course, walnuts aren't the only option when it comes to adding healthy fats to your breakfast meal. Hahn also suggests slivered almonds, toasted sunflower seeds, pumpkin seeds, or hemp seeds.
Prep your oatmeal in the Instant Pot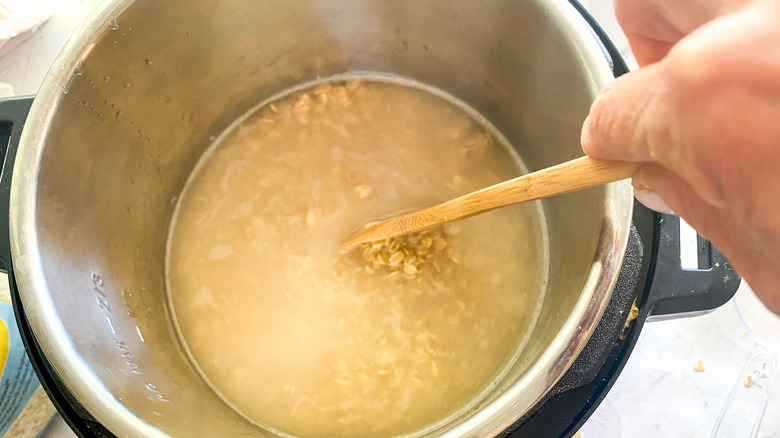 Miriam Hahn/Mashed
Setting up your oatmeal to cook in the Instant Pot is incredibly simple. Start by adding the oats to the machine, followed by the water. Stir them together to combine. Then, simply set the valve on the pot lid to "sealing" before closing the lid. Choose the "pressure cook" setting, and set the time for four minutes. 
Four minutes sounds pretty quick, right? Well, just keep in mind that it takes the Instant Pot about 13 minutes to preheat, so the cook time won't start immediately. That's perfectly okay, though, because that gives you time to prep your toppings, get ready for your day, and get anything else crossed off your morning to-do list.
Prep your toppings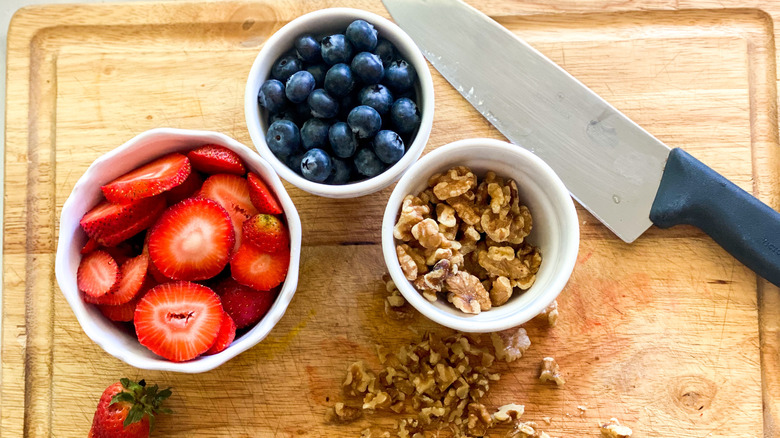 Miriam Hahn/Mashed
As your oatmeal is cooking, go ahead and prep your toppings. If you're using fresh fruits like strawberries or bananas, cut them into slices. If you're opting for nuts and seeds, chop them into smaller pieces (unless you bought them pre-chopped). You may even want to set out jars of jam or peanut butter to offer as mix-ins. As Hahn points out, oatmeal is incredibly versatile, so this is the prime time to get creative. The sky is truly the limit when it comes to tasty flavor combinations.
Carefully release the Instant Pot's pressure, and serve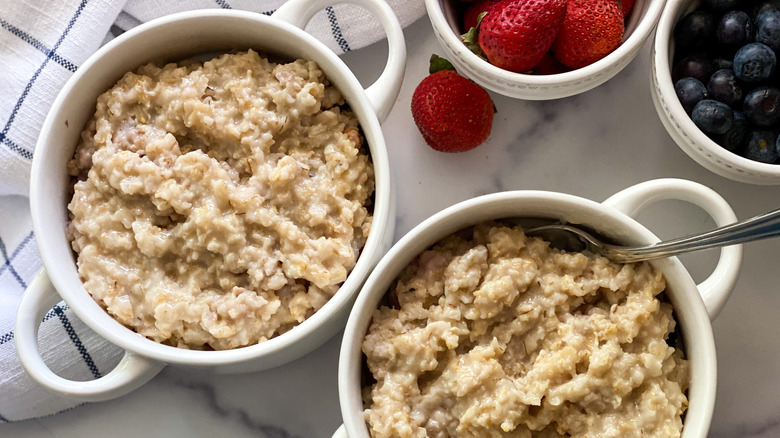 Miriam Hahn/Mashed
When the timer beeps, your oatmeal is ready, but you need to be a little careful when you release the Instant Pot's pressure. Carefully switch the knob on the pot to "venting," then step back to allow space for the steam to shoot out of the top. When the steam is released, carefully remove the Instant Pot lid, stir the oatmeal, and distribute it into bowls. If you're serving your family, go ahead and pile on the fruit, nuts, and honey. But this last step is so easy, you can always let your family members serve themselves to make more personalized bowls of oatmeal.
Easy Instant Pot Oatmeal Recipe
This Instant Pot oatmeal is the perfect treat to prepare on busy mornings, and it can be easily personalized with toppings.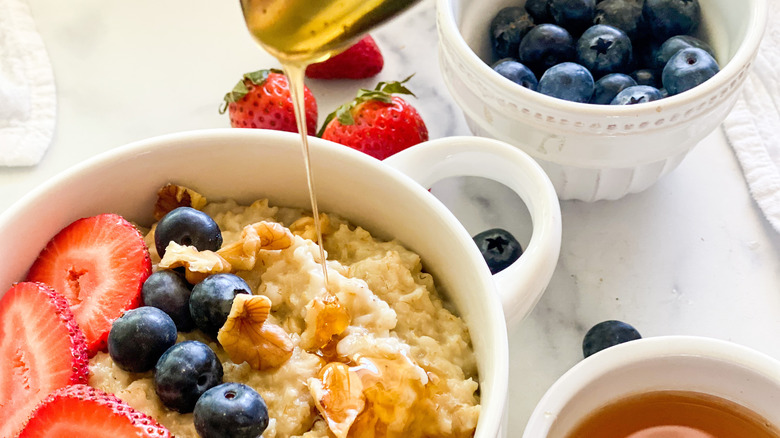 Ingredients
2 cups rolled oats
4 cups water
Optional Ingredients
strawberries
blueberries
walnuts
raw honey
Directions
Pour the water and oats into the Instant Pot, and stir.
Set the valve on the Instant Pot lid to sealing. Close the lid.
Choose the pressure cook setting, and set time for 4 minutes. It will take the Instant Pot about 13 minutes to come to pressure before the cook time will start.
In the meantime, prepare the toppings. Cut the strawberries, and chop the nuts.
When the timer beeps, carefully switch the knob to venting, and step back while the steam shoots out of the top.
Stir the oatmeal, and distribute into bowls. Add fresh fruit and nuts, and drizzle with honey, if desired.
Nutrition
| | |
| --- | --- |
| Calories per Serving | 148 |
| Total Fat | 2.7 g |
| Saturated Fat | 0.4 g |
| Trans Fat | 0.0 |
| Cholesterol | 0.0 mg |
| | |
| --- | --- |
| Total Carbohydrates | 27.3 g |
| Dietary Fiber | 3.8 g |
| Total Sugars | 0.6 g |
| Sodium | 10.7 mg |
| Protein | 5.5 g |