Pringles Just Entered The Chicken Sandwich Wars With This Spicy Wendy's Collab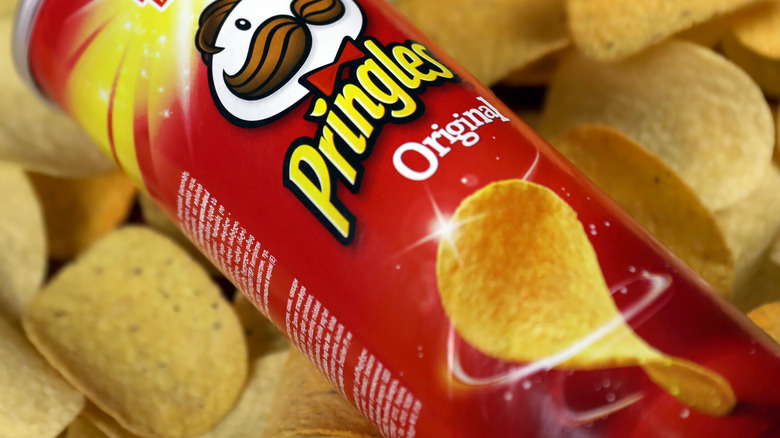 Shutterstock
You thought the chicken sandwich wars had lived a good life and passed into the world of culinary folktale. Surprise! It turns out that the fast-food industry's quest to be crowned god of the chicken sandwich probably has at least nine lives. Burger King hopes that its new "Ch'King" will woo chicken sandwich devotees when it comes out in June. But it'll face fierce competition in form of a formidable double-team (is that against the rule book?). Wendy's and Pringles are conniving to bring the chicken sandwich wars to an end ... at least until the next social media savvy contender jumps into the ring.
The hype is real, but customers will have to wait until June to get their hands on a tube of Wendy's Spicy Chicken Pringles. You read that right, these chicken sandwich-flavored chips promise to pack some punch. Says Ron Ruggless, the senior editor at Nation's Restaurant News, "Merry Crispness" (via Twitter). "I like Pringles. I like Wendy's spicy chicken... but hold the tomato. I wanna try these," tweeted an excited future customer. This is what you need to know about them. 
Everything we know about Wendy's Spicy Chicken Pringles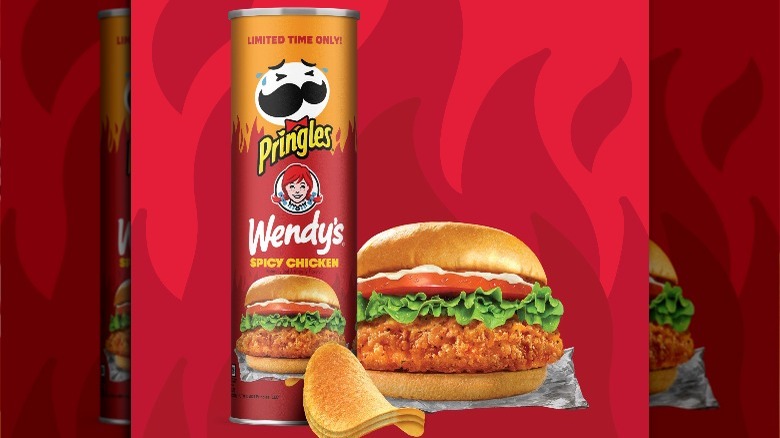 Kellogg Company
Straight from the horse's mouth: "Our partnership with Wendy's is a match made in flavor-heaven," said Gareth Maguire, Senior Director of marketing for Pringles in a Statement. "The debut of Pringles Wendy's Spicy Chicken provides a crunchy, unnecessarily genius way to enjoy the spicy, juicy deliciousness of the #1 hands-down best chicken sandwich in the U.S. ... in a single crisp." (Can a chip be "juicy"? In June, we'll all find out.) Carl Loredo, Chief Marketing Officer for The Wendy's Company added that the new Pringles product is sure to "satisfy" Wendy's fans "taste-buds until their next restaurant visit."
And, if you keep your kitchen cabinet fully stocked with chicken-sandwich-inspired pringles, there's no reason that Wendy's restaurant visits can't become a permanent part of your routine. That's because each can of pringles comes with a code that will gift you with a free spicy chicken sandwich, available with purchase via Wendy's mobile app. If you haven't already, just imagine the possibilities this new snack collab brings to your culinary life: a left-over chicken sandwich for breakfast (something we'd never partake in, obviously), Wendy's Spicy Chicken Pringles as a mid-morning snack, a trip to Wendy's for lunch ... you get the idea, don't you? Your chicken sandwich habit never has to end.