Here's What Happens To Food Leftovers From The Great British Baking Show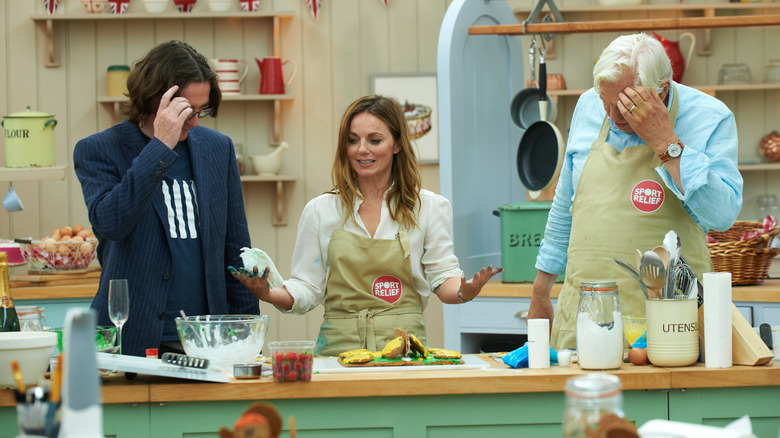 Comic Relief/Getty Images
No one can deny that the final results you see on top baking shows can leave anyone's mouth watering. Luckily, these masterpieces rarely go to waste. According to Insider, most cooking shows donate the stunning finished meals or feed them to the cast and crew. When donated, the items typically go to a partnered charity, and otherwise get scarfed down by competitors and everyone working on the show. Unfortunately, food sitting out for hours under studio lights has the potential to grow bacteria, causing it to spoil. Many shows, including "The Great British Baking Show," have to navigate the issues around food waste, but luckily, this baking bonanza puts their leftovers to use.
According to Spoon University, the cast, crew, and competitors swoop down on all the leftover baked goods on "The Great British Baking Show" once judging has come to an end. Former hosts Mel Giedroyc and Sue Perkins notably jumped at the chance to quickly claim all of the baked goods, with Paul Hollywood describing the former hosts and crew as vultures, just waiting to get their hands on the baked temptations.
Times change, but people keep swiping up the goods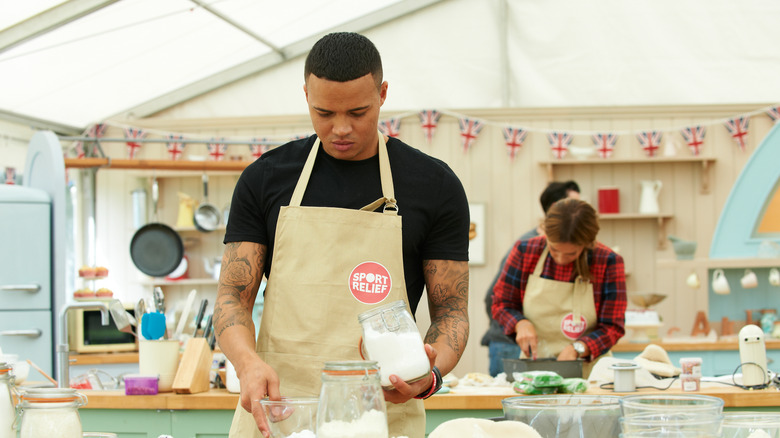 Comic Relief/Getty Images
Hungry cast and crew still go after the final baked items once filming comes to an end. According to The Kitchn, the latest season of the series proved no different. Former contestant Kim-Joy told Jimmy Carr in an interview that the crew kept tabs on which baked items looked the best, and quickly snatched up the items they eyed while filming. Noel Fielding also added that Prue Leith notably slipped in after the crew ate and would take home the remains of the picked-apart cakes and cookies to snack on later or throw to her livestock.
Eagle-eyed viewers might also notice that contestants end up snacking on their own creations after their judging comes to an end. After all, with finished goods that look this breathtaking, who can blame the contestants for wanting to dig in and enjoy their creations? Thanks to the efforts of everyone involved, no one who works on the show should go hungry and everyone gets to come away with their sweet tooth satisfied.