The Truth About Antonio Ruiz From Hell's Kitchen: Young Guns Season 1
Brace yourself for creative insults: the latest season of Gordon Ramsay's "Hell's Kitchen" kicks off May 31 on Fox. Subtitled "Young Guns," the newest installment of the popular cooking competition features a cast of 18 young chefs, ages 24 and under (via Gold Derby). 
This season's contestants are drawn from all over the country. Representing San Antonio, Texas is Antonio Ruiz, currently a head chef at the New American restaurant Texas Bistro. As My San Antonio has reported in a recent profile, Ruiz grew up on the South Side of San Antonio, attended high school in the Alamo City, and went on to train at the local Culinary Institute of America (via San Antonio Current). Before landing a spot in the "Hell's Kitchen" class of 2021, Ruiz worked in the kitchens of a number of prestigious Texas hotels, getting his start as a line cook before becoming executive sous chef and then executive head chef at The Riverhouse Gruene in 2017, per his LinkedIn profile. By 2019, Ruiz was executive chef at The Bevy Hotel. Along the way, he received training from top-ranking chefs, including Masaharu Morimoto of "Iron Chef" and San Antonio restaurateur Johnny Hernandez.
"Hell's Kitchen: Young Guns" has been two years in the making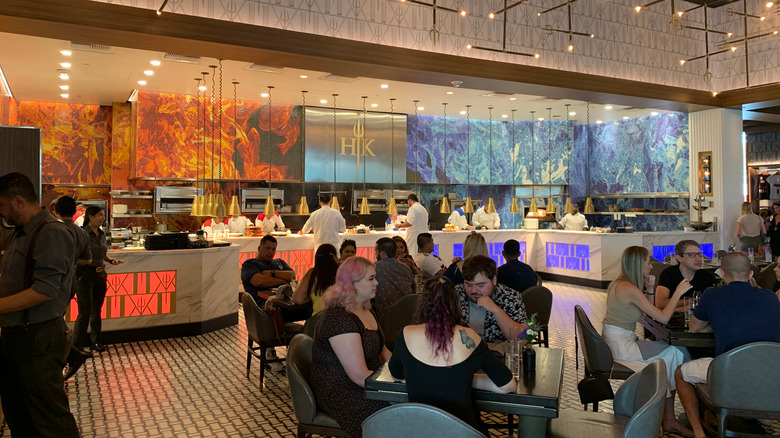 Shutterstock
As Gold Derby confirms, the latest season of "Hell's Kitchen" was actually filmed back in 2019, so Ruiz was presumably tapped for the show during his tenure at The Bevy Hotel. Ruiz seemed to be referencing this delayed release in a recent Instagram post, in which he described "Young Guns" as "2 years in the making." Similar to season 19, "Young Guns" was filmed in Las Vegas, Nevada — at the Gordon Ramsay Hell's Kitchen in Caesars Palace. True to the "Hell's Kitchen" formula, contestants were divided into two teams: women and men. From the trailers released so far — in which Gordon Ramsay is shown in full "Hell's Kitchen"-mode, throwing food at contestants, yelling at them, and generally tormenting them — fans of the show can look forward to plenty of drama, both inside and outside of the kitchen (via YouTube).
This time around, the first prize for the show is the title of Head Chef at Gordon Ramsay Steak at Paris Las Vegas, according to Fox 21. If subsequent employment is any indication of success in "Hell's Kitchen," we can expect a strong performance from Ruiz, who currently holds not only a top position at Texas Bistro, but a deal with the popular cooking app Manna.