Copycat McDonald's Hot Mustard Sauce Recipe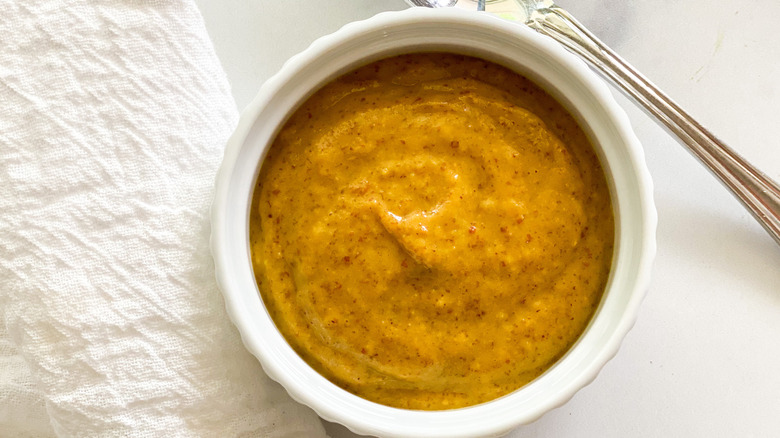 Miriam Hahn/Mashed
What's the best sauce to accompany pretty much anything and everything that needs to be dipped? McDonald's hot mustard sauce, of course! The fast food giant is known for having a variety of dipping sauces, including tangy barbeque, spicy buffalo, creamy ranch, honey, sweet n' sour, and Big Mac sauce (via McDonald's). However, they discontinued their hot mustard sauce, thus breaking hearts around the country. The sauce contains a mustard base with a kick of cayenne to take it to the next level. The dipping possibilities are endless with this sauce, and it would be great with anything from chicken tenders to french fries to soft pretzels. Is your mouth watering just thinking about it? 
Wellness coach and recipe developer Miriam Hahn of YouCare-SelfCare is the mastermind behind the copycat recipe, which is sure to be a new favorite. Hahn shares that "this one is great because of the robust flavor and a tinge of sweet. It has a really good consistency too." 
Keep scrolling to find out how to throw together a copycat version of McDonald's hot mustard recipe, which is perfect for an at-home meal or to bring to a get-together with friends. We know they'll be thoroughly impressed! 
Gather your ingredients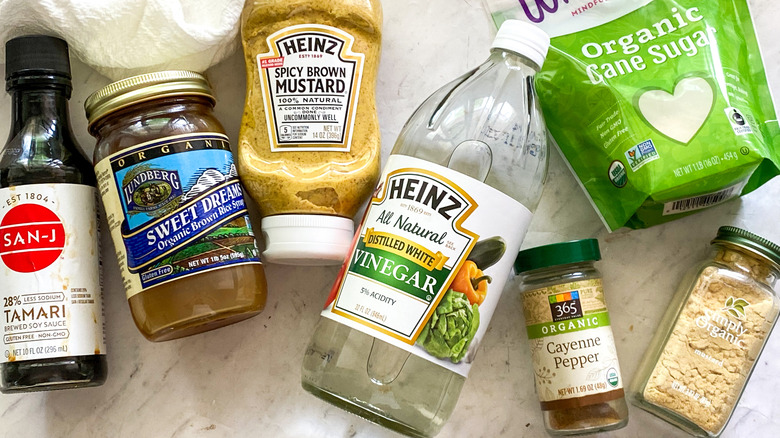 Miriam Hahn/Mashed
You won't need a whole lot for the incredibly quick sauce throw-together. In fact, it will only take you five minutes to make! Simply grab some brown mustard, brown rice syrup (or corn syrup), soy sauce, and a little bit of mustard powder. Surprisingly, you will also need a little bit of cane sugar and a dab of cayenne pepper for the kick. Once you have everything on this list gathered, you're in luck because it's time to start!
Measure out all the ingredients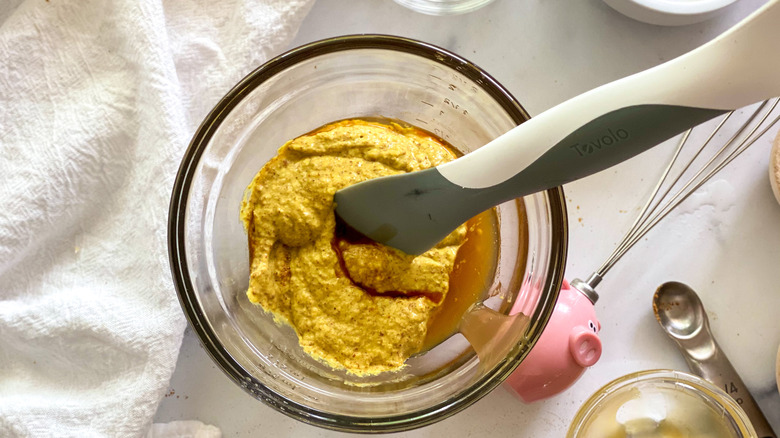 Miriam Hahn/Mashed
Place all of your ingredients in front of you, since we'll move pretty fast through making the sauce. You'll want to measure everything out and grab a small bowl to combine it all together. Measure 1/2 cup brown mustard, 2 tablespoons of brown rice syrup (or corn syrup), 4 teaspoons mustard powder, 1 1/2 teaspoons soy sauce, 1 1/2 teaspoons cane sugar, and 1/4 teaspoon cayenne pepper. "If you want more of a kick you can go heavier on the cayenne," Hahn says. Now, mix everything together with a spoon. 
The last step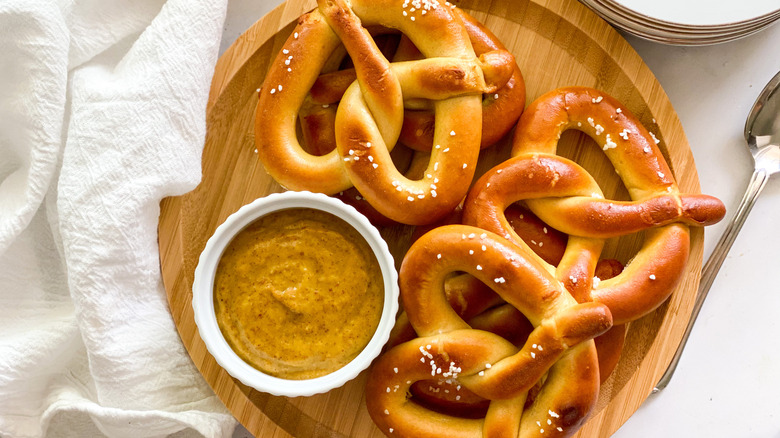 Miriam Hahn/Mashed
After combining all of the ingredients, you can either chill it for an hour or serve immediately, depending on preference. As options, Hahn shares that this is great with "hot pretzels, wings, chicken nuggets or as a burger sauce!" If you have any extra sauce left after your dip-a-palooza, it can be stored for future use. "The sauce lasts up to 5 days in an air tight container," Hahn says. We hope you love this classic as much as we do! 
Copycat McDonald's Hot Mustard Sauce Recipe
Even though McDonald's discontinued their famously delicious hot mustard sauce a few years ago, you can make your own at home with this easy copycat recipe!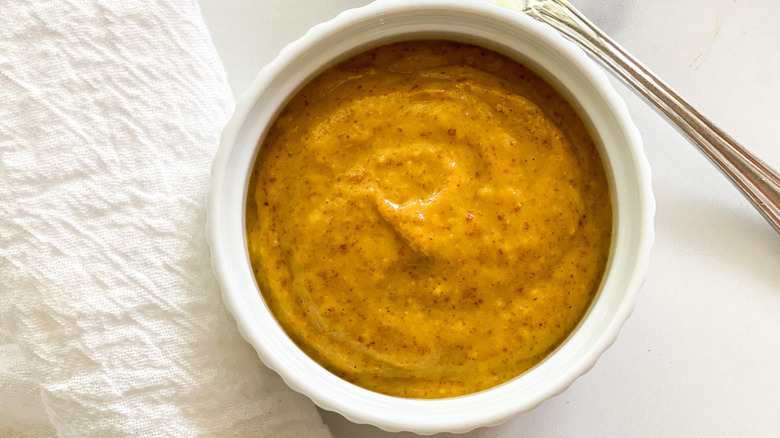 Ingredients
½ cup brown mustard
2 tablespoons brown rice syrup (or corn syrup)
4 teaspoons mustard powder
1 ½ teaspoons soy sauce
1 ½ teaspoons cane sugar
¼ teaspoon cayenne pepper
Directions
Measure out all of the ingredients and combine in a small bowl. Mix well.
Either chill for an hour or serve immediately. Use as a dip for hot pretzels, wings, chicken nuggets or as a burger sauce!
Nutrition
| | |
| --- | --- |
| Calories per Serving | 44 |
| Total Fat | 1.2 g |
| Saturated Fat | 0.1 g |
| Trans Fat | 0.0 g |
| Cholesterol | 0.0 mg |
| | |
| --- | --- |
| Total Carbohydrates | 7.5 g |
| Dietary Fiber | 1.0 g |
| Total Sugars | 1.3 g |
| Sodium | 311.3 mg |
| Protein | 1.2 g |