The Truth About Josie Clemens From Hell's Kitchen: Young Guns Season 1
Fans of Gordon Ramsay need to keep their eye out for the premiere of the chef's latest show, "Hell's Kitchen: Young Guns." For the first time ever, Ramsay assembled a group of 18 young chefs from around the country to compete for it all at Hell's Kitchen in Las Vegas' Caesars Palace (via Fox). This new season of the show should surprise and excite anyone who loves to keep track of all the up-and-coming stars in the food world, and with any luck, you might just spot the next big food personality before they make it big. 
Out of the contestants, Josie Clemens stands out from her peers. According to Gold Derby, this 22-year-old chef hails from Macomb, Michigan and competes with eight others on the show's red team. Clemens, one of the youngest contestants on this year's season, emerged as a private chef before appearing on the program (via Mixed Article). She pursues a vegan lifestyle and rallies against the use and consumption of animal goods in her cooking. These strong beliefs frame Clemens as an immediate standout chef from the rest of the pack.
A Hell's Kitchen contestant with moxie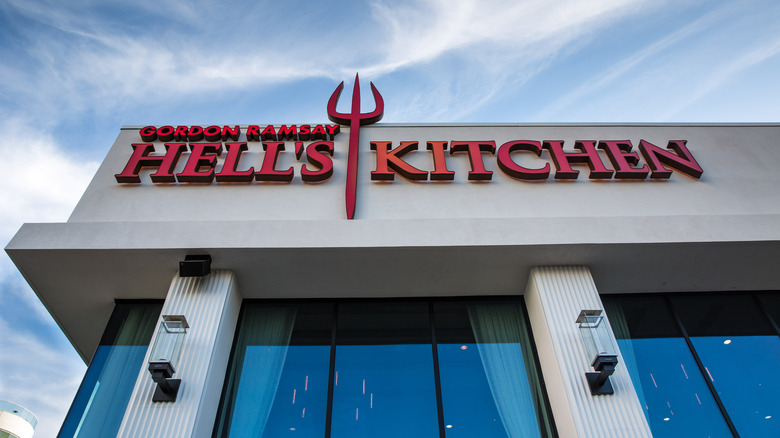 George Rose/Getty Images
The world has already started taking notice of Josie Clemens' ethos. In an Instagram post, Clemens revealed that Vegan Life tapped her to appear as a featured guest in their upcoming August issue, and Clemens can't wait to represent the vegan community in Ramsay's kitchen. Her Twitter feed hypes up her excitement to help showcase all that vegan cooking can bring to the culinary world. The chef practices what she preaches, showing off a variety of cruelty-free, animal-free recipes and foods throughout the rest of her Instagram. With a chef with a strict set of morals like this, Clemens should truly shake things up in this season's competition. According to Veg Out Magazine, Clemens is the first vegan chef to ever compete on the show, and in recent years, meat-lover Ramsay has been embracing vegan cuisine.
If you can't wait to see what dishes and drama unfold, make sure to tune in for the "Hell's Kitchen: Young Guns" series premiere on May 31 at 8 PM ET. With any luck, this new showcase of fresh talent should inspire anyone to get cooking and provide enough drama to keep your attention fixed on Clemens and her competitors.