Costco's Suja Organic Ginger Lemonade Is Turning Heads
There's so much you can do with lemons, and one easy way to use up a bunch is to make lemonade. But if you want to make things easy on yourself this summer, just pick up a pack of bottled lemonade. Plus, you can take a bottle of lemonade on the go with you. As always, Costco has the perfect product: Suja's Organic Ginger Love.
Instagram user @costco_doesitagain posted a picture of Suja's Organic Ginger Love, which is a ginger lemonade. According to the package, this cold-pressed drink includes purified water, lemon, ginger, and pineapple, and each bottle has one gram of sugar. The drink is also paired with stevia and cayenne. Each package at Costco includes six bottles.
Since there are so many incredible health benefits to ginger, it's no surprise that shoppers would want a drink with this herbaceous ingredient. Plus, it adds an extra kick to regular old lemonade.
Here's what Costco fans are saying about Suja organic ginger lemonade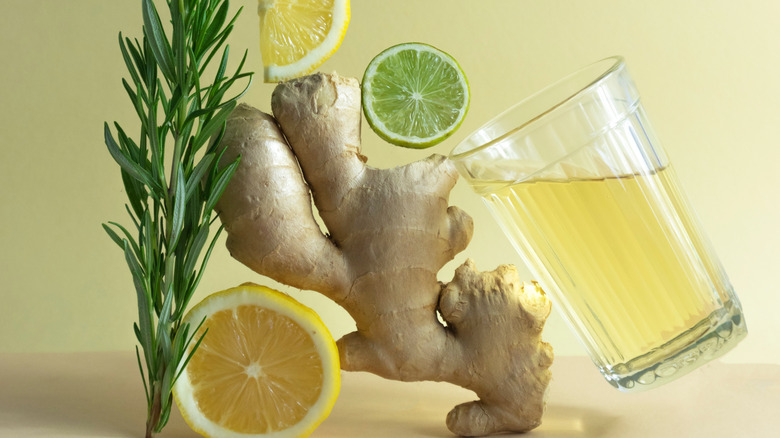 Shutterstock
From the comments under @costco_doesitagain's Instagram post, there are some Costco shoppers who love products from Suja. On Suja's website, there are cold juices, sparkling juices, shots that target specific health benefits (like vitamin C or digestion), and more. One person wrote, "Suja makes fabulous drinks. The immunity shots are the absolute best functional drinks!"
When it comes to the ginger lemonade itself, shoppers said: "That looks delicious!" and "Yummy! Feel the burn." Another commenter used the hashtag #neverenoughginger, so for anyone who is a ginger lover, this is the ideal drink to cool down during the hot summer months.
Can't find Suja organic ginger lemonade at your local Costco? Try making ginger lemonade at home! There are plenty of recipes online to check out, like this one from The Buddhist Chef, which walks you through how to make a batch with maple syrup.