Easy Chicken Kabob Recipe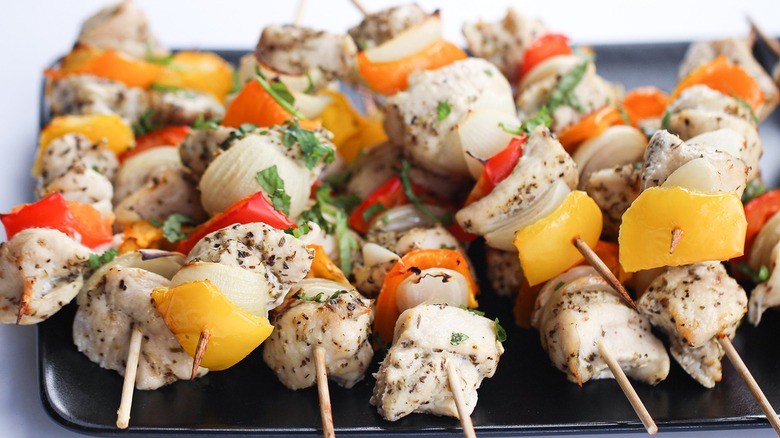 Susan Olayinka/Mashed
If you're looking for a quick and easy meal to prepare for a larger dinner crowd, or even just the family, chicken kabobs are definitely the way to go. These simple but flavorful dinner delights are pretty straightforward to make and really pack in a punch of flavor. The best part about this recipe? You probably have most of these ingredients in your fridge and pantry already, so you won't have to spend time shopping for a bunch of ingredients.
As far as this kabob recipe is concerned, recipe developer Susan Olayinka of The Flexible Fridge has you avoiding the trap of using every pot and pan you have in your kitchen when you are cooking for multiple people. For this recipe, you will trade in your BBQ grill for the oven. In addition, you will be using less bowls, and with your extra time, you can kick back and enjoy a glass of wine or refreshing lemonade. That sounds like a win-win to us!
Olayinka is all about creating recipes that make moving from kitchen to dinner table much faster for home cooks, and these kabobs are a really amazing option that you will absolutely love. With a foolproof system and easy-to-gather ingredients, this dish will forever be a favorite in your house. It's delicious to eat as well, so be prepared that everyone will ask you to whip it up again and again over the summer months ... and beyond!
Gather the ingredients to prepare chicken kabobs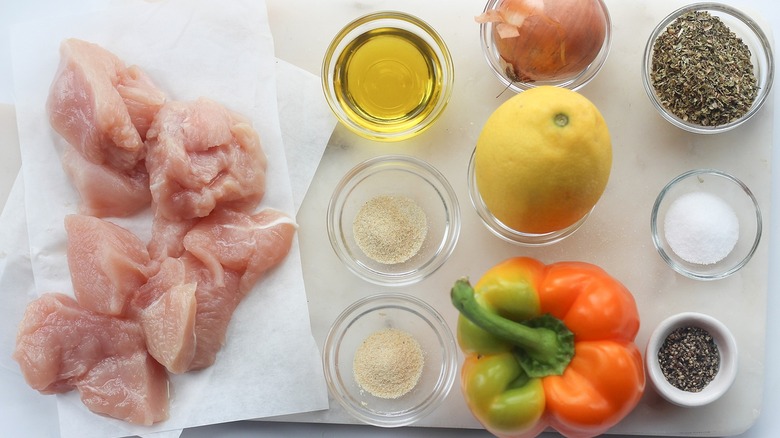 Susan Olayinka/Mashed
You will need approximately 2 pounds of boneless chicken breast, which you will cut it into cubes. You will also need two bell peppers of assorted colors, diced into large pieces. Red, yellow, and orange peppers are your best bet for a sweeter and more flavorful kabob, plus it will add so much pretty color to your meal. Kabobs are all about the patterns, so make sure you have five small yellow onions, diced into large pieces, to create a pattern with your peppers. 
The seasoning profile is very easy to put together with just a few simple ingredients. You'll need 1 teaspoon of salt, 1 tablespoon of oregano, ½ teaspoon of black pepper, half of a freshly squeezed lemon, 3 tablespoons of extra-virgin olive oil, ½ teaspoon of garlic powder, and ½ teaspoon of onion powder. Don't forget your skewers. When you're done gathering everything together, get started by preheating your oven to 350 F.
Prepare the chicken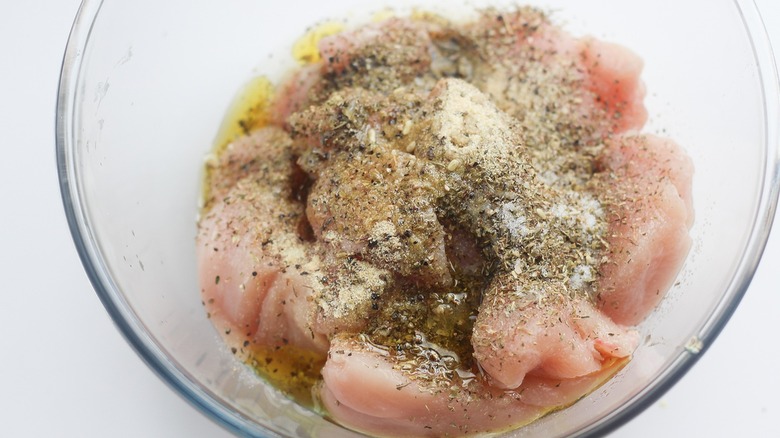 Susan Olayinka/Mashed
While not everyone practices this step when cooking, Olayinka recommends that you wash your chicken breast with water, and pat dry before you season it. You can gather your seasoning ingredients in a small bowl first, and mix them before sprinkling it over the chicken. But if you want to save some time, you can do without dirtying up the extra bowl. Add the salt, oregano, black pepper, freshly squeezed lemon juice, extra-virgin olive oil, garlic powder, and onion powder directly on top of your cubed chicken. It will save you time, and you can mix this together until everything is fully incorporated.
Assemble your chicken kabobs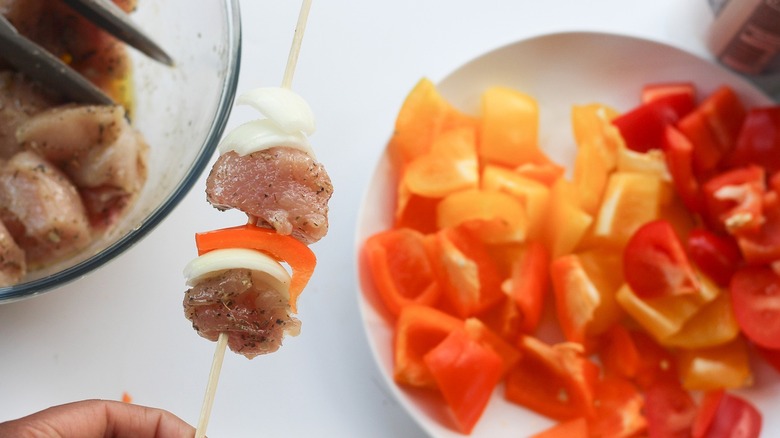 Susan Olayinka/Mashed
Now comes the best part of this creative-looking dish! Arranging the chicken and peppers onto the skewers is your chance to have a little fun with this recipe. You can arrange all of the components in whatever pattern you'd like, but Olayinka suggests starting with a piece of chicken on the end, then adding a piece of onion, and then a piece of pepper. You should keep repeating this pattern of chicken, onion, and pepper, or whatever pattern you choose, until each one of the kabobs are full. Be sure to leave a little space on the end of each skewer so they are easy to grab and nothing will fall off.
Cook your kabobs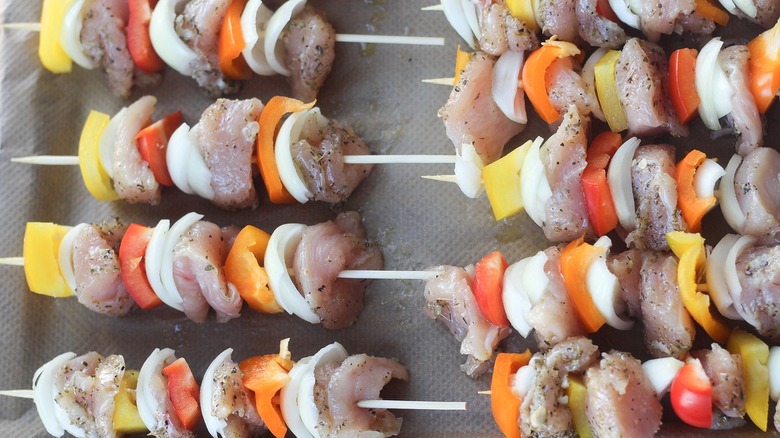 Susan Olayinka/Mashed
At this time, your oven should be fully preheated to 350 F. Grab your baking sheet, because you're moving on to the next step. 
You can line the baking sheet with a piece of parchment paper, a silicone baking sheet, or spray the tray down with a simple olive oil spray. Next, arrange your skewers onto the baking sheet in two neat rows with a small space in between each of the kabobs. In doing this, you will prevent the kabobs from sticking to each other. Bake the kabobs in the oven for 25 minutes. Once they are cooked, plan on serving the kabobs immediately.
Serve your chicken kabobs on a large serving platter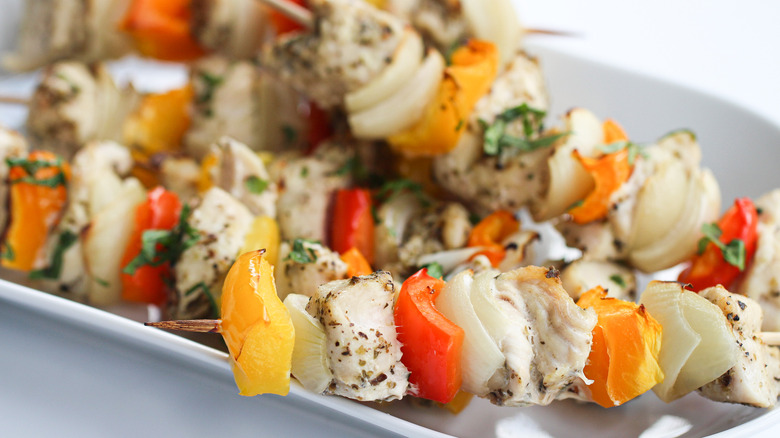 Susan Olayinka/Mashed
Your kabobs will look beautiful when you take them out if you choose to put them on a serving platter in the center of your table. A nice addition to consider serving along with your chicken kabobs is fluffy white rice. Your guests can place their chicken kabobs on a bed of rice on their plates, and it will make a lovely, picture-worthy presentation. You can also prepare your favorite salad for a nice, fresh, and healthy side.
This is the ultimate meal to whip up when you're having company over for a casual backyard dinner party or simply to enjoy on any summer evening. It makes great leftovers and is a nice switch-up from barbecuing steak and burgers. It's also an easy fix if you have any vegetarian guests or family members. You can always make one skewer with just vegetables, and they will be so happy that you thought of them.
Easy Chicken Kabob Recipe
These chicken kabobs are the ultimate meal to whip up when you're having company over for a casual backyard dinner party.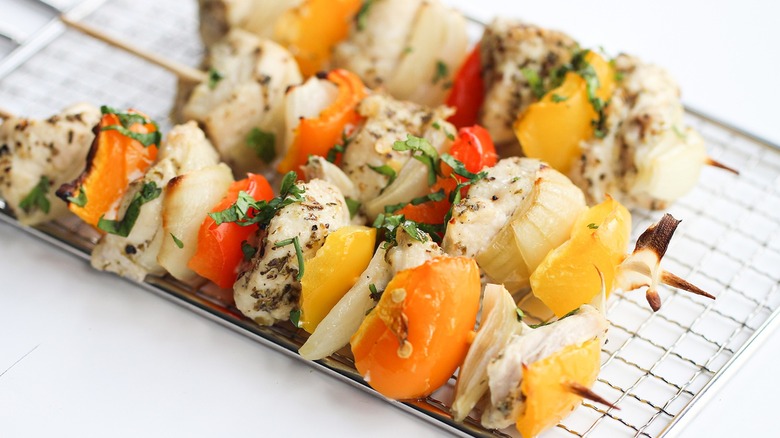 Ingredients
2 pounds cubed chicken breast
1 teaspoon salt
1 tablespoon oregano
½ teaspoon black pepper
½ lemon, freshly squeezed
3 tablespoons extra-virgin olive oil
½ teaspoon garlic powder
½ teaspoon onion powder
2 bell peppers
5 small yellow onions
Directions
Preheat your oven to 350 F.
Wash the chicken, then pat it dry.
Place the chicken pieces into a mixing bowl, then add the salt, oregano, black pepper, freshly squeezed lemon juice, extra-virgin olive oil, garlic powder, and onion powder. Mix everything together until well incorporated.
Arrange the chicken and peppers onto the skewers (chicken, onion, pepper, or whichever order of your preference).
Bake in the oven on 350 F for 25 mins.
Serve immediately.
Nutrition
| | |
| --- | --- |
| Calories per Serving | 540 |
| Total Fat | 31.4 g |
| Saturated Fat | 7.5 g |
| Trans Fat | 0.2 g |
| Cholesterol | 145.1 mg |
| | |
| --- | --- |
| Total Carbohydrates | 13.7 g |
| Dietary Fiber | 3.4 g |
| Total Sugars | 6.5 g |
| Sodium | 731.2 mg |
| Protein | 49.1 g |