Creamy Jerk Rasta Pasta Recipe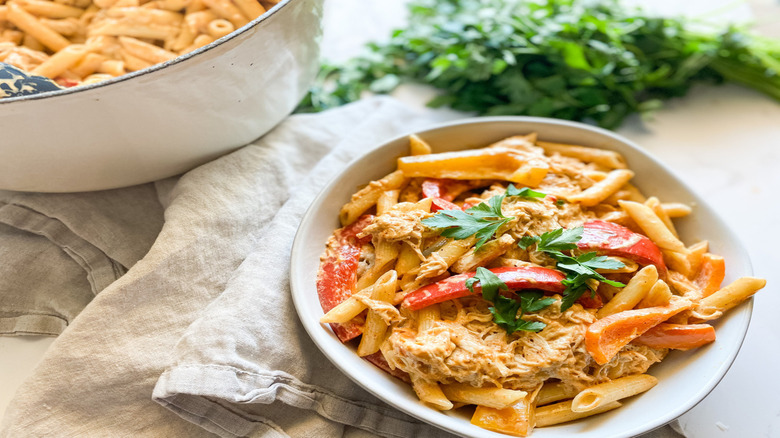 Kristen Carli/Mashed
Let's do Italian for dinner but season it like a Rasta. What do you get? Creamy Jamaican jerk Rasta pasta! Recipe developer Kristen Carli united two of the tastiest components from Jamaican and Italian cuisine for this beautifully blended meal idea.
A main inspiration for this dish is the Rastafarian culture that began in the 1930s. In Jamaica, the official flag colors are red, gold/yellow, and green (like the peppers in this pasta!). The jerk seasoning this dish calls for lends its roots from Jamaican influence. So there you have it! Rasta is the spice in your pasta — and we think it tastes absolutely amazing.
If there's one place (other than Chipotle) to get all your carbs, fresh veggies, and protein in one place, this dish is it! With Carli's recipe, you can make this tasty pasta dish for up to eight people, right at home. The best part? It won't take you long at all.
Collect your Rasta pasta ingredients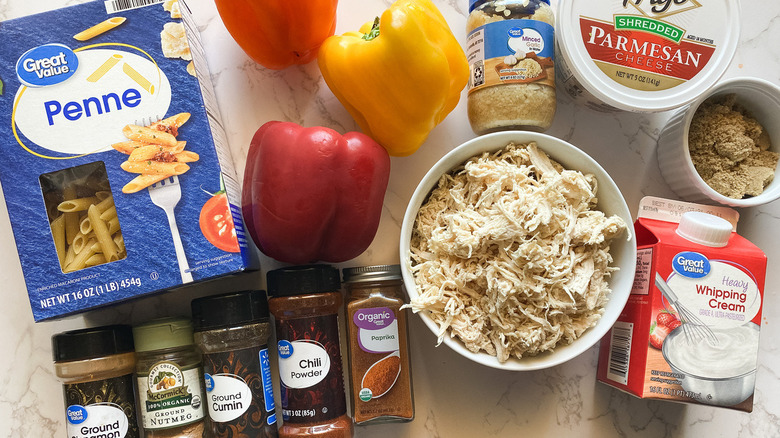 Kristen Carli/Mashed
Simple seasonings are the key to this divine combination. For starters, be sure to grab a box of white or whole-grain penne pasta. Pull the olive oil and minced garlic from the pantry while you're at it.
Up next, your pepper selection should be a rainbow of red, orange, green, and yellow bell peppers. The jerk seasonings are a compilation of salt, pepper, a bit of brown sugar, cinnamon, and nutmeg. Just a touch of cumin, chili powder, and a pinch of paprika are needed too. For the extra add-ins, you'll need shredded chicken, heavy whipping cream, and Parmesan cheese.
Prepare your chicken and chop the peppers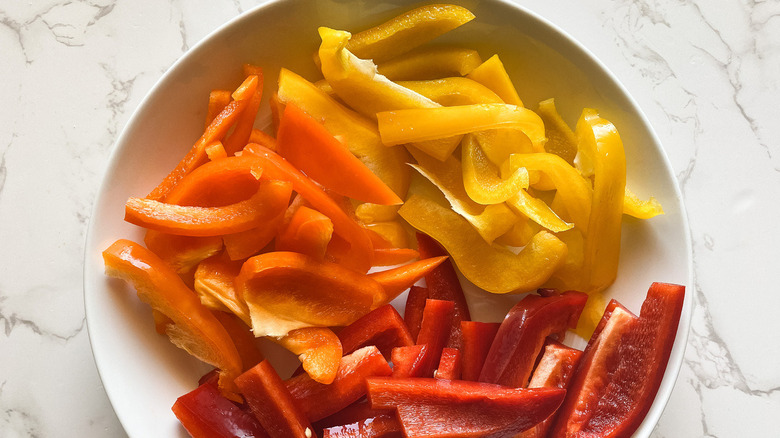 Kristen Carli/Mashed
This recipe requires three cups of shredded chicken further down the line. Carli's easy guide to Instant Pot shredded chicken will give you the perfect head start. Of course, you can always pick up pre-cooked shredded chicken from the store as well.
After the chicken is ready, chop your veggies, then bring a large pot of water to a boil. Add the 16 ounces of penne pasta to the pot, and cook according to the package directions. To make sure you get the perfect al dente pasta, taste a piece partway through. If you bite and see white inside, your pasta can withstand a bit more heat after joining with the sauce.
Lightly sear your peppers and minced garlic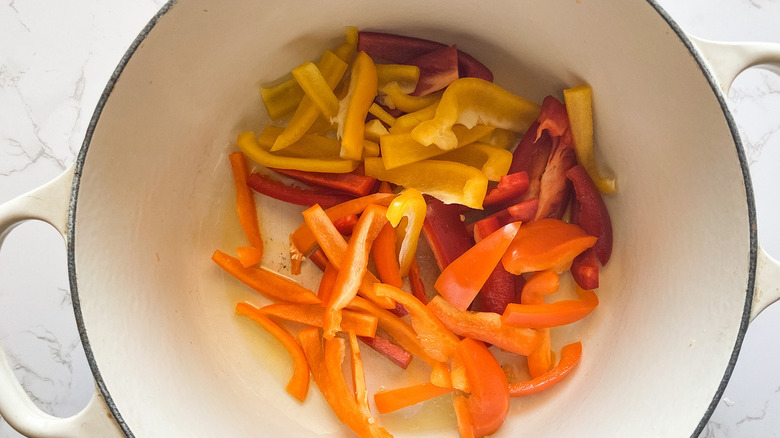 Kristen Carli/Mashed
In a separate pot, pour a tablespoon of olive oil out over medium heat. When the oil is ready, drop in a teaspoon of minced garlic along with a chopped yellow bell pepper, a chopped red pepper, and a chopped orange pepper! Cook your peppers for 10 minutes or until they are lightly charred.
If you like a bit more bite to your veggies, you can opt to cook them for a bit less time, but we like them nice and soft in this particular dish.
Toss your jerk spices together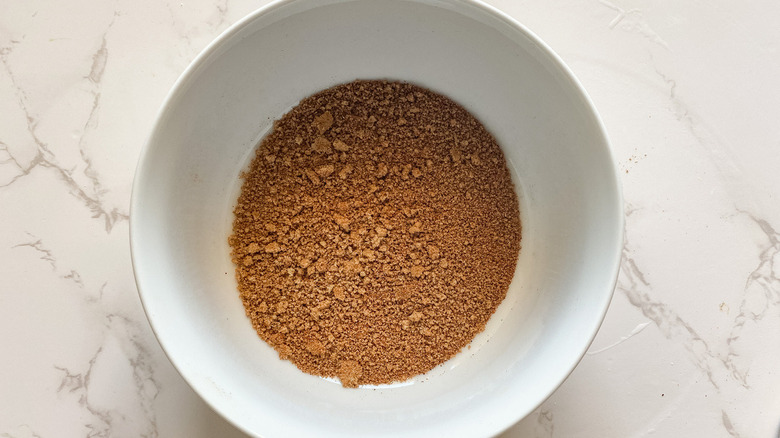 Kristen Carli/Mashed
In a small mixing bowl, start with a tablespoon of brown sugar, and add a tablespoon of cinnamon. Toss in half a tablespoon of ground nutmeg and the same amount of cumin. Use a tablespoon of chili powder to add some savory spice to this mash-up. Then, throw in a teaspoon of salt followed by half a teaspoon of pepper.
Fuse these ingredients together, and there you have a fantastic Jamaican jerk seasoning. You can shake it, toss it, or whisk it if you'd like! This combo adds a tangy twist that pairs perfectly with this pasta dish.
Marry your chicken, peppers, and spice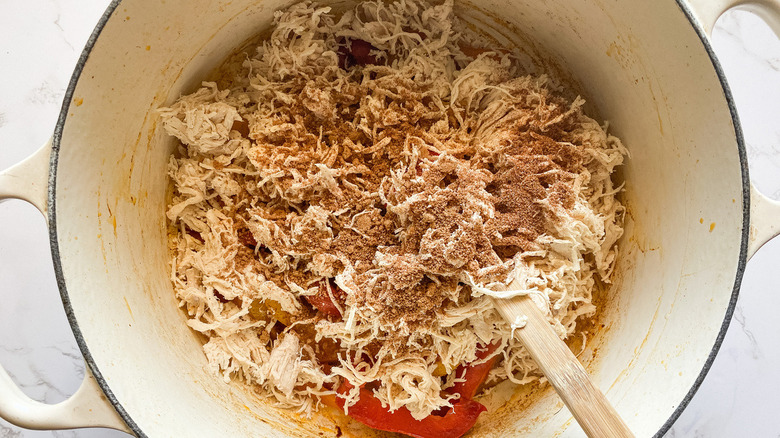 Kristen Carli/Mashed
Are the bell peppers a bit charred? Perfect. You're just in time to add your three cups of shredded chicken. Since this chicken should already be cooked, there's no need to cook it much more here. Rather, you're just warming it up.
Now is the time when you can top the chicken and pepper blend with your homemade jerk spices. You may want to leave it on the stove for a minute or two so it can really soak up those spices, though. It tastes better when you give those flavors more time to mix and mingle. Once you've done that, dinner is almost ready!
Whipping cream and Parmesan make this dish a delight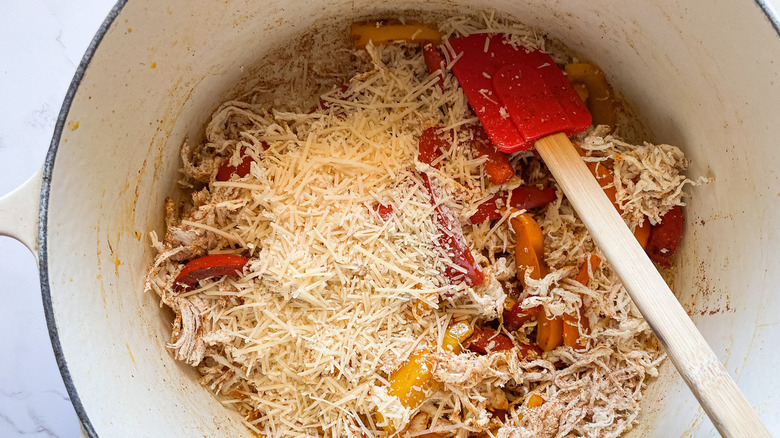 Kristen Carli/Mashed
All compliments to the chef! You're on your way to a magnificent and delectable Rasta pasta dish the whole family will love. Add your heavy whipping cream and Parmesan cheese to your spiced chicken and pepper mixture.
Stir well to evenly apply the cream and cheese with the other ingredients. Combining the whipping cream gives a smooth and creamy coating to the chicken and peppers. The Parmesan cheese compliments the sweet flavors of brown sugar and cinnamon with a salty yet tangy taste.
Pour in your pasta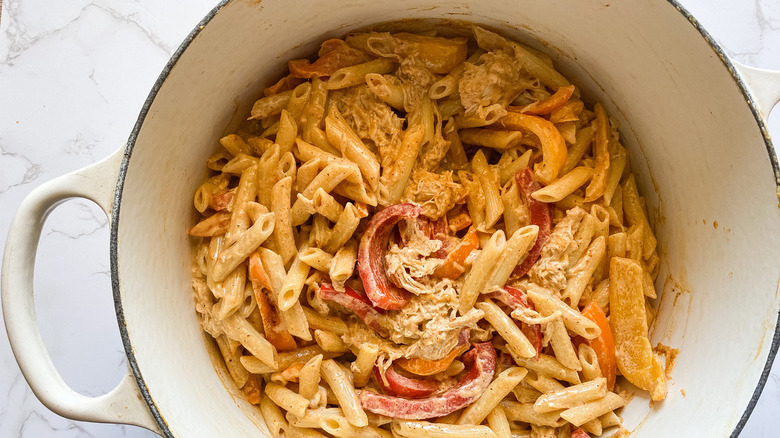 Kristen Carli/Mashed
We saved the best for last. The final step is introducing your cooked pasta into the creamy mixture. Stir in the cooked penne to ensure optimum sauce coverage. While you work everything into an even consistency, keep the pan on low warm until all of the pasta is appropriately coated.
Once that is all finished, you can turn down the stove and set the table! Garnish this decadent jerk Rasta pasta by sprinkling a bit of Parmesan or parsley on top. Carli says this is an entree best served hot.
Garnish and serve your jerk Rasta pasta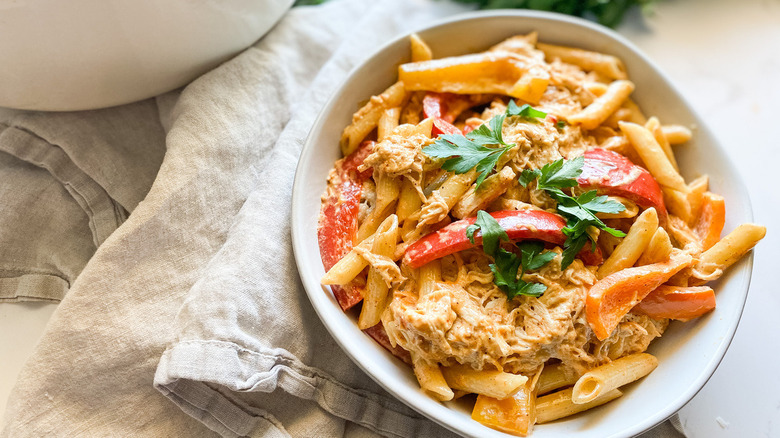 Kristen Carli/Mashed
There you have it, folks! The most perfect creamy jerk Rasta pasta. Recipe developer Carli told us that it's also possible to replace the white pasta with whole grain pasta if you're trying to be healthier.
Ideally, this dish could be paired with garlic bread. Carli says, "I would eat this dish with grilled vegetables." If you've made more than your tummy can hold, "This stores best in an airtight container in the fridge for up to four days," she adds. This dish will easily become a favorite you can pop in the microwave or reheat on the stove in just a few minutes.
Creamy Jerk Rasta Pasta Recipe
Let's do Italian for dinner but season it like a Rasta. What do you get? Creamy Jamaican jerk Rasta pasta! Try out this delicious recipe at home.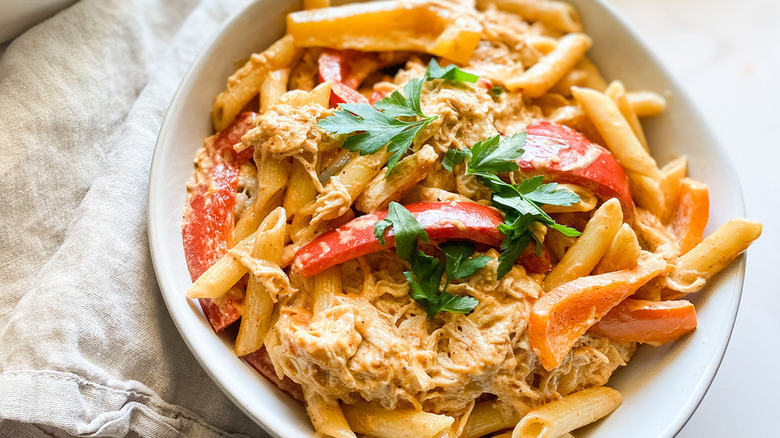 Ingredients
3 cups shredded chicken breasts
1 pound (16 ounces) penne pasta
1 tablespoon olive oil
1 teaspoon minced garlic
1 red bell pepper, sliced
1 orange bell pepper, sliced
1 yellow bell pepper, sliced
1 tablespoon brown sugar
1 tablespoon chili powder
1 teaspoon ground cinnamon
½ teaspoon ground nutmeg
½ teaspoon ground cumin
1 teaspoon salt
½ teaspoon pepper
1 ½ cup heavy cream
5 ounces shredded Parmesan cheese
Directions
Cook and shred 3 cups of white chicken breast.
Bring a large pot of water to a boil. Add pasta and cook according to package directions. Drain and set aside.
In a large pot, add olive oil and heat over medium heat. Add garlic and bell peppers. Saute until bell peppers are slightly charred, about 10 minutes.
In a small bowl, add brown sugar, chili powder, cinnamon, nutmeg, cumin, salt, and pepper. Toss to combine.
Add cooked chicken to pot with bell peppers.
Add cream and cheese. Stir to combine, and continue stirring until well incorporated.
Add pasta. Stir to combine, and continue to warm throughout until pasta is well-coated.
Serve immediately.
Nutrition
| | |
| --- | --- |
| Calories per Serving | 620 |
| Total Fat | 31.8 g |
| Saturated Fat | 15.9 g |
| Trans Fat | 0.1 g |
| Cholesterol | 127.4 mg |
| | |
| --- | --- |
| Total Carbohydrates | 49.6 g |
| Dietary Fiber | 3.3 g |
| Total Sugars | 5.3 g |
| Sodium | 608.7 mg |
| Protein | 33.1 g |